You need quick reviews of books of nerdy interest. Book Probe is here for you.
Review by Deanna Toxopeus, RevolutionSF youth fiction expert
Pixitres is the second book in Spring's "Camp Fae" series and tells the story of Alley, a young half-human /half-fairy who, unbeknownst to her mother, developed magic on her thirteenth birthday. To learn how to control her magic, she attends Camp Fae. The previous summer saw her involved in all sorts of shenanigans which led her to saving the fairy world and, possibly, ours. (Detailed in book one of the series, The Triskaidek).
After camp, Alley has returned home to her normal life but she hears that one of her friends from camp, Trixie, has disappeared. There are fears that she has been kidnapped. Rumors are spreading that young fairies have been disappearing and pixies are being blamed. As the magical world quickly rushes to war, Alley must work with her friends to find Trixie to stop a war.
I really wanted to like this book.
Author Basil Spring has a very good ear for dialogue, with characters sounding different from each other, especially important when there is mind-to-mind speech going on for much of the book.
Spring's world building is top notch. The world of Fairies, Pixies et al, existing alongside our world, is believable and makes you want to be one of them so you can be part of the fun. There are natural comparisons to Riordon's Percy Jackson series with a camp for the supernatural children, but there are enough differences that Spring has made this his own.
There is a lot that doesn't work with this book.
Spring spends a lot of time telling us about his world, instead of showing us. This interruption in the narrative to explain things slows down the story and makes the book harder to read.
Describing things such as the game of Turtle Snap might be better done in an Appendix than in the main story, especially when it is not very important to the events in the book.
There are also blatant grammar errors in the book that are jarring to the reader. For example, the story is told in the third person, so when suddenly the pronoun 'I' appears in the middle of a paragraph, it jolts you out of Alley's story, as the reader now has to re-read the paragraph to make sure they understood what was going on.
Unfortunately, despite my enthusiasm for the world building in this book, I can not recommend it for the young fantasy reader because of these disruptions to the flow of the story.
RevSF Rating: 5 out of 10
Fiend by Samuel Odunsi Jr.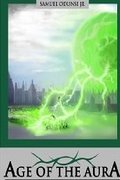 Age of the Aura shows that writer Samuel Odunsi Jr. has big ideas about science fiction and about political intrigue. Some of them are achieved in this book.
Age of the Aura is about kingdoms who each have an energy field surrounding them. The field then erupts, killing lots of people. The rulers of the kingdoms will be the ones who can harness the aura's power.
It's a sci-fi story that has the DNA of Game of Thrones, with that same mix of thirst for power, mixed with violence and intrigue.
By calling the story "Phase 1," Odunsi clearly has a plan. This book is a good starting point, but it could use more detailed work. Commas are needed in lots of places. The narration of the book often describes characters' feelings and reactions. The characters themselves should be saying or talking about those things.
When the narration does that work, it reminds the reader that he's reading a book, instead of being swept up in a story. The narration also makes bombastic pronouncements, like a wrestling announcer, about where the true power lies, and things like that. It would be a more powerful story if a character said those things.
Interesting characters and plot lines are here, and they'll get better as the story goes along, and as Odunsi keeps exploring them. -- Joe Crowe
RevSF Rating: 6 out of 10