Tucker and Dale Vs. Evil
Reviewed by Tegan Hendrickson, © 2012

It's a sad fact that fantastic movies occasionally fall through the cracks and end up unseen by the general public. Therefore, it is my duty as a movie nerd and occasional reviewer to make sure that some of these movies receive their due praise.
Now, I am going to shine light on a darkly comic gem: Tucker and Dale vs. Evil.
Almost two years ago, a friend of mine dragged me out to a Halloween film festival at the AFI Silver in nearby Silver Spring, MD. He hooked me with guilt and promises of Alan Tudyk. I read the short blurb in the flyer and decided to let myself get tugged along. Sure, I had work in the morning, but the movie sounded silly enough to be worth it.
I don't regret my decision.
The film starts out in familiar territory. There's a group of college students heading off to some remote part in the country to spend a holiday weekend drinking, smoking up, and generally cavorting as kids are wont to do these days. They'd forgotten the beer and are forced to make a stop at a creepy gas station where they encounter the titular hillbillies.
Tucker (Alan Tudyk) and Dale (Tyler Labine) are a pair of old, dear friends who've purchased the vacation home of their dreams. They're stopped at the gas station for supplies when they meet the college students. Their first interaction with the group goes poorly. Dale's attempts at flirting with perky blonde Allison (Katrina Bowden) fall flat and both groups go their separate ways into the woods.
Typical college student shenanigans ensue (the drinking, smoking up, and a scary story that's a plot point they'll remind you of later). Then, of course, there's the moonlight swim. When Allison hits her head on a rock and nearly drowns, she's rescued by well-meaning Dale. That's when the plot takes a turn for the unexpected.
The stereotypical hunters become the hunted and the audience is introduced to Chekhov's Woodchipper. And Chekhov's Loose Beam. Among other elements that of which Chekhov would have approved (the playwright, not the starship pilot). It's a brilliant twist on one of the most popular horror movie tropes.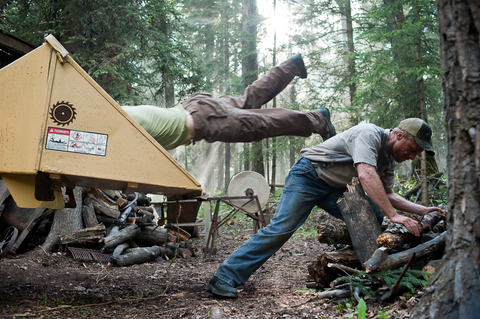 Yes, there's blood and gore (is there ever!) and is therefore not for the particularly squeamish. Mostly, if you're anything like me, you'll probably find yourself laughing at the most inappropriate moments.
Then again, that's just the beauty of Tucker and Dale vs. Evil. There really is no inappropriate moment for laughter.
Broaden your horizons and check it out. You won't regret it. It would be great paired as a double-feature with Joss Whedon's recent horror foray, Cabin in the Woods.
Tucker and Dale vs. Evil is a bromantic comedy and a date movie all wrapped up in a bloody package of the hilariously unexpected.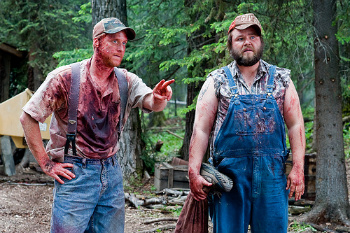 For more about Tucker, Dale, and evil check out the movie's official site.