For thirteen years I worked at a bookstore which took its name from Ray Bradbury's Fahrenheit 451. We were a diverse bunch. One of the things we all had in common, though, was a love of books and reading.
One year we were lucky enough to score an author event with Ray Bradbury. I rarely saw that level of excitement from the staff. We knew we might not be able to get multiple books signed, but nobody could decide which of their treasures was more beloved than the others.
So everybody just brought all of their Bradbury books to work with them and then spent their time off during the day arranging and rearranging them, trying to pick which one would get signed.
It was adorable.
I remember fondly the many conversations I had that day about Bradbury's books and stories and how deeply they had touched everybody.
I've thought about that day a lot recently as I tried to put my thoughts together for this tribute to Mr. Bradbury. It's been slow going, and I think I finally figured out why. When I contemplate Bradbury's stories, I don't remember what they made me think (although many did). I remember what they made me feel.


Bradbury caught a lot of flak for his sentimentality, and there's no escaping it. Many of his stories were shamelessly sentimental. But the darker flip side of sentimentalism is melancholy, and that's what touched me the most in Bradbury's work.
I remember the wonders of Martian society, but I remember that by the time we see most of the wonders, the Martians have been almost entirely wiped off the planet.
I remember an automated house still trying to care for a family that has been obliterated.
I remember a sea beast rising from the depths in hopes of ending a timeless loneliness only to have those hopes dashed and slowly return to the depths.
I remember a dwarf paying each day to go through a house of mirrors to briefly stand in front of the one that made him look normal. And, of course, the cruel carny who switched the mirror with one that made the dwarf look so stunted and unlovable that he chose to end his life rather than endure another day.
I remember all of the townspeople who visited Cooger and Dark's Pandemonium Shadow show to get their secret heart's desire only to have it all go so wrong.
And most of all, I remember a young writer full of sunshine and dreams who sees his eccentric friends killed by their own loneliness.
For all of the optimism and boyishness that Bradbury never lost, he had an almost unfailing eye for our darker places and the ability to create characters that let us peek into those places, or, in some cases, out of them. Even after all of these years I carry Mr. Bradbury with me, light and dark, and I am unbearably grateful for it.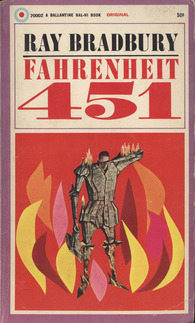 Another remembrance of Ray Bradbury remembrance is here: He Saved Us From Lonely Summers..