Big Bang Theory, Wil Wheaton, and Dixie Trek: When Worlds Collide
© Ron Nastrom
June 09, 2012

If you are reading this, you are familiar with The Big Bang Theory and the legendary rivalry between Sheldon Cooper and Wil Wheaton. It started in the episode "The Creeping Candy Coating Corollary."
In the episode, Sheldon revealed the feud's origin: He went to a convention named Dixie Trek to see his idol Wheaton in person. Wil failed to appear and Sheldon was devastated, thus setting up a long seething hatred of all things Wesley Crusher.
It turns out that the Dixie Trek mentioned in the show was a real convention. I was one of the founders.
How many of you knew that Dixie Trek was real? Let's see a show of hands. You in the blue and white striped shirt. Are you stretching or raising your hand? Oh. Well, then. That few.
Come with me back to 1980 in Atlanta, GA, where a group of Star Trek fans formed The Atlanta Star Trek Society and put on Emory Trek, their first convention, on the campus of Emory University. Two years later yours truly was vice-president of the group, and we were looking to expand the show. Dixie Trek was chosen as its new name.
Our guest list grew with us, and soon included actors from Doctor Who, Lost in Space and of course Star Trek.
Our contact at Paramount Richard Arnold helped us secure many of the Trek guests. Richard represented himself as a Star Trek authority, so much so that he became the "Archivist" in Star Trek: The Next Generation credits.
When we visited him at the studio. it became apparent that he was a gofer who handled the fan mail. This was proved correct within a month of Gene Roddenberry's passing in 1991, as he was off the lot and out of the show's credits! He did get us such celebs as Jonathan Frakes, Marina Sirtis, Denise Crosby and Gates McFadden, who had to bow out due to travel restrictions during pregnancy.
When we stopped wanting Richard to be a paid guest at Dixie Trek, he was of no help getting us cast members. So, alas, Wil Wheaton never made it to an actual Dixie Trek!
The convention ended in 1994, with Christopher Reeve making his only convention appearance ever.
By the time the convention took place, according to the Big Bang episode, in Mississippi in 1995, the real Dixie Trek had closed her doors and turned off the lights.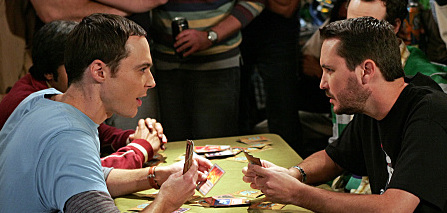 Now imagine my surprise -- as one of the convention founders -- when I am watching The Big Bang Theory on October 19, 2009 and Sheldon says Dixie Trek is where he began loathing Wil Wheaton.
The next day I did some searching, and called the studio and spoke to one of the writers and thanked him for choosing my convention.
Flash forward to 2011 and DragonCon. In my capacity of director of the American Science Fiction Classics, I had the opportunity to talk with Wil about all this.
As I explained to him who I was and what I did, he had a small freak-out when I told him Dixie Trek was real. He said he had no idea and thought it was just made up by the writers. I told him that it was real, but located in Atlanta, not Jackson.
I hope one day I can present him with one of the few embroidered hats I still have left from the convention.
You see, sometimes the line between our real life and the world of sci-fi can cross over. I have to tell you, it feels good!