If I had to pick one word for Craig DiLouie's Tooth and Nail, that word would be grim.
For fans of zombie and apocalyptic fiction, Tooth and Nail is a must read.
A company of soldiers is brought back from Iraq to help police New York, which is suffering from an outbreak of a flu-like virus.
The soldiers are glad to be back home, even under bad circumstances. The early part introduces us to the members of the company, the career military and the short termers, the jokers and the all-too -serious.
The group is a good cross section of humanity. They have one dividing line between them and everyone else: they are military the rest of the people in the buildings and past the barricades are not.
This harsh truth comes more to the fore as the book progresses.
The soldiers become more overwhelmed. Working with limited intel from on high, they are forced to rely on their experience to let them know what is really going on. When a drastic change of the Rules of Engagement comes down from command the loyalty of the men is further tested, to the military and to each other.
The military action is described with amazing accuracy and the fragmentation and decline of New York is told in painful clarity. DiLouie has an eye for detail here that shows in every chapter.
Tooth and Nail is a grisly grind, and not for the squeamish. This is a merciless curb-stomp of a book.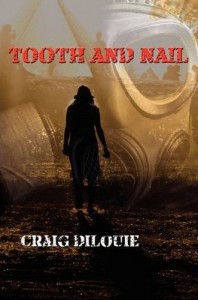 Buy the book at Craig DiLouie's site.