"I saw you eat somebody's face. It was amaaaaaazing." -- Kenzy
At its worst, Lost Girl is a live-action Laurell K. Hamilton novel. At its best, it's almost a successor to Buffy the Vampire Slayer.
It's about Bo, a succubus. She gets powers from draining energy by doin' it. She finds out she's one of the fae, a secret society of supernatural folks. The good fae and the bad fae both want her on their side. She wants to find her secret origin.
That's a lot of show.
Most sci-fi shows, Buffy included, sprinkle their fighting or detective stories with mythology and thorough explanations.
But Lost Girl owns it. I respect that. From the first episode, it's crammed with exposition, and crowds of characters. The action bits are secondary.
Lost Girl already aired two seasons in Canada, but it's just starting on Syfy. Canada is cool, so I guess naughty stuff is on their TV all the time. But in the US, on Syfy, the show gets a TV-MA warning with a stern announcer telling us how naughty it will be.
But the only finger-quote mature stuff is discussion of doin' it, infrequent side-boob, and the s-word. Not "sword." The one that means poop.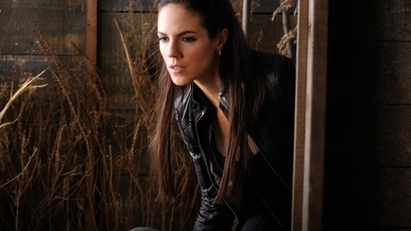 Episode 1 starts up a hackneyed "Will they / won't they" between Bo and a good cop who doesn't like to shave. But then the question gets answered in episode 2. Mazel Tov on that one.
A zillion races and factions show up, and Bo makes plenty of the sex. That's how it's like Laurell K. Hamilton.
Bo and sidekick Kenzi smack around bad guys while busting out funny dialogue. Each episode builds on the last, creating a deep mythology that's worth exploring. That's how it's like Buffy. The best part of the whole show is Kenzy, the sidekick who steals every scene. That's her job.
Here's a video compilation of Kenzy quotes.
Lost Girl may be difficult to jump into. But don't whine, just try it.
Do it for Kenzy.