It is a good time to get into role playing games. Not only do you have the Dungeons and Dragons Red Box, now there is Paizo's Pathfinder Beginner's Box. Paizo really hit one out of the park with this product. (The RevSF review of the Red Box is right here).
The box is, well, a box. It is full of gaming goodness, including counter sheets with standee bases, dice, player and GM books, and booklets for the four playable classes. A reusable flip mat can be written on with wet or dry erase markers.
The booklets, like the players handbook, are keyed to the character sheet for ease of reference. A very clever idea.
The books, the counters, everything is full of wonderful artwork and very easy on the eye. The counters and the flip mat (like all of Paizo's flip mat line) are sturdy and will stand up to a lot of use.
The class leaflets are simple affairs and really shouldn't be used much. Both books, though, are great. The Players book takes you through a streamlined version of the Pathfinder character generation system (a modified Dungeons and Dragons 3.5 rule set). It makes the process as painless as possible.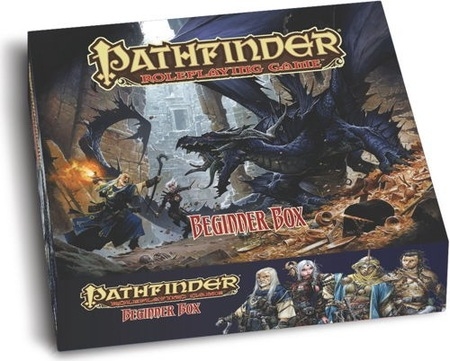 The Game Master book has a fun and wild opening adventure that uses the dungeon side of the flip mat and the counters. It then gets into the grunt work of what GMing is about, and tools and resources for aspiring GMs.
This is a wonderful introduction to the world of role-playing games. It has all the tools you would need, in a logical, easily understandable way with non-gamers firmly in mind.
If you are or have a middle schooler looking to check out table top RPGs, this is your gateway.
It might be a little much for the grade school set.
The game is designed to take characters to around 5th level. After that the main Pathfinder book is required. When you play that, you are hooked.
Then a new gamer is born and the nerdiest angel gets a shiny silver bell.
Buy the Beginner Box right here if you feel led to do so by random dice rolls.