Personally for me, this is bittersweet.
McCaffrey was one of my favorite authors as a teen and young adult. I read anything of hers I could get my hands on. Anything. I spent hours in the library, before library computer catalogs mind you, trying to find copies of her books. This meant I scoured the stacks and the card catalogue.
I read her romance novels, the Ship series, the Crystal Singer series, Doona. ANYTHING.
She was the first female science fiction and fantasy writer I encountered. Most of us read Dragonflight now and see what happens between Lessa and F'lar as rape, but McCaffrey opened doors and changed the way genre writers wrote about women.
She was the first woman to win a Hugo and a Nebula. She was a Grand Master. That should make all of us stop for a minute to acknowledge her passing.
McCaffrey changed the way writers and fans looked at dragons. It is not unreasonable to think we would not have gotten How to Train Your Dragon and His Majesty's Dragon without the Pern books.
Her Crystal Singer series sees echoes in series such as Tanya Huff's Confederation books.
From all accounts, McCaffrey was a decent human being, too. She admitted to inviting the various fans who made it to her castle for a cup of tea.
When she saw Robin Wood's beautiful portrait of MasterHarper Robington at a con, she not only approved, but bought it at the auction for a very high price. She then approached Wood, told her they needed to do a book together, with Wood doing the portraits and McCaffrey doing the bios.
What resulted was People of Pern, a great companion book to the Pern series. (F'lessan looks like John Stamos!)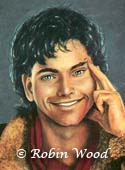 I spent a lot of time imagining I lived in Pern. I had a character, with a backstory, who had adventures and did cool things. I was writing fanfic in my head, happily playing in the world Anne created.
My best friend, Karen, did the same, and we would share these imaginations on the phone, in writing and in person. So her passing to me brings fond memories of the afternoons and evenings of my adolescence.
I acknowledge that she had a good life, (She lived to be 85 and had a castle in Ireland.) but for me it's the end of an era.
* * * * *
I echo what Deanna says. The Pern series was one of my first major series reads (and was a bit over my head) and I have read the Dragonsinger (and Dragon Drum) series so many times I can't count. I got to meet her once in person and will cherish that brief interaction. She is one of my favorite authors of all time. And what makes this news even more bitter-ironic, is that I am in the middle of reading Naomi Novik's His Majesty's Dragon for the RevolutionSF Revcast, a book that would not exist without the Pern novels. -- Michael Emond
Here's a fun story from the RevolutionSF archives about a lost McCaffrey / Philip K. Dick team-up.