Trailer Probe calculates the total enjoyment in nerd related movie trailers. Geek explosion content is reasons you will like it, dork disengagement level is why you won't.
Dork disengagement level:
I would like this story more if I was not seeing it every week on
Once Upon A Time.
They should call it The Queen and the Huntsman and Snow White, because Bella Swan from Twilight does almost nothin' in this preview.
She looks terrified, which she has experience at. Then somebody puts their lips on her while she's napping in the snow. Kind of gross, when you think about it.
Where are the seven freaking dwarves? I demand seven freaking dwarves. Not six. Not eight. And not zero. Seven. Dwarves.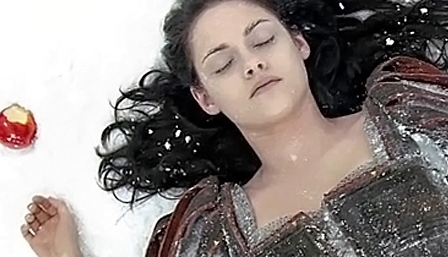 You really should not kiss people you find laying on the ground.
Geek explosion content: Charlize Theron does a voice-over of scenes from Lord of the Rings. I'm sure of it.
Charlize Theron does the entire "Mirror, Mirror" speech from the Disney movie. But the man in the mirror does not ask her to change her ways. He tells her she's the bomb-diggity. Then she takes a milk bath.
Which reminds me of a joke. A woman wants enough milk to take a bath in it. The milkman asks her if she wants it pasteurized.
She says, "No, thanks. Just about hip deep."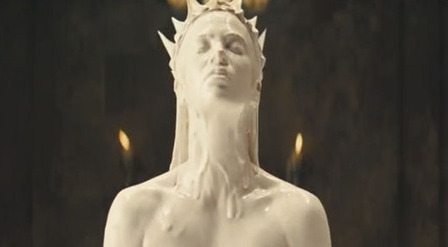 Smooth.
Then:
THE MIGHTY THOR.
Thor plays himself, beating on some punks as is his right by virtue of being the God of Thunder.
Bella Swan wears chain mail for about two seconds. And that's it for her. But those two seconds include fighting on a beach!
Then Queen Charlize turns into birds and does more voiceover smack talking.
But remember: THOR IS IN THIS.
Geek parts per billion: 750 million.