Here is the other fairy tale show, the one that isn't Grimm. . That show keeps the supernatural effects and stories as a backdrop, Once Upon a Time goes for it with a capital Goes For It, with special effects, makeup, and way-out costumes and creatures.
Half of every episode is a flashback to the Enchanted Forest, where fairy tale folk live and frolic with their magical stuff.
The other half is in the normal, boring modern day, in Storybrooke, a town where all the fairy tale folk are normal, boring people.
Magical part: The Enchanted Forest. None of the fairy tale people know they are fairy tale people. The normal parts pale in comparison to the fairy tale parts in the Enchanted Forest.


Sassy!
Not so magical part: Our hero. The viewpoint character is Emma, who meets a boy who claims Emma is a hero who will free the town from the wicked witch, his adopted mother.
Emma's the least interesting. This is not good, since she's the hero. She has two dial positions: Smarty-pants and Sad. She has no Enchanted Forest version, which makes those scenes more fun.
Magical part: The wicked witch. She's interesting and fun in both Boring Town and Enchanted Forest. She's cackling and evil in one, and cackling and evil in the other.
Not so magical part: Snow White. She's the queen's arch-enemy and a saucy adventurer in the flashbacks to the forest. But in Boring Town the witch clearly has won. Snow is a timid schoolmarm with a Justin Bieber haircut.
Magical part: Storybrooke. There are no special effects in Storybrooke / Boring Town, and no one knows they are really magical people. Best of all, the wicked witch might know she's a wicked witch. But the story deliberately hedges on that. Clues abound that she knows. But if she knows, no one knows that she knows.
Magical part: The first episode. The series is masterfully set up in the first episode, a sweeping fantasy action flick that introduces the setting, the cast, and goes crazy with effects and drama and action when the witch executes her diabolical plot to send the Enchanted Forest people to Boring Town.
Not so magical part: "No more happy endings." Several characters say it in episode 1, at least three times. The fairy tale land is interesting, and the mundane world sucks. Quit reminding me!
Not so magical part: Words on the screen. The first episode, in the story, with actors and everything, clearly explains everything the new viewer needs to know. But it starts with words on a screen that tell, instead of show, all that stuff. I want to see all that, not read it.
Magical part: Rumpelstiltskin! Robert Carlyle from Stargate Universe owns. He plays a sleazy bad guy in both worlds. He oozes evil, and that is good.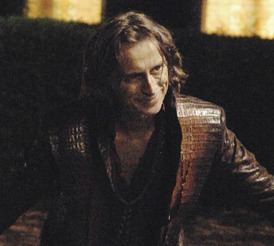 Greasy!
Magical part: The other fairy tales. Red Riding Hood, her grandmother, Gepetto, and Grumpy have cameos. I hope they'll get their turn, not wander around in crowd scenes like the nameless, easily killed castaways on Lost.
Magical part: The kid. He's the standard-issue irritating kid who knows everything. But he's not as irritating as I expected. In Boring Town, there is no evidence his Enchanted Forest claims are true. He may just be crazy.
Magical part: Pam from True Blood. She stole one episode, playing Maleficent from Sleeping Beauty.
Not so magical part: What now? After the excellent episode 1, the story in Boring Town can't go right to the big finish, the Emma / Wicked Witch fight. So each episode they circle each other, snarling.
Magical part: A giant. The Enchanted Forest is colorful, with magic folks everywhere. One episode has a giant. He just stands there. Doesn't do much. But he's a giant.
Magical part: Going for it. Several 2011 season shows have nerdy bits, an occasional superpower or special effect. But only this one goes crazy with it. Only this one is freely unironic. Only this one shows off its nerdiness.
Watch Once Upon a Time free at its ABC website. Hope you like commercials for Lowes!