Warp 11 is a rock band that does songs about Star Trek. That's what they do. That's all they do. Their new CD "Borgasm" is out now. Here's the RevolutionSF review. Now the band comes clean in this incisive, totally serious interview.
1. Who takes credit for first having the "Star Trek" songs idea?
Captain Karl gets all the credit for that one. He invented the concept "laziness is the mother of inspiration." It seems it is easier to form a rock band and write a song a week versus writing five extra pages of a comedy script. Yes, Warp 11's genesis was as filler material for an internet TV show called "The Prime Directive". It was SNL's Wayne's World meets Star Trek.
2. When you're songwriting, which comes first, the song or the Star Trek references? How much research goes into the lyrics?
It's always about the Star Trek references first. And the references that can be turned into songs about genitals and drinking go to the top of the list.
We always throw a few incredibly obscure references into our songs for the one or two super-Trek fans. There's nothing better than looking out into the crowd and seeing that one guy that "gets it" raise his fist and shout "Fuck, Yeah!."
Followed by security nodding to each other with that "keep an eye on that one" look about them.
3. What song gets the most requests at your shows?
It's a tie between "Rage Against the Federation " and "Montalban." We think our fans have an obsession with giving the finger to authority and find that Khan is the perfect character to channel that through.
4. One of my all-time favorites of yours is "Suds Me Up Sulu." Have you sent a copy to George Takei?
Stuffed in a Bed, Bath and Beyond gift basket.
5. It was awesome to hear "Everything I Do (I Do With William Shatner) on the Shatner Comedy Central roast. How did that come about?
We think Shatner himself secretly made that happen. It has everything to do with Kiki's charm (read cleavage) at a convention meet 'n greet. Or there's a Warp 11 fan at the Comedy Central headquarters. Either way, William Shatner indirectly financed our album "It's Dead, Jim." And, in Warp 11 tradition, we thanked him for that by writing an ode to masturbation entitled "Jerk My Kirk."
6. How was putting together "Borgasm" as a rock opera different from the stand-alone songs on your other CDs?
It's a lot easier to throw a dozen or so dirty jokes, masquerading as songs, onto a CD and call it a day. A typical Warp 11 CD has a very eclectic mix of debauchery and vice.
"Borgasm" forced us to focus ourselves as songwriters longer than we normally do. Typically we rhyme Spock and cock then move on to bigger words like inebriate and masturbate.
7. What's up next for you? Plug your site and whatever else you're working on.
Our next goal is to put together another Warp 11 album in time to release it when the new Star Trek movie hits the theaters. We call it synergy. Paramount Studios call it something like "Those assholes are at it again.".
Let's say I'm starting a band to do songs about a TV show. Let's say, Manimal. How do I make that work?
Firstly, think EP. I don't think you'll get enough solid concepts from a short run TV show to create a full length album. Secondly, get a bunch of beer and something you can put in a shot glass. This helps the creative process, lowers your expectations and makes dick jokes extra funny.
I believe the main character was a shape shifter. Start with a song title like "Form of a Penis." This way you get a bonus Wonder Twins reference.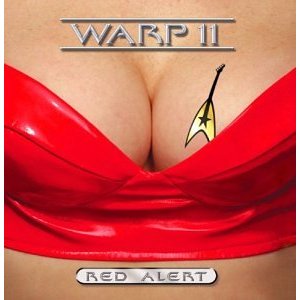 This CD cover violates several Prime Directives.