Top Shelf Roundup: Liar`s Kiss, Chester 5000, Lucille, Any Empire
Reviewed by Sarah Arnold, © 2011

Here is a look at a few offerings from the Top Shelf catalog. SPOILER ALERT: They are all awesome.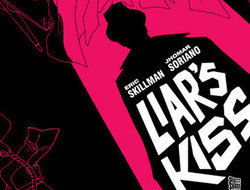 (By Eric Skillman and Jhomar Soriano) This noir novel is a solid graphic short story. The crisp art work is compelling and the story is a classic whodunit that plays within the rules of traditional noir. The timing of this book release is well done on the part of Top Shelf, since we seem to be having a mini-Renaissance of the noir story telling in our media as well as the classic "noir speakeasy" in our nightlife.
The story follows Nick Archer, a lackadaisical P.I. who is keeping an easy surveillance job for the local big shot. But when things suddenly turn upside down Nick is forced to start making decisions that will affect his life for once. It has the classic smart talking dames in the background and ball-busting cops looking to make Nick's life even harder than it has already become.
This is a fun story that is worth picking up and can be read in an hour or two.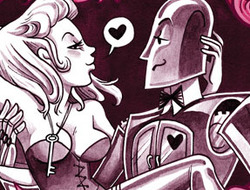 (By Jess Fink) This book is NOT SUITABLE FOR ANYONE UNDER 18 and is very graphic in nature, so please do not go out and buy this for a 15 year old boy that you know is "into comics" unless you want to be that aunt or uncle.
I have been a fan of this webcomic for a few years now and I'm glad Jess Fink has finally caught a break with the first publication of Chester 5000. Aside from the very adult nature, this is a well rounded love story that is beautifully drawn. Fink classifies the story as a Victorian romance and is a steam punk love story between a young woman and her robot sex butler. Yep, robot sex butler. The panels are hand drawn and inked in the classic India ink washes, which is very refreshing in today's complicated computer drawn comics.
If you're an adventurous reader, I would pick this up at your local shop. Or buy it online, to save yourself the winking from the store clerk.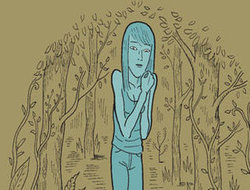 (By Ludovic Debeurme) This is a book to read with a box of tissues.
Debeurme's English language debut is an elegantly told story of two young people from a small French fishing village who decide to do their best to walk away from their troubled pasts and start a new life together in Italy. Told with sometimes surrealist images this tale is similar in theme to the classic "Blankets," where you re-live all those heart breaking moments as young adults. Lucille and Arthur run away together but as most first-loves, it starts on a rocky path and steadily degrades as they both find themselves as adults.
Where this novel could fall into the pit falls of classic teen angst Debeurme side steps this with style and tells an epic love story. There is a reason why this is an award winner and should be a must read.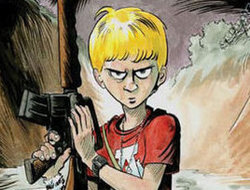 (By Nate Powell) In the most recent book from acclaimed artist Nate Powell, he brings us back to childhood and how memories, while faint, can be compelling for who we are as adults. This surprisingly quick read first tells the story of young army-brats and their rural community and then mutates into who these kids became as adults and how reality can bleed into fantasy. Powell doesn't shy away from the brutal violence we can witness and inflict as children which can be stomach churning to relive.
The art work from Powell is once again compelling and quickly recalls the fantasies we had as children. When playing soldiers/war we found ourselves quickly building worlds in our minds and story lines that could be briefly connected but all plausible in our worlds as children.
Powell captures this fluid sense of reality perfectly in comic form. He pulls this theme throughout the novel and uses it to try and make sense of what happens to us as adults.
This is a must read for anyone who played war as a kid and still doesn't fully understand it as an adult.