Voltron, Captain Planet, Thundercats To Be Yanked Away From Our Childhood
Revolution News
© Joe Crowe
July 25, 2011

Voltron.: Beloved robots or spaceships that turned into lions and a giant robot.
Captain Planet.: Teens are lectured about the environment and unleash a blue superhero.
Thundercats.: A cheetah woman and some other things.
All of these are being remade as movies and new cartoons.
Remakes of things from the 1970s and 1980s are the only thing worth doing. That has to be true. Otherwise people would quit it.
Thundercats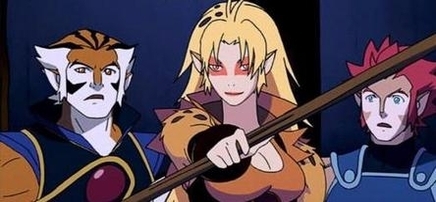 Cheetara!
Thundercats is a new cartoon series on Cartoon Network. Here's the show site.
It will have new toys and a new continuity, but all the same characters. Most importantly, Cheetara. The new toys are for those of us who stalk the toy aisles trying not to look creepy.
In the new one, Snarf cannot talk. It's not just a remake. It's an improvement!
Voltron
Voltron!
A new Voltron cartoon, Voltron Force, is on the Nicktoons channel even as I speak. It's watchable free at the show site.
Movie people are really going to try to do a movie. And that's all they said in this news story.
The chances that this movie really gets made are much higher than before Transformers was a movie. Soon robot lions will be nominated for Oscars, I just know it.
Captain Planet
Mullet!
The producer of the Transformers movies, Don Murphy, will work on this thing. Here's the full story.
Phil Collins must do the theme song again, or I will riot.