"You said to rise above. I can't." – Peter Parker
Not only is it the most expensive Broadway musical ever made, it is over twice as expensive as the previous most expensive musical, Shrek. Its creators include Julie Taymor, who masterminded smash Broadway musical The Lion King, as well as U2's Bono and the Edge. Its subject is one of the most well recognized characters in pop culture, and it follows on the heels of one of the most successful film franchises in history.
How could Spider-Man: Turn Off the Dark have gone so wrong?
I had the singular opportunity to see this historic spectacle in the most favorable circumstances: for free. That is, if you consider $75 in train and cab fare free. I did not get to attend an exclusive press preview as the RevSF Yankee Correspondent. A friend of mine had the (mis)fortune to be in attendance the night that an actor fell 30 feet, injuring himself and creating another couple of million dollars in publicity for this star-crossed production.
For his trouble, he got two free tickets to a later performance. Kindly, if not a little mysteriously, he gave the tickets to my wife and I. And so, on a Tuesday night, we left the relative safety of central New Jersey and headed into the Big Apple to see what all the fuss was about.
As a lifetime comic book fan, I was hopeful that there would be elements of the production that only I would appreciate. As two stage veterans, my wife and I were sure we would find things to like, even love, about the show. Our seats were great—six rows from the front, on the left. There were guitar-wielding band members on stage right in front of us.
Then the show began. Amazing spectacles filled the stage, set to great rock music. Very talented performers were giving it their all.
We meet Peter Parker and all our favorite characters from the comics: Mary Jane Watson, Aunt May, J. Jonah Jameson, Norman Osborn, Robbie Robertson, and Flash Thompson. Some characters are fleshed out, others are little more than names on an actor. Uncle Ben is around long enough to utter "With great power comes great responsibility", before his death inspires Peter Parker to rise above his fears, foibles, and frustrations to become something transcendent. <[> And then, there he was: Spider-Man! The ever-loving friendly neighborhood Spider-Man was there, onstage, in the flesh, in all his web-slinging glory! The acrobatics were astounding.
Spidey and the Green Goblin flew above our heads in aerial combat. The 3-dimensional choreography filled the air, not just above the stage but the house as well, and everyone in the audience responded with enthusiastic cheers. Act 1 finished on a high note, and I was positively giddy with fanboy glee.
How fun! Sure, there were a few directorial and production design choices I didn't agree with, but man, was I having a great time! What was the deal with these jaded theater critics who panned this show?

And then Act 2 started. Some time later, the show ended. We applauded for those brave souls who filled the stage, and went home to New Jersey. Now I knew why my friend who gave me his comps didn't want to see the most expensive Broadway musical in history a second time.
In the first act, we were treated to many wonderfully realized classic comic book elements: a hero's origin, an arch-villain's origin, a love interest. There is even monologuing!
There is an epic battle in the skies between Spidey and the Green Goblin. Unfortunately, the best elements of the first act are almost completely absent in the second.
The program promises a second act with even more super-villains. I was looking forward to meeting a live Carnage, Kraven the Hunter, the Lizard, Electro, Swarm, . . . and Swiss Miss? That last adversary was a very shiny new creation for the Broadway stage, a living embodiment of a Swiss army knife.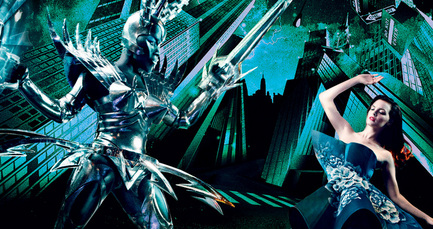 The Green Goblin of this musical was a new interpretation of the character that still delivered the goods (thanks in no small part to actor Patrick Page), all these second-act villains were disappointing in the extreme.
None spoke a word. Kraven was represented by an actor wearing a ridiculous giant puppet head. The lethal Lizard looked like a bad Godzilla blow-up doll. Once introduced, these villains are dispatched with little and sometimes no visible activity from Spider-Man.
Then, in a nod to (or a steal from) the second movie, Peter Parker, confronted by too many problems and not enough Mary Jane, quits being Spider-Man. Soon the world is going to hell on a sled and Peter Parker is doing nothing.
The second act seems to be doing a whole lot of this as well. For some reason, this act relies heavily on video projection to tell much of its story. Excuse me, but I thought we were supposed to be experiencing a live comic book experience.
The musical introduces a mythical character, Arachne (no relation to any of the Spider-Man spinoffs in the Marvel Universe). This half-human/half-spider creature acts as a muse to inspire Parker to become Spider-Man in Act 1.
When he quits in Act 2, she becomes incensed at his cowardice and enters the real world to exact her revenge. As a comic book veteran, I have no problem with these metaphysics. Arachne calls up a clutter of spider-furies to exact her revenge and perform a couple of distaff, divers-legged dance numbers.
"Great!" I think, "Here comes an epic battle! Spider-Man vs Spider-Beyotches!" Where Act 1 had two actors flying all over, I anticipated an incredible finish with 10 performers in unforgettable indoor aerial action.
The show continues, Parker finally reassumes his arachnid identify… and never once encounters Arachne's arachnid amazons!
So a first act full of 4-color wonder is hamstrung beyond salvation by a second act of excess, lack of focus, and little to no direction. Act 2 of Spider-Man: Turn Off the Dark turned the dark back on.
I wish the show success. There is a potential for a wonderful, unforgettable show that could run on Broadway and around the world for years. Until then, for an epic escape, comics will do just fine.
RevSF Rating: Act 1: 9/10; Act 2: 2/10