We aren't really standing around together. We might not be drinking water. But we do not know, because we can't see each other. We call it the RevSF Watercooler anyway, because we talk about extremely important RevSF-oriented things when we really should be doing something less fun.
Here's the story from DC Comics' site about the new TV Wonder Woman in her costume. Steel yourselves, likers of women!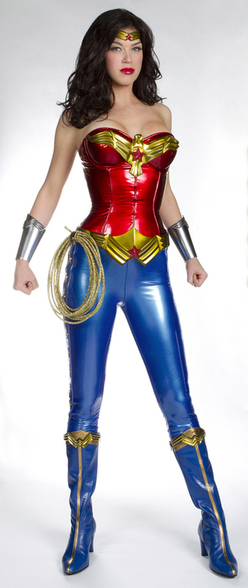 * * * * *
The new Wonder Woman costume isn't as bad as I'd expected. It's not great, mind you. Red boots might have helped. As it is, this outfit makes me think the costume designer has a latex fetish. -- Jayme Blaschke
* * * * *
The hair looks like they used the wig from Penny's costume on The Big Bang Theory. -- Wesley Kerr, The Culture
* * * * *
I'm just glad there's no 70s-era Stars & Stripes padded panties. -- David Farnell
* * * * *
When it comes to costumes I've learned that neither vinyl or CGI offer something satisfactory to comic standards. We will just keep hoping and let Hollywood keep trying new things. -- Sarah Arnold
* * * * *
I think it looks campy as hell. I hate it. Given the premise of the show, I'd rather they put Diana Prince in the white pants suit. This is bullshit. There is no way -- NO WAY -- that this will be a good thing for anyone, ever. -- Mark Finn
* * * * *
That costume (especially the bottom half) reminds me of Donna Summer circa 1979-80, you know, from "Bad Girls." -- Peggy Hailey
* * * * *
She's Wonder Woman. This is what you sign up for with Wonder Woman. There must be no dialing down or normalizing of her costume or anything about her for TV or for effects budget.
Expect even more comments from the Internet after it finishes jackin' it.
-- Joe Crowe
* * * * *
There's no getting around the fact that comic book superhero costumes look idiotic in real life.
Reading a comic book, you can suspend disbelief because spandex is the tradition of decades. It's the Way Things Are. Of course people who can fly wear skin-tight outfits in primary colors; what else would they wear?
That sense of tradition vanishes when you look up from the page and watch the screen. What you're seeing is a step closer to reality, so it has to justify itself all over again to keep from looking ridiculous.
Batman gets away with it in the movies because they put him all in black. He looks more like a ninja than a superhero.
Superman and Spider-Man get away with it, barely, because they are Superman and Spider-Man. They are the most iconic of icons. Even your great-grandmother from Albania who never picked up a comic book and hasn't been to a movie in 30 years knows what they're supposed to look like. Of course they're in skin-tight outfits in primary colors; what else would they wear?
Wonder Woman is almost as well known as them, but she's also much more innately silly. Most viewers won't give her the same pass when it comes to wardrobe.
So I'm amazed at her costume for the David E. Kelley show because it's so close to the comics. Every other description of the show made it sound like Ally McBeal meets Heroes.
If it's actually about a Wonder Woman who dresses as ludicrously as that, skin-tight spandex (or squeaky vinyl, anyway) and boobs popping out the top of a golden-eagle bustier, then the show will need to really work to earn that look.
Or is David E. Kelley's Wonder Woman meant to be as deliberately titillating as the original comic book was way back in the day? (Of course she carries a golden rope; how else is she going to tie up the men she dominates as they strain to work their will upon her?)
Either way, it makes me more curious about the show now than I was before.
Not more confident in it being good, but more curious. -- Shane Ivey
* * * * *
Is anyone else concerned about the vinyl? It doesn't breathe and on a hot day, your skin get stuck to it so easily.
But it's good her legs are getting more sun protection. -- Deanna Toxopeus
* * * * *


* * * * *