Comics Wrap-Up : Moving Pictures, The Playwright, BB Wolf and the Three LPs
Reviewed by Sarah Arnold, © 2011

Every few weeks I get a new shipment of review books on my doorstep. Of course, some of these books are good and some are bad, no publishing company is perfect. My goal with this monthly/ bi-monthly wrap-up article is to give you a heads up on what might be worth buying and what to pick up at the local store, slam to the ground and yell FOR SHAME at while everyone watches.
Kathryn and Stuart Immonen, Top Shelf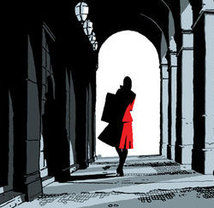 Sometimes it's hard to work with your significant other, some times it's necessary for you both to make great art. The Immonens are in the second category.
If you have a family member or friend that enjoys art history, World War II, or not so classic love stories I would say this is a great gift book. It's a little under 150 pages of beautiful black and white panels, telling the love story of a junior curator and a Nazi Military Art Commission officer. The Immonens also do a lovely job of recreating some famous works of art which can often be a difficult task since they are so recognizable.
This is not a feel-good story by any means, but that doesn't always negate a pleasurable story.
By Eddie Campbell and Daren White, Top Shelf
There's a reason why it came in #8 on Mr. Mark Williams' best of 2010 list. This is a rare comic book that unashamedly shows us real people and is a perfect example of a book you can throw in someone's face when they say comics are not serious literature.
Campbell is the larger drawing (excuse my pun) name, for his credits as artist on From Hell with Alan Moore. But the backbone to this book, as with most, is the story by White. The two work together beautifully, Campbell giving light to the insecurity and pubescent thoughts of the playwright with his water colors.
JD Arnold and Richard Koslowski, Top Shelf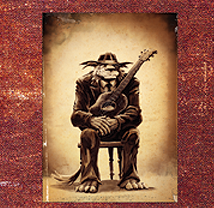 Like The Playwright, this is another writer / artist paring that is very close to perfect. I know many of us are tired of the fairy-tale re-tellings. But this one is still able to pull off the idea as fresh and interesting.
It's not, I repeat, not a book to buy your young child or sensitive mother. This is a very violent and cynical re-telling of the story set in the deep south.
As with all Top Shelf books, it has a beautiful layout and cover art. I hear that there's a companion CD out there to listen to alongside the book, which I can only imagine gets up even deeper in the dark blues setting. I highly recommend this book if you enjoy Fables.
Nate Neal, Fantagraphics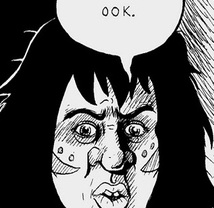 I really, really wanted to like this book. The art is well done for an emerging artist. But by the end, I strongly recommend that Neal sticks to the art side of comics and not the writing. For someone who once ran a comic anthology, I hoped Mr. Neal would've produced a better story.
Reading his bio in the back, the stereotype of the Brooklyn hipster jumps to mind and puts a bad taste in my mouth.
The story at first is intriguing. I love that we get a few words of gibberish to go off as dialogue and actions are the true telling of the story. It almost has a Shakespearean feel with the three old wise women who are sages for the small community and the feud between the old ruler and the younger.
But then he jumps the freaking shark. And in the most horrible of horrible ways. The three sages which have been directing the community as they see fit? They're ALIENS! One of the most over-used tropes in all of comics comes and hits us in the face in the last five pages.
All of the wonderful characterization and plot is now ruined. This is one to yell at in the store.