Any one of these could make you a critical hit this holiday season.
A great way to introduce new gamers into the RPG hobby. It comes with everything an aspiring gamer might need.
A 24 x 36 reusable battle grid with 3 dry erase markers and an eraser for a very reasonable price. Very good for someone just getting into using miniatures and/or counters in their games.
A lighthearted game of rising and falling empires. Easy to learn and quick to play. It has great counters and maps and it already has fun expansions.
Because baby is never too young to learn about the Old Ones.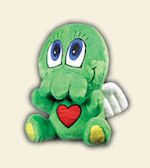 The ultimate take anywhere, play anywhere, teach others to play in 60 seconds card game. It is fun, silly and endlessly entertaining.
Metal, deadly and very cool. These things should be used as thrown weapons by gamer-ninjas. A variety of different colors. Check out their steampunk dice.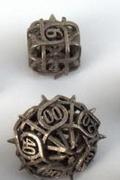 Includes the added nerd cred of printing and making it yourself. It is game cool on a lot of levels. It's a castle shaped game screen with little shelves and
DICE ROLLING TOWERS.