We all love the Millennium Falcon. It's the best spaceship in sci-fi. Tough luck, Serenity.
RevolutionSF rewarded three winners with the Star Wars Millennium Falcon 3D Owners Guide.
The book shows off the Falcon layer by layer, "from the clandestine cargo bays to the highly guarded secrets to its speed."
Watch this book trailer.
You want this book. It retails for $21.99, but you can get it for nothin' (if you have a U.S. mailing address.)
Our review of the book is right here..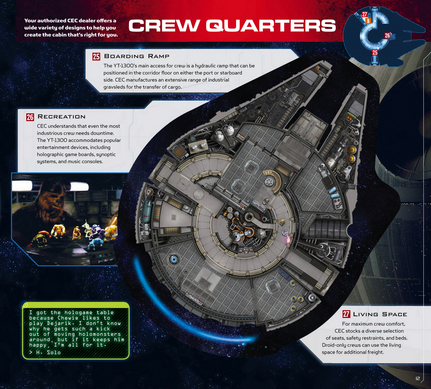 How They Won: Han Solo Makes Everything Better
Han Solo makes
Star Wars
better. That's why he is not in the prequels; we would enjoy them too much.
The challenge was to write up a scene from any non-Star Wars movie, but add Han Solo to it. Use quotes from the movie. Show how Han makes it better.
The Winners
The Fellowship of the Ring:
After Elrond charged the Fellowship of the Ring with returning the One Ring to the fires of Mount Doom, Aragon looks questioningly at his hobbit and dwarf companions, then at the tenth member of the fellowship, Han Solo. Solo says, "Short help's better than no help at all."
-- David Benz
Scott Pilgrim vs. the World:
Scott: I'm in lesbians with you.
Han: I know. -- Jeff Ward
Big Trouble in Little China:
Gracie: Do you have a gun, I hope?
Jack Burton: I have a knife.
Gracie: A knife? This guy's twelve feet tall!
Han Solo: Try and get our weapons back.
Jack Burton: Hey, don't worry, I can handle him.
Han Solo: Hokey religions and ancient weapons are no match for a good blaster at your side, kid.
Jack Burton: It's all in the reflexes.
Han Solo: Then I'll see you in Hell! -- Benjamin Blatt