Hobbit Movie Gets Bilbo, Bilbo Baggins, Bravest Little Hobbit of Them All
Revolution News
© Joe Crowe
October 25, 2010

"In the land of the Shire lives a brave little hobbit that we all admire." -- Leonard Nimoy, "The Ballad of Bilbo Baggins"
Peter Jackson announced some of the cast of the Hobbit movie. Here's the story.
Martin Freeman will be Bilbo, Bilbo Baggins.
Freeman is Arthur Dent in the Hitchhikers Guide movie, and he was Tim in the original Office. For those who saw the American version before the British, Jim is based on Tim.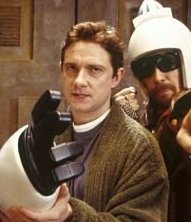 Everybody knows him.
Jackson also announced actors for some dwarves, who Bilbo helped get back their gold, that was stolen by a dragon in the days of old.
Those dwarves are Thorin Oakenshield, Kili and Fili, Dwalin, Dori, Balin, Oin, Bombur, and Gloin. Here is where you might know some of them.
Oakenshield: Richard Armitage from MI5. He was Guy Gisborne in one of the recent Robin Hood series. He was an uncredited Naboo pilot in Phantom Menace, but I won't hold that against him.
Dwalin: Graham McTavish, the voice of Loki in the Avengers: Earth's Mightiest Heroes cartoon. And Mikhail on 24.
Kili: Aidan Turner, the vampire on Being Human. That is one good lookin' dwarf.
Oin: John Callen, who did "additional voices" in the game Star Wars: Knights of the Old Republic II. He was Sonimax in Power Rangers Jungle Fury.
Dori: Mark Hadlow was King George III in the Bruce Campbell-tastic Jack of All Trades.
Is the Leonard Nimoy song stuck in your head yet? What about now? Go here. You love it.