Uncanny Un-Collectibles : Missing Comic Book Trades From 1990s, 2000s
© Rick Klaw, various artists
October 01, 2010

Many comic books are collected and archived in trade paperbacks, easily findable at bookstores and the Internet. Others are found only in dank back issue bins and the horrifying dark corners of eBay, even though they contain excellent stories and art by awesome creators. They must be released. They are the Uncanny Un-Collectibles!
Entries this time by Derek A. Johnson, Rick Klaw, Mark London Williams, Wayne Beamer, Robert Boyd, Brandon Zuern, and Josh Frankel
1990s
Freaks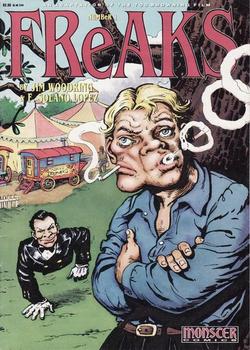 #1-4 May, 1992–March 1993 Fantagraphics/Monster
Written by Jim Woodring
Art by Francisco Solano Lopez
At the beginning of the 90s, Fantagraphics, in dire financial straits, created two imprints with the express purpose of making a quick buck. Eros Comix succeeded admirably, but Monster Comics demonstrates how hard it is to sell out. While it may not have been a financial success, it was an artistic one, largely because of Freaks.
Freaks was written by Jim Woodring, an amazing cartoonist with no experience as a script writer, and drawn by great Argentine cartoonist Francisco Solano Lopez. Initially the covers were to be drawn by Sam Kieth, then an "it" mainstream artist, but his effort for issue 1 was rejected and the final cover was designed by Jim Woodring and drawn by Solano Lopez, who also executed the remaining covers.
Freaks was an adaptation of the Tod Browning classic horror film from 1932, a tale of revenge taken by circus freaks on Cleopatra and Hercules, two "normal" circus people who betray one of the freaks, Hans. The film itself was bizarre and twisted, and took the daring step of actually using circus freaks in the main roles. Woodring and Solano Lopez take it even further. The violence is more explicit in their version (one notable scene features a straight-razor across the eyes, which recalls the original Freaks' near contemporary in filmic horror, Un Chien Andalou). And the freaks' revenge on Cleopatra, turning her into a freak, is even more terrifying than in the film version.
If Woodring amped up the violence and psychological horror, it is the moody, textured, highly realistic art of Solano Lopez that truly convinces. Indeed, it is the combination of Solano Lopez's earthy grounded art and Woodring's powerfully weird writing that make this work so brilliant, both as a stand-alone work, but also as a tribute to one of horror cinema's pioneers. There is a Spanish-language collection, but for some reason, it has never been collected in English. –Robert Boyd, blogs regularly about art at The Great God Pan is Dead
The Hacker Files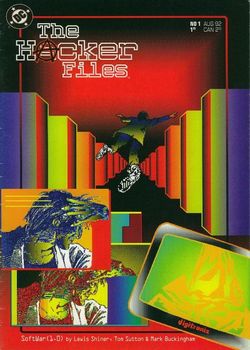 #1-12 August 1992-July 1993 DC
Written by Lewis Shiner
Illustrated by Tom Sutton (pencils) and Mark Buckingham (inks)
Of all of the core cyberpunks, Lewis Shiner, both in his work and in person, remains the most accessible. Though his work could involve anything from rock musicians and Mayans (as in his excellent novel Deserted Cities of the Heart) to skateboarders, anarchists and UFO ministers, (Slam), his work always focused more on the people than the genre elements, making his comic The Hacker Files not only a fascinating associational movement text but also one of the most engaging. It stands, too, as the most accurate portrayal of hacker subculture in the early 1990s.
The freelance systems analyst Jack Marshall (who goes by the computer name Hacker) is not the enigma of Neuromancer's Case or the futuristic nobleman of Schismatrix's Abelard Lindsay but an ordinary guy who got the shaft from his previous employers. Along the way he has to deal with such fictional analogues as The Great Internet Worm of 1989 and Operation Sundevil (including the raid on Steve Jackson Games in 1990), and the real life paranoia of the post-Reagan years. However, none of it dates the material (though the hardware might) but makes it all the more prescient. An omnibus edition of all twelve issues would stand not only as an historical document but also a timely one. –-Derek A. Johnson pens the monthly movie column "Watching the Future" for SF Site
Lansdale and Truman's Jonah Hex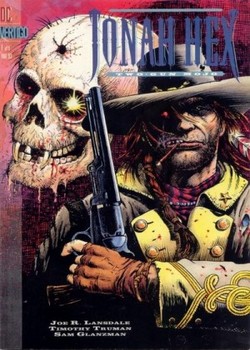 Jonah Hex: Two Gun-Mojo
#1-5 August-December 1993,
Jonah Hex: Riders of the Worm and Such
#1-5 March-July 1995, and
Jonah Hex: Shadows West
#1-3 February-April 1999 DC/Vertigo
Written by Joe R. Lansdale
Illustrated by Timothy Truman
Of all the major Jonah Hex storylines, only the three critically acclaimed mini-series, created by the dynamic duo of writer Joe R. Lansdale and Timothy Truman, remain to be collected. The pair's first effort, Jonah Hex: Two Gun-Mojo (1993), introduced supernatural elements to the Hex mythos, as the former Confederate soldier encountered zombies. The popular series garnered a prestigious Bram Stoker Award and a single volume compilation, now long out of print. The second series, Jonah Hex: Riders of the Worm and Such (1995), proved just as popular as Hex challenged a Cthulhoid monster and oddities such as the half-human/ half-worm Autumn Brothers.
The latter was a progenitor to a lawsuit by musicians Johnny and Edgar Winter against Lansdale, Truman, and DC Comics for defamation of character that reached the California Supreme Court. Displayed with very light complexions and long white hair, the Autumn Brothers bear a similar appearance to the albino Winter Brothers. Ultimately, after seven years of litigation, the CA Supreme Court ruled that the depiction, clearly a parody, fell under 1st Amendment protections of free speech. All this hullabaloo didn't prevent the publication of a third well-received Lansdale-Truman collaboration, Jonah Hex: Shadows West (1999). Neither Worms nor Shadows have ever been collected. -- Rick Klaw
The Lone Ranger and Tonto
#1-4 August 1994–November 1994 Topps
Written by Joe R. Lansdale
Illustrated by Timothy Truman
If you check the Topps website now, you'll see lots of news about trading cards. Not just baseball: High School Musical 2 cards, anyone? Wrestling? Wacky packages? and even apps for trading cards. We worry about the future of the book. What of the card? But once upon a time, Topps had a comic imprint, too.
This was back in the 90s, when we still had a functioning economy, to boot, a decade in which Joe Lansdale was reinventing the comic book western. He did it at DC, with his great take, in collaboration with artist Timothy Truman, on Jonah Hex. And then he and Truman did it again, at Topps, which held the comic rights to an evergreen pop culture icon known as The Lone Ranger.
But this wasn't your father's Lone Ranger, or at least not my dad's, who grew up listening to the radio serial. Here, we open up with Tonto duking it out with "Loney" ("Rangey?" Do we have a nickname?), and though Lansdale and Truman give us great "weird western" elements, what works in this original four-parter are the "meta" narrative elements about the duo's growing fame.
There are dime novels about the Ranger's exploits, in which Tonto is the "Injun" sidekick, Pidgin English and all. And our Tonto, in this story, is sick of it. He splits up the Ranger for awhile, post-dukes, and later takes on Rednecks and Know-Nothings everywhere. Man, he'd have his hands full in this era of Tea Partiers.
More than the SF / weird western elements (aliens!), it's the story that makes this a great comics read. Well, that and it's Lansdale and Truman. It was collected once, by Topps, but those are long out of print, and the sucker needs to be brought back pronto. Which rhymes with . . . -Mark London Williams, creator of the cult favorite Danger Boy book series and co-writer of the bi-weekly comics column "Nexus Graphica"
Blood and Shadows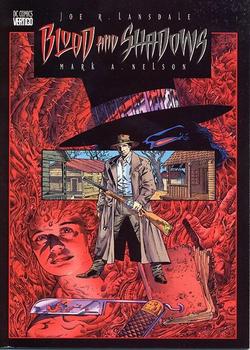 #1-4 1996 DC/Vertigo
Written by Joe R. Lansdale
Illustrated by Mark Nelson
Why Blood and Shadows has not been collected in an omnibus edition remains a mystery. After all, the top-hatted God of the Razor (from Joe R. Lansdale's classic splatterpunk novel The Nightrunners) got his own print omnibus edition of novel and stories (The God of the Razor) and also his own anthology, Lords of the Razor), so it's not like there's no audience for it.
Reminiscent of DC's Weird Western Tales and Lansdale's own The Magic Wagon and Dead in the West (to say nothing of the work he did on Jonah Hex), this four-issue tale is a gorgeous trippy mix of incredible artwork (by Mark A. Nelson) and engaging storytelling (it's Lansdale, so that's to be expected), mixed with the incredible bizarre humor that only Lansdale ever seems to be able to deliver. It deserves a wide audience. -Derek A. Johnson
Flex Mentallo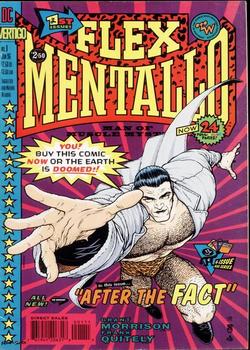 #1-4 June–November 1996 DC/Vertigo
Written by Grant Morrison
Illustrated by Frank Quitely
Flex Mentallo, Grant Morrison's four-issue limited series about a musclebound superhero searching for other champions of justice, might not be for you. It's too psychedelic for a mainstream audience, yet too much in love with truth, justice, and the American Way for the weirdos and freaks. It's drug-fueled science fiction fantasy is more than the straight-laces can handle, but has a strangely sweet optimism that cynics won't get.
But if you simply love comic books, Flex Mentallo is the mondo bizarro comics commentary you've been looking for.
It's a love letter to superhero ideals laced with LSD. It's a beautiful like an explosion, thanks to the stunning art of Frank Quitely. But because of the lead character's similarity in look and origin to bodybuilder-turned-pitchman Charles Atlas, we may never see a collection of this amazing series. Though DC Comics stood up to the lawsuit-version of getting sand kicked in their face by Charles Atlas Co., they've hesitated to reprint the story. Here's hoping Flex Mentallo uses his reality-changing mastery of Muscle Mystery to flex us up a trade paperback! It could happen, because Flex Mentallo is proof that superheroes are real. -Brandon Zuern, store manager, Austin Books & Comics
Hey, Mister: Celebrity Roast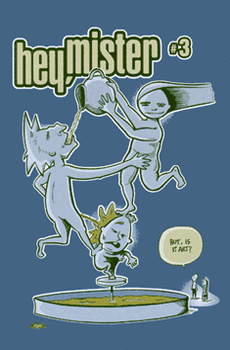 Hey Mister #1-4 1997-98 self published/ Top Shelf
Written and illustrated by Pete Sickman-Garner
To describe the profane misadventures of Aunt Mary, Young Tim and Mister in much detail would be taking away the pleasure and surprise you'll have in finding and reading Hey, Mister. So, why should you be looking for it?
Backstory: While working as a "booth bunny" at conventions a decade ago for Top Shelf, the hardest part about selling graphic novels was to get people walking past our booths at conventions to stop for a minute or two.
When "What do you like to read" questions provoked blank stares, I'd ask, "Do you like to laugh?" After getting the shaking-head-with-a-smirk look, I handed them a copy of a Hey, Mister trade, and said, "Hey, Mister is South Park but, actually funny." Then, I'd hand them a book and step away. More often than not, they'd read a story, burst out laughing, then buy it.
If your tastes run insanely funny and offensive (think Ivan Brunnetti's Misery Loves Comedy and Evan Dorkin's Milk and Cheese, Hey, Mister attacks religion, sexual and moral taboos, human empathy and everything in between with a vengeance.
Volumes 1 (After School Special) and 3 (The Fall Collection) are still available from Top Shelf. -Wayne Beamer
Chase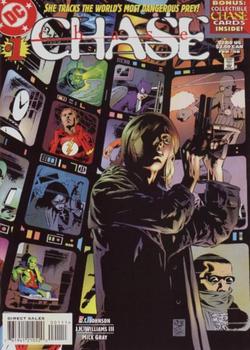 #1-9 and #1,000,000 February-November 1998 DC
Written by Dan Curtis Johnson (co-plotter/ scripter) and J. H. Williams III (co-plotter)
Illustrated by J. H. Williams III (pencils), Mick Gray (inks) and others
What 99 percent of us know about Chase is nothing, unfortunately. It was a blip of a 10-issue series last published in 1999 about Cameron Chase, a female governmental operative with the Department of Extranormal Operations who had a deep-seated hatred of most superbeings, good and bad. No great loss, right? Hardly.
Chase marked the beginning of the artistic partnership of J. H. Williams III and Mick Gray, whose collaboration with Alan Moore on Promethea, a modern-day mashup of Wonder Woman and Fawcett's Captain Marvel memes, was among a handful of the best and most entertaining and beautiful superhero comics published anywhere by anybody over the past decade. And award-winning too.
Since the Eisner-winning debut of Batwoman by Williams III and Greg Rucka in Detective Comics now promoted (to her own series coming this November), the scant few fans of Chase and those who want to be (me) have been asking two questions:
1. When will DC finally collect it? 2. When will Chase return?
If the overt hints on Williams III's web site are any inkling, we may see a Chase reappearance in the pages of Batwoman next year. What that could lead to afterward is anyone's guess. Fingers and toes are crossed daily. Feel free to join the movement. -Wayne Beamer
2000s
Batman: The Doom That Came to Gotham
#1-3 November 2000-January 2001 DC
Written by Mike Mignola (co-plot and script) and Richard Pace (co-plot)
Illustrated by Troy Nixey (pencils), Dennis Janke (inks), and Dave Stewart (colors)
One of the few super heroes who is uniquely suited to Mike Mignola's talents for a moody and dark setting is Batman. Mignola has worked on a few Batman stories however one of his best remains uncollected. Batman The Doom That Came to Gotham is a Batman yarn with a Lovecraftian twist. In it Bruce Wayne has to face one of the elder gods of void. In lesser hands this would be a gimmick however Mignola weaves together the Batman mythos seamlessly with H.P Lovecraft's dark and sinister sensibility. This can be seen in how the inhabitants of Gotham City such as Harvey Dent and Etrigan the Demon are adeptly given a cosmic horror spin by Mignola. While Mignola did not draw this book the artist Troy Nixey does an adept job add that to master colorist Dave Stewart and there is fine looking art to go with the engrossing story. Overall this Batman story is a must for any Mignola fan. -Josh Frankel, publisher of Zip Comics and writer of The Schizophrenic