Uncanny Un-Collectibles : Missing Comic Book Trades from the 1980s
© Rick Klaw (editor), various artists
September 30, 2010

Many comic books are collected and archived in trade paperbacks, easily findable at bookstores and the Internet. Others are found only in dank back issue bins and the horrifying dark corners of eBay, even though they contain excellent stories and art by awesome creators. They must be released. They are the Uncanny Un-Collectibles!
Entries in this edition by Chip Mosher, Chris Roberson, Jayme Blaschke, Steve Wilson, Bob Greenberger, Alan J. Porter, and Sarah Arnold.
1980s
Reich For Beginners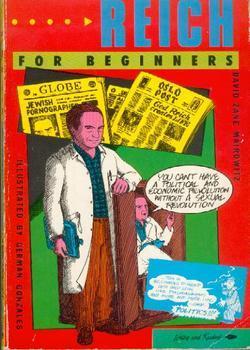 1986 Writers & Readers
Written by David Zane Mairowitz
Illustrated by German Gonzales
Elijah Brubaker's Reich mini-comic may be the most recent comic book incarnation of the life and times of Wilhelm Reich, but Reich For Beginners got there first. Who is Reich? Good question. I first read about Reich in the introduction to Kerouac's The Subterraneans. The introduction made a good case for Kerouac's flowing stream of consciousness style as stemming directly from his reading of Reich's seminal work Function of the Orgasm, which made a correlation between a healthy sex life and just being healthy in general.
Next I learned more about Reich in Robert Anton Wilson's play Wilhelm Reich in Hell, about how the FDA burned his books in the late '50s . . . in the good ol' U.S.of A.
What should you know? He was a disciple of Freud. Wrote Character Analysis, which related concepts like neurosis to physical manifestations such as chain smoking. He broke with Freud. Figured out that the Orgone was the energy that bound the world together. Created Orgone Ray Boxes to cure cancer and wrote books about it. Built the Orgone Ray Gun to "blink" UFOs in and out of existence. Got in trouble with the FDA for claiming a cancer cure and died in prison for not compromising on those beliefs.
Reich For Beginners covers all of this, and if Reich's paranoia and messianic complex didn't get the best of him, we surely would know his work as well as Freud's. But if you can't get Reich For Beginners, get Elijah Brubaker's mini-comic series. It's up to issue 7. Both comics serve as terrific primers on this relatively unknown iconoclast. -–Chip Mosher, writer/creator of Left On Mission
Zenith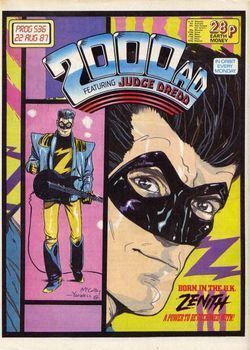 2000 AD
#535-550, 558-559, 589-606, 626-634, 650-662, 667-670, 792-806 Winter Special #1 Annual 1990 August 15, 1987-October 4, 1992 Fleetway
Written by Grant Morrison
Illustrated by Steve Yeowell
Long before he became THE Grant Morrison, God of All Comics and creator of The Invisibles, All-Star Superman, and Batman & Robin, even before the books that first established him in the United States, Animal Man and Doom Patrol, there was Zenith. Originally a serial that ran in the pages of 2000 AD, and long out-of-print due to rights issues, Zenith told the story of a young third-generation British superhero who was more interested in going to parties and releasing hit singles than he was in saving the world.
As the serial was still running, Morrison described it in an interview with Amazing Heroes as being "a scratch-mix super-hero," doing with superhero comics the same thing that hip-hop and house music had been doing for years: appropriating and remixing elements from elsewhere in new, interesting ways. Many of the characters and ideas that Morrison appropriated for Zenith were from old British comics of the fifties and sixties (many of the same characters that Paul Grist has used to similar effect in recent years in his Jack Staff).
Stealing a page from silver age DC Comics, Morrison populated an entire multiverse with these characters, a world for every moribund publisher, and then promptly began destroying one world after another. Zenith was a long-form line-wide-crossover that happened entirely in one series, prefiguring the kinds of stories that Morrison would later tell in the pages of JLA, DC One Million, Seven Soldiers, and Final Crisis.
It was a heady, mind-bending series that mashed up Lovecraft with superheroics, science fiction with eschatology, pop music with politics, all in an entirely seamless, completely engaging whole. And I'd be remiss if I didn't mention the artistic contribution of Steve Yeowell, who would later collaborate with Morrison on The Invisibles. Working in flat black-and-white, Yeowell was able to communicate entire worlds with a few lines and shadows, and to fill pages with dozens of different characters and make them all instantly recognizable. Sadly, the series has been out of print for years, and attempts to reissue it have been stymied.
There may be light over the horizon, though, as a rumor has recently surfaced that plans to republish the entire series in a single collection may be in the works. -Chris Roberson, award-winning author of I, Zombie
Green Arrow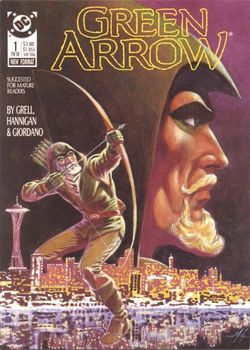 #1-80 February 1988-November 1993 DC
Written by Mike Grell
Illustrated by Ed Hannigan, Dan Jurgens and others
Following the critical and commercial success of The Longbow Hunters, Mike Grell's lavishly painted, mature audiences revamp of long-time Justice League second-stringer Green Arrow, aka Oliver Queen, DC Comics gambled and gave Grell the reins to an ongoing monthly title featuring the character. The move was risky: Green Arrow had only supported a single solo miniseries prior to LBH, and the new book was the sole mainstream title in DC's lineup to carry a cautionary "Suggested for Mature Readers" tag on the cover.
They needn't have worried. From the series' debut in 1988 through 1990, Green Arrow was DC's most dependable entry in Diamond's top 20 list that didn't have Batman in the title. Grell's stories were tightly-plotted two-parters, with annual four-part arcs featuring Shado, a rogue Yakuza archer introduced in LBH. Dinah Lance, aka Black Canary, was unfortunately relegated to a mostly-passive supporting role even as her's and Oliver's relationship was examined with great attention, but that's one of the few flaws of an otherwise stellar run.
Enjoying creative freedom afforded by the "Mature" tag, the stories were grounded in real-world issues and examined the seamier side of urban life often ignored in the flash-bang of other super-hero comics. The talented illustrators Ed Hannigan and Dan Jurgens alternated tag-team style from arc to arc, resulting in some of the most consistently high-quality art in a monthly book.
By issue 50, Grell's writing had clearly begun to lose steam, but even so, after he departed the title in 1993 with issue 80 and several related miniseries under his belt, readership dropped so precipitously that DC eventually killed off the character and replaced him with Connor Hawke, a younger, hipper version to boost sales. Because of Grell's disciplined writing in compact, self-contained storylines, it seemed inevitable that Green Arrow would soon join the growing number of comic books collected in trade paperback format for the bookstore market. Inexplicably, this never happened.
Hannigan has said that collected volumes were much-discussed during the first several years of the title, to the point that ideas for cover art were tossed around. Discussions are as far as things got, however, and by issue 30 even these had died out. That not a single issue of Grell's remarkable 80-issue run has ever been reprinted is unconscionable, but unsurprising given the fact that a completed, Grell-penned Green Arrow miniseries featuring Connor Hawke and Shado has languished on the shelf at DC for a decade with no sign of publication to come. -Jayme Lynn Blaschke, author of Voices of Vision and RevSF Editor-At-Large
The Shadow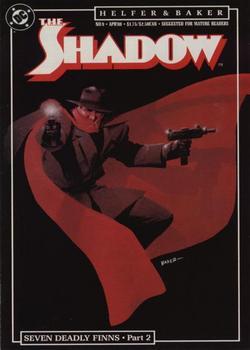 #8-19 March 1988–January 1989 DC
Written by Andy Helfer
Illustrated by Kyle Baker
Blood, sex and shoulder pads.
There really wasn't much more to Howard Chaykin's 1985 Shadow: Blood and Judgement mini-series, and there didn't need to be. In revamping the large-nosed crimefighter with the jaunty scarf, Chaykin delivered what he set out to do — he gave the guy a pair of Uzis, threw in some pointless rumination about where a 1930s crime fighter fits into the modern world, and made sure nearly everyone died very violently.
It was great fun, but bound to get old fast, what with The Shadow being a soulless
asshole that no reader could or should identify with. Andy Helfer must have realized this when he took the reins for an ongoing monthly series, because he flipped the whole she-bang into a dark comedy. Once Kyle Baker replaced Bill Sienkiewicz by issue #8, everything clicked.
Helfer's skewed vision paired with Baker's hyper cartoon stylings made their first outing, "The Seven Deadly Finns" (#8–#12), a masterpiece. The story lays bare all that is cool about The Shadow, all that is mind-bogglingly stupid about him, and embraces the whole. It even gives the character a few moments of what could be mistaken for humanity, or at least a sense of humor.
Nevertheless, it didn't sell. The series got the axe by #19, ending abruptly on the cusp of what promised to be the most bizarre storyline yet: The Shadow's severed head revived and placed atop a robot body armed with a shitload of weaponry.
A ludicrous cliffhanger, but in its own way, a fitting end. –Steve Wilson, RevSF Fiction editor
Cinder and Ashe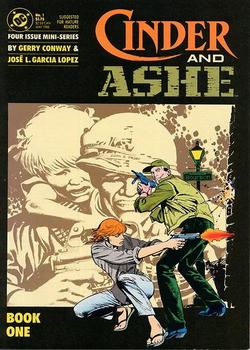 #1-4 May-August 1988 DC
Written by Gerry Conway
Illustrated by Jose Luis Garcia-Lopez
Clearly inspired by Modesty Blaise, Gerry Conway got to work with the fabulous Jose Luis Garcia-Lopez to produce this miniseries, which flew under the radar when it was released in 1988. The series was labeled for mature readers at a time when the company was growing concerned over the themes being explored for the first time across the line. Jacob Ashe is a Vietnam vet now living in New Orleans and bonds with the redheaded Cinder DuBois, daughter of an African-American soldier and a Vietnamese woman. Mercenaries, or "damage control experts," the raging Cajun and the gorgeous woman are hired to find a man's missing daughter and the trail leads the duo to Lacey, the man who raped Cinder when she was 13 (hence the label). During the case we are treated to flashbacks to Vietnam and the characters' backgrounds. The story moves nicely and clearly sets the pair up to become recurring figures in DC's publishing landscape.
But the lackluster sales and Conway's retirement from comics meant the promise went unfulfilled. This series is perfect for Vertigo's Crime line or a standalone color volume. -Robert Greenberger
James Bond: Permission To Die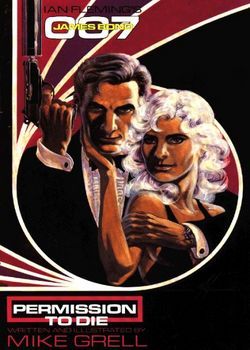 #1-3 1989-91 Eclipse
Written and illustrated by Mike Grell
Sometimes erroneously cited as the first original Bond story in comics format, writer/artist Mike Grell's three-issue mini-series, co-published by Eclipse in the US and Acme Press in the UK, was still significant as it is considered by many Bond fans to be one of the best Bond stories in any medium.
Grell, a long time fan of Ian Fleming's work, distilled the character of James Bond perfectly, pulling in influences from the original novels, the movies and the then current John Gardner penned continuation novels. This is a mix of classic Bond tropes aligned with a late eighties sensibility, that makes you instantly forget all about Roger Moore. But that late eighties political view is also its downfall.
When originally published there was a two-year delay between issues two and three caused by financial and contractual problems with the printers. In that gap, the Berlin Wall fell, undermining the whole Cold War driven premise. The book was instantly rendered anachronistic.
But looking back on it now from a distance it still reads as a taut thriller. If you only ever read one Bond comics story, make sure it's this one. Permission To Die was collected and issued in graphic novel format as a joint venture between the two publishers in 1991, but is now out of print. With both publishers now out of business, and the current Bond rights holders (both literary and movie) not having a clue about comics, (I speak from personal experience) it's doubtful we will ever see this collected again any time in the foreseeable future. -Alan J. Porter
1990s
Lazarus Churchyard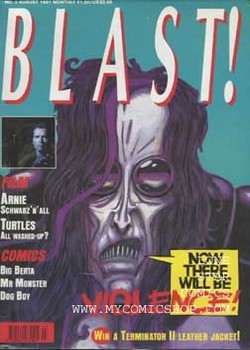 Blast!
#1-7 June-December 1991 John Brown
Written by Warren Ellis
Illustrated by D'Israeli
Lazarus Churchyard was first released as a serial in Blast! magazine in 1991 and later released as a collection by Atomeka Press in 1992 and later by Image in 2001. Writer Warren Ellis is best known for his futuristic, hard-edged journalist, series Transmetropolitan (DC/Vertigo, 1997-2002). After reading Transmet, many avid Ellis fans are left with the question of where did these characters, themes, and verbose ideas come from' An easy way to answer this is Lazarus Churchyard.
The themes and ideas are very raw and at times immature when compared to Ellis' later works. But, the collection is vital to anyone who loves the work of either D'Israeli (artist/inker for Scarlet Traces, Sandman and Judge Dredd) or Ellis. This is an early work for D'Israeli and Ellis, and while they are still on unsure footing, you can see how they became the artist and writer they are today. While many times it is heart-breaking to read early stories of our favorite authors, this small collection of shorts is more comparable to flipping through a sketchbook of good ideas rather than ones that were just thrown away. –Sarah Arnold blogs about geek doings for Do512