Uncanny Un-Collectibles : Missing Comic Book Trades from 1960s and 1970s
© Rick Klaw, various artists
September 29, 2010

Many comic books are collected and archived in trade paperbacks, easily findable at bookstores and the Internet. Others are found only in dank back issue bins and the horrifying dark corners of eBay, even though they contain excellent stories and art by awesome creators. They must be released. They must be read. They are the Uncanny Un-Collectibles!
This edition's entries by Tony Salvaggio, Bill Williams, Alan J. Porter, Scott A. Cupp, Bob Greenberger, and Martin Thomas
1960s
Choujin Locke (Locke the Superman)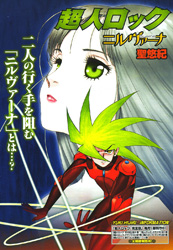 (1967-present, various publications and publishers)
Written and illustrated by Hijiri Yuki
In Choujin Locke (Locke the Superman), Hijiri Yuki weaves a time-spanning tale of the seemingly immortal Locke, the green haired psychic (or "esper"), and his fight against evil amid a backdrop of political machinations, humanity's quest for the stars, and battles both supernatural and technological. The story cleverly hops around the futuristic timeline, with some stories referring to previous adventures or tying in to other tales that take place far into the future. The art is an odd mix of almost shoujo (girl's comics) art, but with technological detail befitting its young adult (seinen) storyline. Fans of novels such as Michael Moorcock's Eternal Champion series that also enjoy manga would most likely enjoy the Locke the Superman series were it to be collected in the US.
Sadly the only Locke the Superman stories that US audiences are likely to have seen are the badly dubbed and edited VHS versions of the anime Locke the Superpower (Millennium of the Witch in Japan) and Star Warriors (Lord Leon in Japan). Older manga does not sell well in the US, but it would be great to see obscure and interesting manga such as this getting picked up for collected release. -Tony Salvaggio, writes, rocks, and dreams of becoming King of the Monsters
Not Brand Echh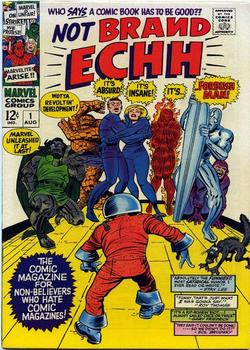 #1-13 August 1967-May 1969 Marvel
Written by Stan Lee, Roy Thomas, and Gary Friedrich
illustrated by Jack Kirby, Marie Severin, John Severin, Gene Colan and others
Despite the violence of modern spandex wearing heroes, they're a bunch of humorless precious little snowflakes. Every single character has a dedicated fan base that screams at every implied slight to that favorite fictional creation. The echo chamber of the Internet blasts the noise across the fanboy chasm to the publishers in New York who realign the planets to give the fans what they want. All of those boring old Silver Age characters are back and they are just edgy enough to be sort of interesting and inoffensive.
But back in the late 1960s, there was a brief shining moment when a satiric comic book series parodied these brightly-colored brats. Not Brand Echh ran thirteen issues and included work by the best of the Marvel Bullpen including some amazing covers by Marie Severin. Stan Lee and Jack Kirby worked on the book among others. Not Brand Echh introduced us to Mad Magazine style analogs to the Marvel Characters including The Silver Burper, Scaredevil and more. They also took shots at characters from other companies like Magnut the Robot Biter, Gnatman & Rotten and the Blunder Agents.
A compilation of those old stories would be a perfect tonic for the pompous windbags in primary colors who are struggling for relevance in the modern technology-rich world. When we can spend a couple of hundred dollars and get technology better than Lex Luthor could dream of, should we seriously consider his brightly colored nemesis? Or should we retire him to the pasture where he can live out his sunset years stopping locomotives?
I say we bring Stuporman back to his essential humanity and have a last laugh with him. It is the least we could do for a very old friend. -Bill Williams, author of Young & Foolish now available through the Kindle Store
Secret Six #1-6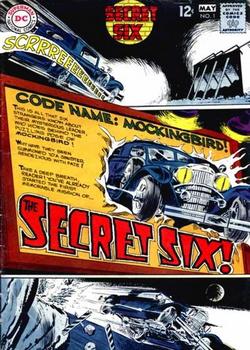 April/ May 1968-April/May 1969 DC
Written by E. Nelson Bridwell and Joe Gill
Illustrated by Frank Springer
In an era when DC was experimenting with talent and storytelling concepts, often overlooked is Secret Six, a seven issue series that was sort of espionage, sort of mystery but unfailingly engaging. Created by staff assistant editor E. Nelson Bridwell, the series featured six people with vastly different backgrounds, coerced to perform missions under orders from the hooded Mockingbird, who was also one of the six, and on behalf of the federal government's "Agency."
This sextet of damaged souls got themselves in and out of danger at a breakneck pace, all the while wondering which one of them was giving the orders. Initially edited by Murray Boltinoff, it was quickly handed off to newly arrived Dick Giordano, who brought in his Charlton mainstay author, Joe Gill, to help on a few issues, although Gill inadvertently eliminated two of the six from consideration as Mockingbird, diminishing the mystery.
Still, Frank Springer did some of the best artwork in his career in these real world adventures, which often started by using the cover as the splash page and hurtling you right into the story. The series was canceled long before the real identity of Mockingbird was revealed, even though Bridwell had it all mapped out. It fell to Martin Pasko to conclude that thread in his revamp which appeared decades later in Action Comics Weekly. -Robert Greenberger, freelance writer and regular contributor to ComicMix
Star Trek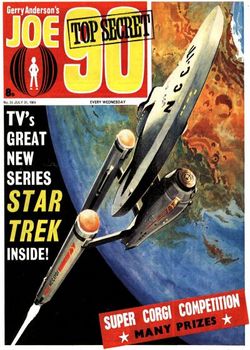 Joe 90: Top Secret #1-34 Annual 1970 January 18, 1969-September 6, 1969 City Magazines/21st Century Publications, TV21 & Joe 90 #1-101 September 27, 1969-September 25, 1971 City Magazines/21st Century Publications, Radio Times June 27, 1970, and Valiant & TV21 #1-118 Annual 1972, 1973 October 2, 1971-December 29, 1973 IPC Valiant Summer Special 1972 July 1972, and Mighty TV Comic Annual 1978, 1979 December 1977-December 1978, Polystyle
Written by Angus Allen, Max Erhlich, and others
Illustrated by Harry Linfield, Jim Baikie, John Stokes, Mike Noble, Frank Bellamy, and others
"The giant star-mapping space ship, Enterprise, under the command of Captain Kurt . . . "
So begins the opening adventure in the UK produced original Star Trek strips. The UK's first exposure to Star Trek was the comics adventures that debuted in TV adventure comic Joe 90: Top Secret in January 1969, a full six months before the TV show first aired on the BBC. As a result the writers and artists of the strips had no clue about the show beyond a few still photos and memo notes.
The misnaming of the Enterprise's captain was quickly fixed, but the strips always retained a quirky British feel that made them seem like an alternative universe counterpart to what we eventually saw on TV. This starship was run like the Royal Air Force, with Spock often referring to Kirk as skipper.
The Enterprise could shoot flames out its nacelles, land and hover over planets, and in one story even worked as a submarine! Aliens tended to be based on animals (such as giant snails), or historical races. The Romulans were depicted as actual Romans. And of course, after the Enterprise saved a planet, the crew would teach the natives how to play soccer.
While the stories may have been a little strange, the artwork was among some of the best being produced, featuring prominent British artists such as Harry Linfield, Jim Baikie, John Stokes and Mike Noble. For most of its run the Star Trek strip held the most prestige spot in a weekly comic, the center double page spread. This allowed for more dynamic art, with irregular panel sizing and shapes, montages, and highly effective color washes. While the uniform colors may not have been always right, the colors themselves were always vibrant.
There have been a couple of attempts in recent years to collect and reprint these unique Star Trek stories, but they are caught up in a mess of legal and rights issues that would probably make such an exercise prohibitive. -Alan J. Porter
1970s
Sword of Sorcery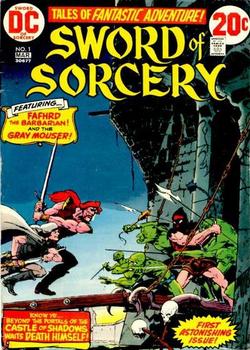 #1–5 March-December 1973 DC)
Written by Fritz Leiber and Denny O'Neill
Illustrated by Howard Chaykin, Walt Simonson, and others
Let's take a look at the five issues of Sword of Sorcery. First, it was an adaptation of Fritz Leiber's Ffahrd and the Gray Mouser stories. This is a big plus. Second, art was by the Crusty Bunkers and others, i.e. Howard Chaykin, Bernie Wrightson (covers), Michael Kaluta (covers), and Walt Simonson. Good stories with good art, though since this was from 1973 most of these guys were still at the beginnings of their careers and were a little inconsistent. There was a cameo by Conan in issue 5. I'd buy this in a heartbeat. -Scott A. Cupp
Plop!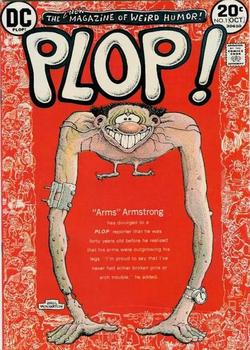 #1-24 Sept./Oct. 1973 to Nov./Dec. 1976 DC
Written by Sergio Aragones, Steve Skeates and others
Illustrated by Sergio Aragones, Berni Wrightson, Basil Wolverton, Wally Wood and others
Steve Skeates and Sergio Aragones produced "The Poster Plague" which appeared in House of Mystery and won awards. It seemed to awaken something within editor Joe Orlando, who parlayed that one story into an ongoing humor title. What helped make Plop! unique was that unlike more recent attempts at humor comics, it was not in the Mad-mold of satire and parodying pop culture.
While it took DC's heroes to task now and then, the stories tended to be dark humor and tinged with an edge. Just look at the award-winning Bernie Wrightson story, "The Gourmet" in issue #1 for an example. Many recalling the magazine immediately think of Aragones but readers were also treated to covers by Basil Wolverton and Wally Wood for the first 19 issues, making them distinctive.
According to Bob Rozakis, when he drove the Comicmobile, Plop! was one of his best selling titles. How could it not be? Veteran humorists Aragones and Don Edwing provided work, along with newcomers including Dave Manak, Martin Pasko, and Ed Noonchester. Veterans Henry Scarpelli, John Albano, Ric Estrada, and even Murphy Anderson all made contributions. Wildly uneven but rarely failing to entertain, this was a DC highlight of the 1970s. -Robert Greenberger
Shang-Chi, Master of Kung Fu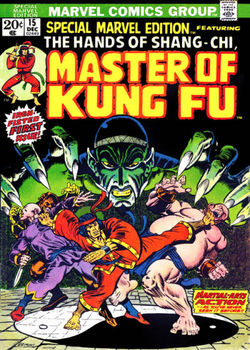 Special Marvel Edition #15-16 December 1973-February 1974 and Master of Kung Fu #17-125 Annual 1 April 1974-June 1983, and Giant Size Master of Kung Fu #1-4 September 1974-June 1975, Marvel
Written by Steve Englehart, Jim Starlin, Doug Moench and others
Illustrated by Jim Starlin, Paul Gulacy, Mike Zeck, Gene Day, and others
Of all the unlikely fads to pass through American pop culture in the 70s, the kung-fu craze had to be the most fun. Every kid was karate chopping each other on the playground after seeing the latest Bruce Lee flick, Carl Douglas was ubiquitously on the radio singing about it and "Kung Fu" was the very title of one of the highest rated shows on primetime television.
Not to let such a potential money-making trend pass them by, Marvel acquired the comic book rights to the Kung Fu TV series, then the rights to Sax Rohmer's pulp novel villain Dr. Fu Manchu. Rather than go with a straight adaptation, they kind of reworked the Kwai Chang Caine character as the son of Dr. Fu Manchu and renamed him Shang Chi: The Master of Kung Fu. Writer Steve Englehart and artist Jim Starlin introduced Shang-Chi as a faithful son who learns of Fu Manchu's true evil nature and swears eternal opposition to his father's ambitions, to the point that he joins Fu Manchu's arch enemy, British Intelligence agent Sir Dennis Nayland-Smith (another of Sax Rohmer's characters), as a member of his MI-6 team.
The nature of kung-fu is that what makes it impressive is the movement. There is no description or static image that conveys the thrill. So, the translation of martial arts to the static panels of a comic book was just lacking, especially with Jim Starlin as the artist. He was certainly the go-to guy for illustrating the cosmic exploits of Warlock and Captain Marvel, but his Shang-Chi looked more like an orange-skinned Native American in fancy red pajamas.
It wasn't until #22 when Doug Moench and Paul Gulacy took over as the creative team that the book became something special.
Moench pushed the espionage angle, writing every storyline like it were a screenplay for a James Bond movie and populating Shang Chi's MI-6 team with memorable characters: Clive Reston, Leiko Wu, James Larner and the "lovable" racist team leader, Black Jack Tarr.
But as good as the writing was, it played second fiddle to the fantastic art of Paul Gulacy. The only thing that influenced Gulacy more than artist Jim Steranko was movies. On top of a hyper-realistic drawing style full of shadows and mood, he created the most cinematic panel layouts of any artist I've seen before or since.
The other big attention-getter was that nearly 20 years before Bryan Hitch turned Samuel L. Jackson into Ultimate Nick Fury, Gulacy drew the characters in this book to look exactly like popular actors of the time: Marlon Brando, Sean Connery, Marlene Dietrich etc. Most notably, Shang Chi was drawn as Bruce Lee. It's rumored that Marvel regularly sent Gulacy notes to "knock it off," which he apparently just as regularly ignored.
These two creative giants created magic on this title for roughly the next 30 issues (there were a few fill-ins as Gulacy was not the best at meeting his deadlines). The Hands of Shang Chi: The Master of Kung Fu was eventually taken over by artists Mike Zeck and Gene Day who had admirably long and successful runs on the book until it ended with issue #125. Doug Moench and Paul Gulacy maintained a decades-spanning collaborative partnership, creating among so many great works Sharper Than a Serpent's Tooth, the James Bond graphic novel they were destined for, and a return to the Shang Chi universe with The Hellfire Apocalypse in 2003.
I've watched all the editions of Marvel Masterworks, Marvel Omnibus and the cheap black & white reprint Marvel Essentials go by while patiently waiting for the original Moench & Gulacy stories to be reprinted. Alas, this may never happen, as Marvel no longer has the rights to the Sax Rohmer properties.*Sigh.*
Still, I can't help but think it would require little more than an intern's weekend to change all the text so that "Fu Manchu" is just referred to as "Yellow Claw:" a way-too-similar character that Marvel owns outright. –Martin Thomas, reviews regularly for Spill