Uncanny Un-Collectibles: Missing Comic Book Trades, 1930s to 1940s
© Rick Klaw (editor), Various RevolutionSF artists
September 27, 2010

Given that Barnes & Noble and Borders stores offer extensive graphic novel selections and the existence of countless collections including seemingly limited interest oddities such as Peter Porker the Spectacular Spider-Ham, American Comic Group's forgettable 1960s super heroes Nemesis and Magicman, and Fantagraphics' two volumes of the wonderfully subversive works of Fletcher Hanks, one might think everything of note ever published has been compiled into graphic novel format. Remarkably, many influential and popular works remain uncollected.
With this in mind, I sent out invitations to writers, artists, critics, and the likes to write about their favorite comic that is unavailable in a collected format or graphic novel out-of-print. They could write about anything, as long as they followed two simple rules:
The material must not right now be available in a English-language collected edition. The material can have previously been collected but is not in print right now.
It cannot be something they are associated with and/or worked on.
I received an incredible response with 50 essays from 29 contributors.
Over the next six days, we will unveil the missing books in chronological order from their initial publications. I hope you have as good a time reading the missives as we did compiling the list.
Thank you to all that decided to play in the RevSF sandbox, you have our eternal gratitude.
Special thanks to Alan J. Porter, who first conceived the idea for this list. And to the amazing Grand Comics Database for many of the images and a whole lot of the information used in this feature.
1930s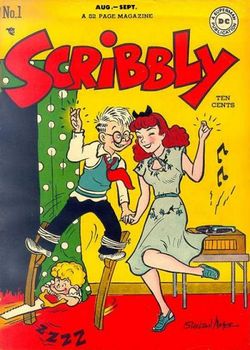 Scribbly
Sugar and Spike
Scribbly:
Popular Comics
#6-9 July 1936-October 1936 Dell,
The Funnies
#2-28 (publisher unknown), November 1936-January 1939? (last issue date unknown) Dell,
All-American Comics
#1-59 April 1939-July 1944 DC,
Scribbly
#1-15 August/September 1948–December/January 1951-52 DC, and various issues of
Buzzy
and
Leave It To Binky
, both DC
Sugar and Spike: Sugar and Spike #1-98, April/May 1956-October/November 1971 DC
Written and illustrated by Sheldon Mayer
Sheldon Mayer's place in comics history was assured the day he pulled Superman out of the slush pile. But he did plenty on his own during a career that spanned from the 1930s to his death in the 1990s. Two of his creations are worth mention and haven't been reprinted in any systematic way.
From the little of it I've seen, Mayer's Scribbly (1936-1952), short stories about a teenage newspaper cartoonist and the tenement neighborhood he lives in, are almost modern in their autobiographical feel. Beyond that, the art is of its time and has some of Jack Cole's energy but not quite as out there. The stories themselves are a combination of The Front Page and Angels with Dirty Faces. A few Scribbly stories were reprinted in the sainted Smithsonian Book of Comic Book Comics of years ago and more recently in The Toon Treasury of Classic Children's Comics.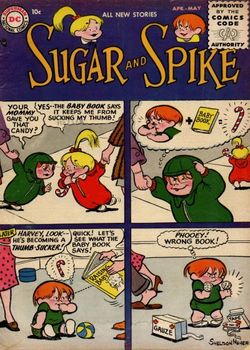 Even more than Scribbly, Mayer was known for Sugar and Spike, his long running kids series for DC Comics. Sugar and Spike are next door neighbor babies, who understand each other's gibberish and get into mischief. Mayer simplified his style for a younger audience, cutting down the ideas per panel in a way that immediately reminds you of Ketcham's Dennis the Menace. The thing about Sugar and Spike or other long running kid's comics such as Little Lulu is there are rarely individual stories that tower over the rest and demand reprinting. Instead, you hope to have as much reprinted as possible so you can experience the cartoonist's art over a wide range of work.
There are a few Sugar and Spikes reprinted in the Toon Treasury, but it really cries out for a Showcase Presents edition. DC over the years has done a good job of digging in its crates. Hopefully, at some point, they'll make Mayer widely available again. They owe him. –Paul O. Miles, short story writer and blogger
Sexton Blake, Detective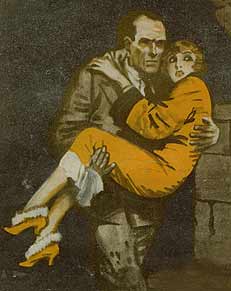 The Knock-Out Comic/ Knockout Comic/Knockout #1-712, 737-1,054 [May 9, 1959] then unnumbered weeklies until series end March 4, 1939-June 25, 1960 and The Sun Comic #135-147 September 8, 1951-December 12, 1951 Amalgamated
Written by Edward Homes, Percy Clarke, Leonard Matthews, James Higgens, Jack Hunt, Ray Cary, Jack Lewis, Mike Butterworth, Harold Lamb, and others
Illustrated by Jos Walker, Alfred Taylor, Eric Parker, Reginald Heade, Jack Grandfield, Robert MacGillivray, Roland Davies, Harry Dodd, Graham Coton, Frank Pashley, amd others
I'd love to see all the old Sexton Blake strips (mostly from Knockout comic circa 1940 to 1960), especially those drawn by the great Eric Parker, whose distinctive style will always be associated with Britain's next best-known detective, who appeared in stories from 1890 to the present! The Blake strips weren't up to the text stories but they still deserve to be available. Eric Parker was probably best known as a graphic novel artist for his stories in Thriller Picture Library, especially his Napoleonic War stuff, and deserves greater recognition. -Mike Moorcock, legendary sf / fantasy writer
1940s
Hawkman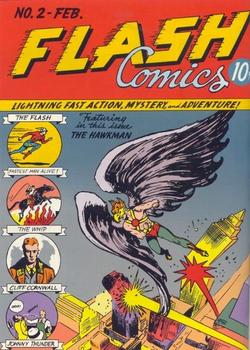 Flash Comics #23–104 January 1940-February 1949 DC
Written by Gardner Fox, Bob Kanigher, and John Broome
Illustrated by Sheldon Moldoff and Joe Kubert
Hawkman remains one of my all-time favorite characters. I first encountered him in The Brave and The Bold re-imagining of the early 1960s by Joe Kubert and then the Murphy Anderson solo strip. Prior to that, he had a long and healthy run in the Golden Age. Originally appearing in Flash Comics his first few adventures were illustrated by Dennis Neville. With issue 4, Sheldon (Shelly) Moldoff took over the art and a classic character was visualized. The Hawkman had long flowing wings with extensive line work and expressive facial features. Hawkman panels were rarely static. Things moved and vibrated across the pages. As part of their Archive series, DC reprinted the first 22 Flash Comics Hawkman stories.
He ran through the 104 issues of the magazine, with Moldoff doing the stories until Joe Kubert took over. I can't afford those Golden Age issues but I would certainly purchase three more archive volumes to get the remaining stories of the Winged Wonder. –Scott A. Cupp, book collector and Campbell-nominated short story writer
The Black Condor
The Ray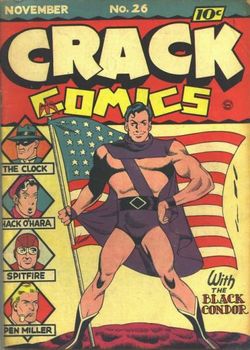 In case you thought we made up the title.
Black Condor: Crack Comics #1-31, May 1940-October 1943 Quality
The Ray: Smash Comics #14–40 September 1940-February 1943 Quality
Written by Will Eisner and others
Illustrated by Lou Fine, Reed Crandall and others
The art of Lou Fine was among the most exquisite line work done in the Golden Age and these two series represent the artist in his prime. The The Ray was in Smash Comics and Black Condor appeared in Crack Comics (you'd never get away with that name now).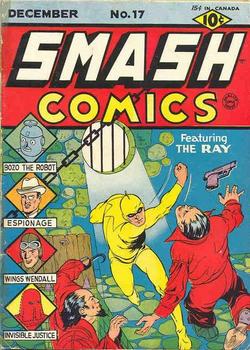 The stories were reasonably well done for Golden Age titles but it is the art you want to see. A couple of these were reprinted in a poorly produced title in the mid 1970s but it was black and white. Greg Theakston at Pure Imagination put out two volumes of the Lou Fine Reader but the Black Condor and the Ray are not extensively represented here (four Black Condor stories and five The Ray stories, though the origin of the Ray is included). Again these stories are in black and white and Lou Fine was made to be seen in color. They are minor characters in the overall Quality/DC pantheon but they deserve to find new fans. –Scott A. Cupp
The Black Cat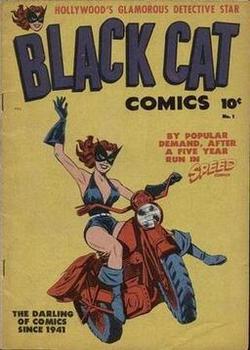 Pocket Comics #1–4 1941, Speed Comics #17-38, 40, 44 April 1942-January/February 1947 and Black Cat #1-29 June/July 1946-June 1951 Harvey
Written by Alfred Harvey, Bob Powell, Bob Haney and others
Illustrated by Al Gabriele, Arthur Cazeneuve, Bob Powell, Joe Kubert, Lee Elias, and others
Linda Turner, Hollywood starlet, is secretly the Black Cat, a motorcycle riding, jujitsu and judo using crime fighter with long red hair. She sports a sexy leotard with large cuffed boots, huge gloves and a flimsy mask. The Black Cat first appeared in Pocket Comics in 1941 and had a long run in Speed Comics. Her adventures seemed much in the same vein as the Black Canary, down to the meddling boyfriend. In the Black Cat's strip, her father was aware of her secret identity and helped create the ruses that protected it.
Art was from a variety including. After issue 29, Black Cat became a horror anthology comic titled without the wonderful Linda Turner. Harvey tried several times to revive the character, beginning in the 1960's with a couple of 25 cent specials. They later tried again in the 1980s and 1990s but the times had passed the character by. –Scott A. Cupp
Phantom Lady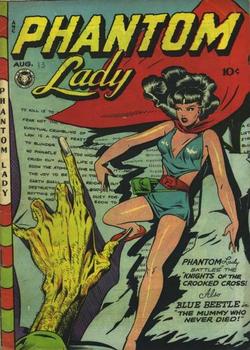 Police Comics #1–23 August 1941-October 1943 Quality Comics, Phantom Lady #13-23 August 1947-April 1949 Fox Comics and Phantom Lady #1-4 December 1954/January 1955-June 1955 Ajax Comics
Written by Ruth Roche and others
Illustrated by Arthur Peddy, Joe Kubert, Matt Baker and others
Sandra Knight, a Senator's daughter, masquerades as Phantom Lady, a skimpily clad heroine who defined the term "headlight comics." Wearing little more than lingerie, she attacked crooks with abandon. Her skills were suspect at times as she frequently found herself in bondage situation. Primary artist Matt Baker was an expert at bondage art and brought Phantom Lady into the libidos of teenage boys everywhere. Dr. Wertham cited several issues of Phantom Lady in Seduction of the Innocent. There have been a couple of issues reprinted in Golden Age Greats from Paragon Press, but these were reduced in size and in black and white. There needs to be a good size reprint of all the Phantom Lady stories beginning with Police Comics #1. While Joe Kubert did several Phantom Lady pieces in Police, the truly memorable issues are the Fox issues. –Scott A. Cupp
Pogo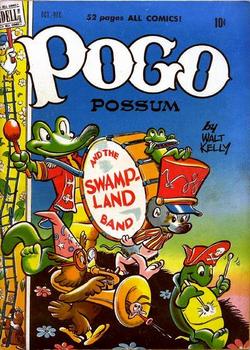 Animal Comics #1-3, 5–30 1942-December/January 1947/48 and Pogo Possum #1-16 October/December 1949-April/June 1954 Dell
Written and illustrated by Walt Kelly
Pogo remains the supreme creation of cartoonist Walt Kelly. A satirical strip that first featured dialect speaking funny animals, the daily strip evolved into a satiric masterpiece that took on Senator McCarthy head-on. The gang of Pogo Possum, Albert the Alligator, Howland Owl, Porky Pine, Beauregard Bugleboy, and Churchy LeFemme were inspired creations that originally appeared in Animal Comics and later Pogo Possum. In the 1980s an attempt was made by Eclipse Comics to reprint the Animal Comics stories. They did 4 volumes of tales and stopped. No one has reprinted the Pogo issues. For that matter, most of the Pogo books are out of print at the moment. Anyone who has read The Jack Acid Society Black Book knows how biting that satire could get.
Kelly developed the slogan "We Have Met the Enemy and He is Us!" and then, as today, he was right. Fantagraphics Books did some reprints of the early daily strips in the 90s and is planning hardback releases of all the daily and Sunday strips beginning in September 2010. -Scott A. Cupp
Captain Marvel: The Monster Society of Evil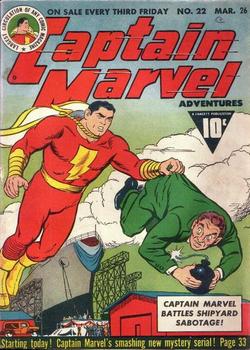 Captain Marvel Adventures #22-46 March 26 1943-May 1945 Fawcett
Written by Otto Binder
Illustrated by C. C. Beck
Though DC offers five hardcover archival collections of the original Fawcett Captain Marvel and family (Mary Marvel, Captain Marvel, Jr., etc.) stories, the most famous Marvel adventure remains uncollected in any available edition. "The Monster Society of Evil" story arc ran for two years in Captain Marvel Adventures #22-46 (1943–1945). Each issue showcased a confrontation between a member of Mr. Mind's evil society, each ended in a cliffhanger similar to the serials. One of the earliest epic long comic book storylines, "The Monster Society of Evil" presaged the lengthy tales of the forthcoming decades. American Nostalgia Library issued the entire run in an oversized, slipcase limited hardcover in 1989, but it's long out of print.
In 2008, DC announced an affordable hardcover edition of the complete story. Amid rumors that the company feared being labeled as racists, the book recently ceased appearing on DC's forthcoming schedule. –Rick Klaw, RevSF Editor-At-Large and co-writer for the bi-weekly comics column "Nexus Graphica"