Trailer Probe reviews nerd-related movie trailers. Geek explosion content is the good parts, dork disengagement level is the bad parts. Geek parts per billion is the total quality rating, with one billion being the super-nerdiest.
Geek explosion content:
Now Hit Girl is a vampire!
The actress who was Hit Girl in Kick Ass now plays a vampire. That bodes well for the potential of awesomeness.
A movie where someone says "What are you?" usually has some good parts in it.
The original movie Let The Right One In is pretty excellent. (The RevolutionSF review of the novel is right here.)
This version looks more actiony. But the kids still look miserable and frightened. So that's a bonus.
The boy is Kodi Smit-McPhee, from the brutal flick The Road. Poor jerk. He needs a break. Get him iCarly or Wizards of Waverly Place, stat!
He looks positively panic stricken. He knows he's an actor in a movie, I hope.
Dork disengagement level: John Travolta did a song in the 1970s called "Let Her In." This song must be in the movie or I will make a picket sign, "Unfair to 1970s John Travolta Song."
. You will agree when you see this video. Then you will think of it every time you see anything involving this movie. My nefarious plan is complete.
This vampire movie does not appear to be about teen romance. I am not accustomed to vampire movies that have no teen romance.
The original movie was called Let The Right One In. The remake is Let Me In. How are we supposed to know the right one? We can only assume. Thanks a lot, movie title.
Where is the sparkling?
Where is the sparkling??
Geek parts per billion: 750,000.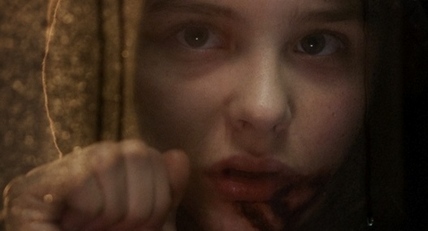 "Please do not play the John Travolta song again."