A remake of The Toxic Avenger will be a "family friendly PG-13 action comedy." Here is a link that proves it.
They made a cartoon and toys out of Toxie. Here's the cartoon theme song. It is sweet.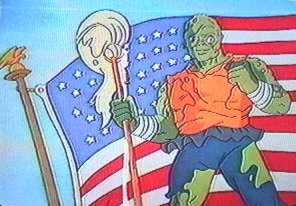 "Me and the boys, we fight against wrong, though we're hideously deformed."
Then he was in an Off-Broadway musical. From Troma videos, that is a sideways move.
I'm all for the Troma people making some bank. They provide a quality service.
The best part is that the producer: Akiva Goldsman. He tasks me. Goldsman wrote Batman and Robin, Batman Forever, and Lost in Space.
To be fair, Goldsman won an Oscar for a movie where Maximus was crazy, A Beautiful Mind. Then he wrote I Am Legend and a few episodes of Fringe. So maybe I should give him the benefit of . . . Nope. Can't do it.
So the movie will not have gross swearing, gross nudity, or gross acting. Toxie may not put a girl on a kitchen stove and tell her "Have a seat, hot ass."
The plan is for Toxie to be "a green superhero for these environmentally conscious times."
I hope next they make Porky's into a drama about the dangers of watching girls take showers. (It might lead to dancing.)