Cartoon makers Joe Ruby and Ken Spears had comic book legend Jack Kirby on staff in the 1970s. Recently they found boxes and boxes of never used art and characters that he whomped up. Now Ruby and Spears are working with Sid and Marty Krofft (makers of Land of the Lost in the 1970s) to farm them out.
(But first check out our list of favorite Kirby characters.
Kirby did I>Thundarr the Barbarian for Ruby and Spears. Let's take a moment to revel in its excellence.
Now another moment to revel in the extreme coolness of never before seen Jack Kirby stuff. I'll take a deep breath. Bear with me.
The New York Times had the story. Unlike with Kirby and Marvel, everyone is happy and there are no lawsuits.
Comic Book Resources did a huge interview with Krofft and Spears, which includes exclusives of some of the stuff.
Krofft said there are over 700 drawings and over 1,000 characters, including heroes, villains, and vehicles.
When asked about their time frame to get one of the shows produced, Krofft said, "I'd like it out by Friday."
And I just found a slideshow of about a dozen of the Kirby things on the New York Times site. Warning. It's super nerdy. I might not make it.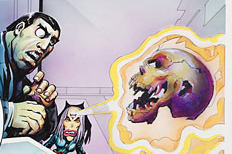 The Gargoids. Awesome.