Here is the winning answer in the RevolutionSF Newsblast April Fool's Contest.
Here is the contest, as posted April 1:
One of these sci-fi news stories is not true. The only rule: No googling. Pick the one you think is not real using your own brain. Correct pickers of the right one get a prize.
And the correct answer is:
All of the stories are true.
I said one of these stories is not true. That was an April Fool.
So you were all partly right. That means everyone who played will get a nerdy prize. Everyone who entered a comment below, please send me your address to revolutionsfjoe@gmail.com.
In your e-mails, I will also accept praise and compliments.
Check the links now attached to the stories to discover how in the world James Cameron really said he won't name the Avatar sequel Avatar 2, there really is a robot amusement park being built, and a vampire really is running for governor of Florida.
Avatar 2 Will Not Be Called Avatar 2
James Cameron said when he does a sequel, he will not call it Avatar 2. At an awards banquet, he said, "I wouldn't do that for a second film."
Korea will build a theme park focused on robots. Its "content partners" include Sony, Honda, Toyota,
and the makers of Terminator.
Here's the part about the "content partners."
A vampire is running for governor in Florida as a Republican. He said when members of the media speak against him, "I will cut out your lying tongue, and nail it to your chin."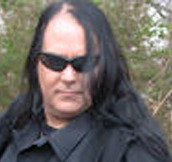 I count the spiders on the wall . . .