International Conference on the Fantastic in the Arts 31 : Academics Gone Wild!
© Dave Farnell
March 29, 2010

This month, I had the honor of making a presentation at the 31st International Conference on the Fantastic in the Arts. Though I carry my geek card proudly, I'm not much of a SF con-goer, not since my undergrad days, anyway. But in my job as an English teacher I go to academic conferences three or four times a year, most of them in Japan, where I live.
Boring, stuffy things they can be, too, although being the bookish sort of person I am, I tend to enjoy them.
ICFA is only the second overseas conference I've attended since I've been in Japan, and it was, quite simply, an awesome experience. ICFA is put together by the International Association for the Fantastic in the Arts, and has been held every year since 1980, mostly in Florida.
The IAFA folks are some of the most delightfully warm, welcoming, brilliantly scholarly geeks I've had the pleasure of knowing, and they made me feel at home from the moment I showed up at the hotel. They definitely know how to mix business with pleasure, holding numerous luncheons and dinners during the four-day conference, and bringing together some excellent guests of honor to speak at them.
This is a huge conference. My presentation was one of hundreds made by professors, grad students, and independent scholars. I was on the final day in almost the last time slot, so I feared that the audience for the panel I was on would be sparse. But the (small) room was packed, and both IAFA President Farah Mendelsohn and Horror Division Head Stephanie Moss attended.
But one of the special pleasures of the conference was getting to meet some of the authors whose books were being discussed. Meeting Joe Haldeman, author of the classic Forever War, was especially nice, as it had been uncertain whether he would be able to attend.
I asked him his favorite kind of pudding for the RevolutionSF Pudding List. He replied, "Lemon pie filling.")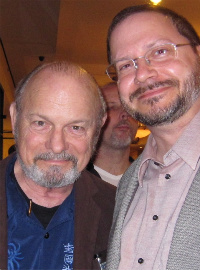 RevolutionSF's Dave Farnell and lemon pie filling enthusiast Joe Haldeman.
I'm embarrassed to admit that I haven't yet read much of Nalo Hopkinson's work or any of Andy Duncan's , but I intend to rectify that soon. (Hopkinson: "Carribean egg custard"; Duncan, "The one in Through the Looking Glass." I'm pretty sure he meant the Knight's blotting-paper/ gunpowder/ sealing-wax pudding.
I got to meet some world-class scholars whose lit-crit books I've read, such as Prof. Takayuki Tatsumi ("Babaloa pudding") and Prof. DeWitt Douglas Kilgore. I recommend both their books as interesting and highly readable.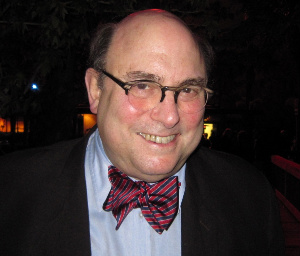 Horror master and smart guy Peter Straub.
Getting to speak to Peter Straub several times during the conference was a highlight. ( Here's a recent RevSF interview with him)
I've read many of his many, many books, and in person he turns out to be affable and outspoken. He attended the panel I chaired, and he poured me some excellent single-malt at the end-of-conference party. His favorite pudding: "Spotted dick!"