"It's been a long time since I made someone bleed." -- Hawkman. That's right. Hawkman.
I'm pretty sure Smallville was intended to be a relationship melodrama, with the Superman stuff incidental, like when we saw the kids on 90210 waiting tables. It was something for Smallville characters to do in between gazing longingly.
But a few seasons ago, Smallville added superhero guest stars, and those episodes were way more fun than the ones with just the regular people.
In the two-part "Absolute Justice," the show overwhelmed my nerd receptacles. There were live action superheroes, cameos, props, and references.
I went into nerd overload. I could not watch the whole thing in one sitting. I had to pace myself.
Here are both episodes, free for the watching on the show's site. I'm watching the first part, with Star-Spangled Kid and Chloe right now. "Stay down, Miss Sullivan!"
The episode had the Justice Society, my all-time favorite superheroes. DC Comics writer Geoff Johns wrote it and made it extremely geeky.
Maybe Smallville was building up to this, testing our nerd tolerance with higher and higher doses. After appearances by Flash, Aquaman, Cyborg, and Green Arrow, Green Arrow and J'Onn J'Onzz became regulars. Then Geoff Johns wrote an episode with the Legion of Superheroes. The Legion of Superheroes. After I recovered from that, Zatanna and the Wonder Twins were on this year.
The episode had a villain from the JSA comics, heroes in full costume, and references to Clark's Superman future. My meter went into the red when exposition girl Chloe said "That's Ted Grant, the heavyweight boxing champ!" I know, Chloe. He's Wildcat. I know.
The Golden Age Green Lantern had the Golden Age lantern ring on his finger. Wow. OK. Deep breaths.
And it was just neat to see Hawkman, Dr. Fate, and Star-Spangled Kid. Neat. There's no other word for it.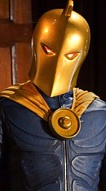 Ooooh yeah.
I don't care if live action superhero costumes look silly. That is OK. Superhero costumes look silly. That's why comic books are drawn, not photographed.
I don't care how much money they spent on the effects. I'm just glad they gave it a shot. Better this way, than do like every other superhero show ever did, and have heroes use their powers twice an episode to fight somebody robbing a mom and pop grocery store.
When something that tickles your particular nerd fancy comes along, you must allow it to do so. Embrace it. Be the nerd.
Most of the time we want to be the nerd but we can't, because of midichlorians.
Some people will not allow themselves to be the nerd. They take things too seriously. Steer clear of them. They are called "douchebags."
I am the nerd with these episodes of Smallville. My nerd quotient has been overwhelmed. I need to read books about people with no powers and watch TV shows with doctors and lawyers now.
On second thought, I'll just watch Smallville again.