"I'm not insane. My mother had me tested." -- Sheldon
Big Bang Theory is a sitcom about nerds. It's in season 3, and my wife Stefanie and I tried it out for the first time just recently. I knew we had a keeper when Stefanie said, "I know these people! These people have been in my house!"
We watched the whole series in about a month. I broke the whole thing down to what sucks and what rocks.
Rocks: Sheldon. Super-genius Sheldon steals every scene. I'm not exaggerating.
Rocks: Good sitcom stuff. Everyone in the cast is quotable, in every episode. In two and a half seasons, nothing has changed about them. That's good comedy.
Rocks: It's pro-nerd. Jokes about how nerds should all grow up are in every other thing with nerds in it. Certainly, the nerds are super-geeky. But they're not persecuted and hunted like mutants.
Rocks: Wolowitz. He's a totally deluded, unashamed dork. I don't know where they find his V-neck sweaters and matching Play-Doh colored jeans. But I really want some.
Note from Stefanie: No.
Rocks: Penny's reactions. She was on a show with John Ritter. That must be where she learned her excellent double-takes.
Rocks: Raj. "So help me cow."
Rocks: DixieTrek. My friend Ron Nastrom ran the convention DixieTrek. On the Wil Wheaton episode, Sheldon said he met Wheaton years ago at DixieTrek. That's the kind of minute detail that can't be coincidental. I like to think someone at the show went to Ron's convention. We could be wrong, but still: pretty cool.
Ron could not relate in words the velocity of the geek explosion he experienced when they said the name of his convention on the show.
Rocks: Superhero T-shirts. Sheldon wears superhero T-shirts that I also own. Not one, at least five.
Me: "I have that shirt!"
Stefanie: "Of course you do."
Rocks: Kripke. The nerds' arch-enemy is a fellow scientist at their job. He has a hilarious lisp ("Kwipke" calls them "wosers.") But the nerds never make fun of it, or even mention it. I love that.
Sucks and rocks: Math + science. Even if I don't get all the math and science references, I'm glad they're there. On a DVD commentary, the show creators admitted they had no clue about the hardcore math, so they have a real scientist who they consult. Next thing you'll tell me is Ted Danson on Cheers didn't know how to make drinks.
Sucks: One mistake. After two and a half seasons, I saw the first incorrectly-used nerdy reference. Sheldon said the Green Lantern oath, and said "darkest night," instead of "blackest." But I'll let them have one. One.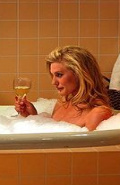 Sucks: None of the episodes are watchable online. Dudes. That is weak.
Rocks, kind of: Recent clips on are on CBS's site. I hope you like cell phone commercials!
5. Sheldon feels unsafe.
4. Sheldon and Leonard's whole relationship is summed up in these 2 minutes.
3. Howard in a tub with Katee Sackhoff.
2. The nerds build a security system.
1. Sheldon vs. the cricket. "Another carnal fiasco."