Trailer Probe watches sci-fi-ish movie trailers to help you waste your computer time wisely.
Dork disengagement level: So far all that's out is the 30-second trailer but I found an interview with Gil Gerard and Erin Gray with a morsel of information.
This picture was on the Buck Rogers owners' site.
The new Flash Gordon had the flippy-doo haircut,too. It's like Rachel from Friends, but nerdier.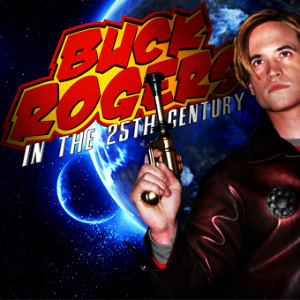 If I was rolling out this trailer so everyone and their grandma could tweet it, I would get all my good pictures and news about Erin Gray all in one spot.
The trailer is just 30 seconds. That's why they call it a teaser, I know. But the teasing makes me want to see it right now. Get to work, people!
Geek explosion level: The trailer is just Buck's ship flying. But it looks fan -dadgum -- tastic.
The story is set in the original Buck Rogers comic strip timeline, World War I, where he's a pilot. The series is an official Buck Rogers thing licensed by the Buck creators to James Cawley from the Star Trek: New Voyages series. I went to their YouTube and lost track of time watching the Trek episodes. That's good stuff.
In this interview with Gil Gerard and Erin Gray, (starting at the 6:58 mark) Gerard says they filmed part of the first episode already. Gray said she and Gerard play Buck's parents and her daughter is Buck's girlfriend.
so I'm going ahead and geeking out about this. When I find out more stuff, I will modify my nerdiness as necessary.
Geek explosion level: 700,000 geek parts per million.