Superhero Probe grades live-action comic book superheroes. On a curve, usually.
Smallville: Absolute Justice
The Justice Society will be in a two-hour episode of
Smallville
in Feb. 2010. These photos are out now, for the sole purpose of seeding the nerd -o-sphere.
Smallville tries harder when it guest stars DC heroes. So I will likewise try to keep my exclamation points to a minimum.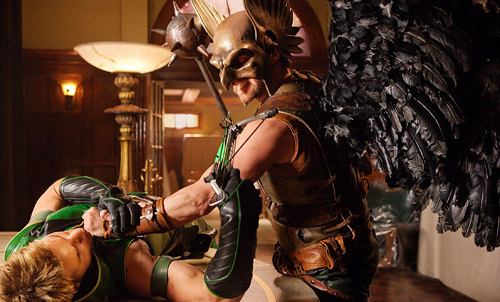 Dork disengagement level: That's a lot of feathers. Michael Shanks from Stargate SG-1 is under there. Looks like they're covering up his ripped abs.
Geek explosion level: The mace!
It appears that he will get in slap fights with Green Arrow just like the comics. Wheeeeee! I mean, I find it rather pleasing.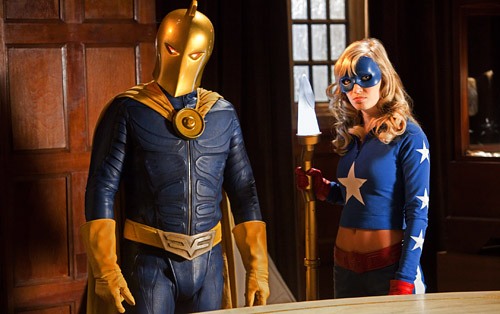 Dork disengagement level: Smallville makers had an infamous tagline, "No Tights, No Flights." They had lots of flights in recent seasons, and here are more tights.
Are Stargirl's tights wrinkled?
Why does Dr. Fate's belt say "VF"?
Dr. Fate drew muscles on his outfit?
Geek explosion level: Dr. Fate is so cool that he must have a good reason to draw muscles on his outfit. He's Dr. Fate.
And there's Starman's weapon that he used in the 1990s Starman comic series, then bequeathed to Stargirl.
Sorry. Comics nerd. Can't help it.
If at any time, they call it the name from the comics, "Cosmic Rod," my eyeballs will pop right out.