"If you tell them any differently, I swear I will drop a dictionary on your crotch." -- Myka
Warehouse 13 is the first new show on Syfy since it changed from its previous name. What was that name? I have been brand-managed such that the previous name is erased from my brain. The new channel's tagline sets a high standard: "Imagine greater." Warehouse 13 imagines really good.
Here's the show site. You can watch full episodes here.
It's about a secret storehouse of sci-fi gadgets and inventions throughout history, and the people who work there. The gadgets turn people into killers, make them invisible, that kind of thing. Warehouse agents seek out a gizmo in each episode and fight whoever has it.
Rocks: The tools. The first show introduces items the agents use in every episode. Everything is brass and ornate in steampunky fashion. There's an electric zap gun (named the Tesla) and a communicator with a staticky black and white screen. (Here is a story about them from Wired).
Best of all is Artie's computer keyboard. It has brass typewriter keys. I want one. Right now. The Syfy people must make Warehouse 13-brand merchandise, or they should get pile-drivers on ECW.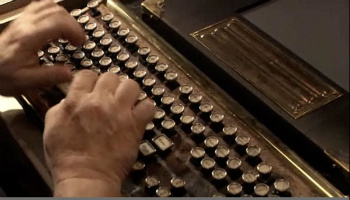 I want to type "cool" on this.
Rocks: Jane Espenson. She is co-creator of Warehouse 13, and has a serious nerd pedigree. She's a writer of Buffy, Angel, and Battlestar Galactica. The characters and their dialogue are serious, clever, and silly all at once.
Sucks: Gadget of the Week. In trailers, I expected plots like National Treasure, where they chase down bits of real trivia. Instead, the show makes up sci-fi gizmos to match real pepole, for example, Edgar Allan Poe's dark magic pen and book, and Lewis Carroll's looking glass.
The early episodes' artifacts are pretty lame, and that was the selling point of the show. They get more interesting as the season progresses.
Rocks: The soundtrack. When they put on Timothy Leary's glasses, Jimi Hendrix's "Purple Haze" plays. In the one with Lewis Carroll's looking glass, there's Jefferson Airplane's "White Rabbit."
Rocks: I watched them all. Battlestar Galactica and Lost require constant watching. In this show, there are plot threads, but each episode is self-contained. Watching every one is not necessary. But you'll want to do it anyway.
Rocks: The cast. You'll recognize nearly everyone. Saul Rubinek (Artie) has been in a hundred things. Myka (Joanne Kelly) was Bianca on Dresden Files. CCH Pounder is hard-ass boss Mrs. Frederic. The recurring villain is Roger Rees, the snooty British guy from Cheers.
Rocks: Will they or won't they? There's a boy and a girl agent, but they never get romantic. Instead they pick on each other, like siblings. That way, there's more time for action and witty banter.
Sucks: Myka's expressions. The actress has one. She looks like she's about to cry even when she's happy. The character is supposed to be neurotic, but wow.
Sucks (with a hint of rocks): Leena. Leena is lame. She's a sweet, motherly type to balance Artie and Mrs. Frederic. Usually, no joke, she sits in the background and knits. In the last episode of the first season, she does one thing that's cool.
Rocks (with a hint of sucks): Claudia. She shows up in an early episode as a villain, then joins the cast as a gadget girl who makes hip, clever references. She's younger than the rest of the cast. She seems like an artificial addition, to make young boys, girls, or young boys and girls watch. She turns into Artie's sidekick, to balances out his curmudgeon.
Rocks: Quote-O-Matic. The dialogue is really good.
"Would it have killed you to put a warning label on this thing?" -- Claudia
"Saying what? "Only put on in case of stupid?" -- Artie
"Oh, hi, Artie. Funny story. So I kind of, uh, tried to fix this light bulb, even though you expressly told me not to. And man, have I learned my lesson! You're so right about this place. You just never know what to expect. Okay, you're pissed. Can we move past that part for now and get to the part where you get me down from here?" -- Claudia
Rocks: They mentioned where I live. I live in Fultondale, Alabama, a suburb of Birmingham. It's not big. We have a Waffle House at the off ramp of the interstate.
But in one episode, the agents discover their target is from Fultondale, Alabama. They say it out loud. It's just a quick mention, but my wife and I both did a "They said what?"
It's most likely someone riffed through place names and found it at random. Or maybe someone from the show had a crawfish sandwich for lunch at Doodle's.
Either way: Awesome.
Sucks: Can I buy that keyboard yet? Come on, people!