RevolutionSF Contest : Win the Surrogates Comic Book (Now With Winners)
© RevolutionSF
September 22, 2009

Congratulations to Albert Marsh and our other fine winners, excellent human beings all.
The Surrogates comic book is an intense crime noir in a bitter future where robot duplicates replace human contact. The Bruce Willis movie is based on it. But the guy in the comic book doesn't look like the guy from Moonlighting. Or Armageddon, for that matter.
Now you can win it from RevolutionSF.
Here is the RevolutionSF interview with Surrogates comic book creators Robert Vendetti and Bret Weldele.
And here's our review of the sequel graphic novel, Flesh and Bone.
Win This
Five winners
will get the original
Surrogates
graphic novel, including all five issues of the comic series. Includes concept art, commentary from the creators, and deleted scenes from the comic.
Not available: Handsome robot body to read it for you.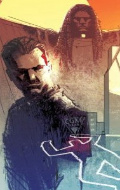 Here's RevolutionSF's somewhat irreverent review of the Surrogates movie trailer.