RevolutionSF Contest : Least Likely Things To Cause An Apocalypse
© RevolutionSF
September 01, 2009

Suzanne Collins' Hunger Games is a science fiction story about a teen who is forced to enter a Thunderdome style tournament to protect her famiy. Katniss Everdeen stirred rebellion, and she's in the sights of the post-apocalyptic world's rulers, the Capitol.
Three RevolutionSF readers won the sequel Catching Fire for sending us funny entries on this topic:
Least Likely Things To Cause An Apocalypse
5. The poots of my best friend's pet squirrel.
4. Me winning a copy of Catching Fire
And here are the winners . . .
3. The late night menu at Dennys, not including the double cheeseburger. (bessellieu)
2. Whipped cream, unless you overdose on it. True story. (alicia.aatran)
1. Long Sunday afternoon naps. (Laura Hartness)
They Won These
Three RevolutionSF fans
will win a limited edition
Catching Fire
shirt.
A collectible pin with the book's bird icon.
A copy of Catching Fire.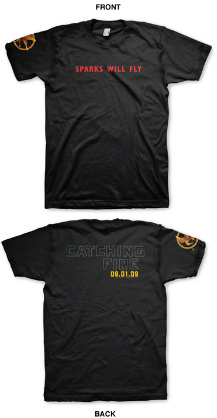 Mmmmmm . . . t-shirts.
For more about the series, here is the book's website.
Read the first chapter free.