"Whatsamatter, pal? Don't believe in the resurrection?" -- the Human Target
The DC Comics hero the Human Target gets a new show in 2009. He was only in a few short stories in the 1970s, but this is his second TV series. His first one in 1992 starred Rick Springfield. Yes, that Rick Springfield.
Can the new guy (Mark Valley from Fringe) bop till he drops in the hot city? Can he keep on working day and night?
While we wait to find out, we can look back at the first Human Target. The year was 1992, when our computers were slow and our Pepsi was Crystal.
Can I get it? It's not on DVD. Surprise! Maybe they'll put it out because of the new Human Target. (They could sell it exclusively at Target.) There were seven episodes and one pilot that never aired. So if the show survives that long, Mark Valley moves ahead of Rick Springfield in one thing.
Give me some nerdy trivia. I need it. The show was created by Danny Bilson and Paul DeMeo, who did the awesome Flash TV series and their original superhero MANTIS, both of which were quickly canceled. Shameful.
The 1992-level CGI effects shot of Target's super-jet was designed by comics artist Michael Kaluta, and comic book creators Len Wein and Carmine Infantino got screen credit. Somebody forgot to screw them over, no doubt.
The first episode's victim is played by Scott Paulin, who's semi-infamous for playing the Italian Red Skull in the 1991 Captain America movie. The villain is Richard Belzer, who played a cop on two other DC comics shows, Flash and Lois and Clark.
In the comics, Human Target is good with disguises. He takes people's places, flushes out killers, then gives them kung fu chops.
The show kept that, but added sidekicks and a super-jet. No pets or cute kids, at least.
Actual quality: Someday nostalgia for the early 1990s will arrive, and this show will be ready. When making the disguise, Human Target's sidekick whips out a huge Polaroid camera. Springfield steals computer data with a 3 1/2 inch disk, and he wears a resplendent collection of banded-collar shirts, the kind that buttoned up the front and made us look like waiters and priests at the same time.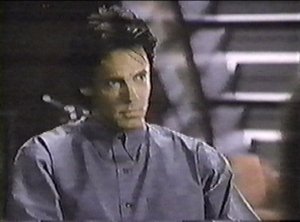 TV superhero shows put comic book guys such as The Hulk into TV show style stories, like the wandering good guy style. But Human Target was already there. He swooped in to help a widow woman or single mom or mom and pop grocery store, then he checked out. They did that in the TV show, too.
Nerdy fun: The never-aired pilot had Clarence Clemons from Bruce Springsteen's E Street Band and Frances Fisher as the girl who is good with those new-fangledy computers. They're replaced by lookalikes in the series.
The show geeked out over its own 1992-era CGI morphing disguises. They did the old trick where the actor being replaced plays the Human Target in disguise. So the guest actor gets most of the screen time, until he gives Rick Springfield a reason to rip the mask off. In the first episode, Springfield blows his cover after about an hour on the job.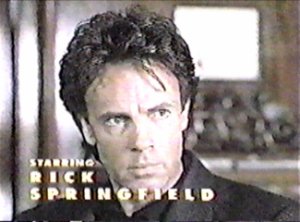 In the cold open action sequence, an elderly priest looks like Rick Springfield in an old man mask. After the rescue, the real elderly priest comes out to thank Rick, and the actor really looks like Rick Springfield in an old man mask. Frightening.
After Human Target disguises himself, the disguise-ee client sits around on the Target-jet, wearing a sweat suit and munching on popcorn.
Richard Belzer is a classic greasy villain, who tells Human Target, "Dead men don't pay debts!" Then Target blinds him with some gadget, and the Belz goes for the Oscar, yelling "My eyes! My eyes!"
Springfield is The Man over and over again. He meets R. Lee Ermey and fights David Carradine.
But his theme music stinks. It's no Flash. I can think of someone who should have done the theme music. That would be Rick Springfield .
When he fights he does flying kicks and palm strikes. The wife sees through his disguise because he's nice to children, so Rick back-slaps his client and calls him a son of a bitch. Then he emotes, hard, as he tells the wife, "I still have a hard time feelin' like I'm a part of this world." That's because he's not. He's Rick Springfield, and that is plenty.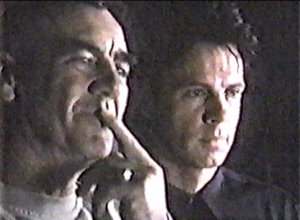 Actual Quality Rating: 4

Nerd Fun Rating: 8

Total Enjoyment: 7 (rounded up because it's Rick Springfield).
Where Are They Now?
Rick Springfield:
Back on
General Hospital
, and he still makes CDs, like one with
lullabies
. That is just sweet.
Kyle Baltz (disguise making sidekick): Returned to DC superhero TV as the Cajun speaking Clayface on Birds of Prey. "I gonna gut you like a crawfish, cheri."
Frances Fisher (computer girl in pilot): Eve on Eureka!
Signy Coleman (computer girl): She's on Guiding Light, but she's no Frances Fisher.
Clarence Clemons: Plays the saxophone for Mr. Bruce Springsteen.
Sami Chester, Clemons replacement: Nothing since 1996. Maybe he's practicing the saxophone.