ABC remembers the 80s! They're bringing back Witches of Eastwick, and V, but without Jack Nicholson, Cher, Gooder, Willie, or Susan Sarandon. Let's all be there!
Here is the Mork and Mindy network's fall schedule for 2009-2010.
ABC Sci-Fi Schedule: 2009-2010
Wednesday:
Eastwick.
Thurs.:
Flash Forward.
2010:
Thurs: Lost returns.
Sometime in 2010: V. Now they call it a "sci-fi limited run event." instead of a regular series. Ooooooh wee! How's that feel, V?
Renewed: Lost
Castle
was renewed. It isn't sci-fi or even sci-fi-ish, but it helps Nathan Fillion pay the mortgage. And we like
Better Off Ted.
.
Canceled: Life On Mars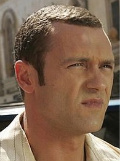 The sweet hair was just not enough.
The new one wasn't bad. It ended with Harvey Keitel in space. I give points for that.
But there are plenty of other British shows. Maybe ABC will try again.
ABC Doesn't Try Again
They made one episode of
No Heroics
, an American version of the British superhero sitcom, and then didn't show it. Coming soon to a video site and a bootleg tape dealer at a con near you.
New Shows Not Canceled Yet: Eastwick, Flash Forward, and V
Flash Forward
is produced by Brannon Braga, the former
Star Trek
guy. I choose to cut him some slack. But not seven years worth of slack like on
Voyager
.
Eastwick, as in a series based on "Witches Of." It's good to see the devil bouncing back from Reaper to another show. Except this devil is probably not as cool. No offense, Satan.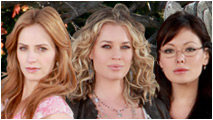 Cher not included.
The ABC preview says, "Single-handedly, housewives accomplish astonishing things . . . and together, watch out." That preview brought to you by the year 1959.
V. The new show with the easiest to spell name of the year.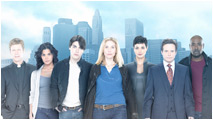 Hey! You're not Gooder. Or Ham. Or Willie. Or Diana.
The ABC preview says, "The Visitors claim to have come in peace, bringing gifts of medical miracles and technological breakthroughs. They promise to do no harm. They're lying."
Aw, man! It's still 1984! What a crazy dream! I dreamed I barely survived high school, barely survived college, barely survived crappy jobs, got married, wrote for an awesome website, got a great job, and me and my wife had a sweet little girl.
Crap! I have an algebra test today!