The Fox network, longtime arch-enemy of sci-fi TV, announced its fall 2009-2010 schedule. I waited until the official announcement, because rumors and speculation is rumored and speculative, and I hoped Fox would not give us a last-minute swirlie.
Fox Sci-Fi Schedule: 2009-2010
Thursday:
Fringe
Death Zone Fri.:
Dollhouse!
Jan. 2010: Tues.:
Past Life
Jan. 2010: Wed.:
Human Target
Renewed: Fringe, Dollhouse
Wow. They
really renewed
Dollhouse
. A Fox executive said renewing it is "a bet on Joss." He said, "We feel that he can build that show, and that Friday is a good place to do that."
That's right! It's still on Friday! Ha ha! Good one, Fox! You still got it.
Canceled: Sarah Connor Chronicles
A
Fox guy said
the show "wasn't inexpensive" and it had "a nice little run." Then he said they looked at the ratings when the show was on Monday, and then when it moved to Friday, and the "trend line was not pointing in the right direction." I would wonder what the reason for that was, but my sarcasmo-meter has been acting up.
Too bad there isn't some a summer movie with the same characters in it coming out. Fox could have tied them together somehow.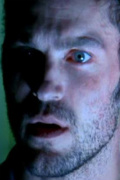 "I should have gone back to 90210."
New Shows Not Canceled Yet: Human Target, Past Life
Past Life
is about ghosts and crap, and will be after the amateur screaming contest
American Idol.
Human Target is a DC Comics hero, like on Smallville but hopefully with less whining. It launches Jan. 17 after the screaming results show.
That's two sci-fi-ish shows that are getting the strongest boost Fox gives. Besides letting some other network show them, I mean.
Sons of Tucson starts in spring 2010. It's is a non-sci-fi sitcom that is Sock from Reaper's new job.
That makes three times in two years that Fox has renewed a sci-fi series (Last year they renewed Sarah Connor. Ha! ) Now we cannot say they don't renew sci-fi. We also cannot say they don't renew Joss Whedon shows.
That's really mature, you doo-doo heads.