Attention, moms of the world, from your kids. You had it easy. You didn't have to fight aliens or super-villains like all these sci-fi moms. (RevolutionSF not responsible for severe groundings.)
7. ELOISE HAWKING on LOST
Mother of Daniel Faraday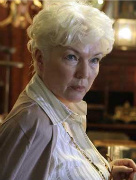 Eloise didn't get to shoot her son in 1954, but she finally did it in 1977 and he gave her a sweet gift. Kids can be so sweet, especially to a mom who keeps trying.
6.GODZILLA
Egg-layer of mini-Godzillas
The giant lizard in the 1998 movie laid eggs. The eggs had lizard things from which the humans scampered.
The thing was just trying to protect her babies from Ferris Bueller. If only poor Cameron's parents could have done that. Danke schoen.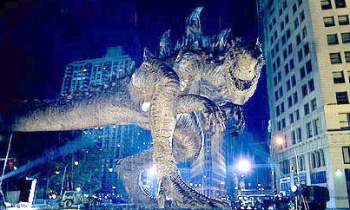 5. MAMA PETRELLI on HEROES
Mother of Nathan, Peter, Sylar and whoever else she may or may not have lied about
Every mom dreams, but Angela Petrelli's are about people having freaky powers and the end of the world. The most creative moms are the best ones. But even she could do nothing about Peter's flippy-doo haircut.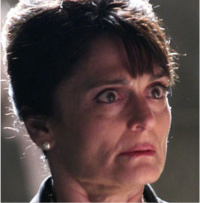 4. AUNT BERU
Aunt of Luke and Leia
Content to holler at Luke and worry, but about what? The whomp rats didn't shoot back. Just like a mom. If only she knew that Princess Leia on Alderaan was her niece, she could have nagged her, too.
Beru taught Luke a talent, to keep him distracted so she would never have to tell him about his grandma who got knocked up by things found in blood. That moisture is not going to farm itself!

3. MARION RAVENWOOD
Mother of Mutt Williams
Her son's father is the awesome Indiana Jones. But Marion didn't tell Mutt that, because she wanted Mutt to grow into his own awesomeness.
She's still waiting. But being a mom requires patience. Sometimes lots.
3. SHAFT
Bad mother
Shut your mouth!
I'm just talking about Shaft!
And we can dig it!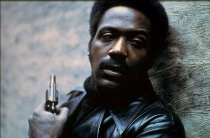 1. AMANDA GRAYSON
Mother of Spock
What is your damage, Amanda? She found it impossible to resist the cold, brittle grasp of a Vulcan. It's the eyebrow thing.
Then her son tried to be all unemotional, but she reminded him constantly that he's part human, and thus, prone to guilt, anger, guilt, sadness, and guilt.
Mother's job: Done.