By now, the story has passed into almost mythic status: Alan Moore, reacting to DC Comics' recent acquisition of the Charlton Comics properties, fashioned an unsolicited proposal for a mini-series using those characters (Blue Beetle, The Question, Captain Atom, and some others). DC's editors rejected the proposal, but suggested Moore rework the concept using original characters.
Thus Watchmen was born.
Written by Moore and illustrated by Dave Gibbons, the series popularized the iconic blood-splattered happy face, examined a dystopian superhero universe with an unflinching eye and became hugely popular during its 12-issue run in 1986-87. A collected volume followed, which, along with Frank Miller's The Dark Knight Returns, popularized graphic novels and took the medium mainstream.
Because of the overwhelming popularity of Watchmen, calls for a sequel were almost immediate. Despite some teases from Moore and Gibbons regarding a possible period-set project involving the Minutemen from the comic, no further Watchmen-related works ever manifested. No sequels, prequels, continuations, tie-ins or crossovers. For Watchmen fans, the fix began and ended with those 12 issues.
Except that's not exactly true.
The Question was a heady experiment published by DC in the late 1980s. Originally a Steve Ditko creation for Charlton Comics , the Question was the alter-ego of TV reporter Vic Sage, who donned a mask of artificial skin which gave him a disconcerting faceless appearance as he fought crime. The DC relaunch was written by the legendary Denny O'Neil and illustrated by Denys Cowan.
The suggested for mature readers, "Prestige Format" book took a very philosophical tone, delving into Zen mysticism and offering a recommended reading list even as the Question battled all manner of heinous corruption in mythical Hub City, often using exceptionally brutal methods.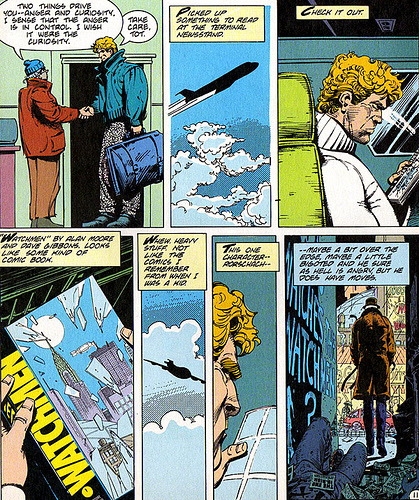 In issue no. 17, published in June 1988,
The Question
features the one and only crossover with
Watchmen
ever published. The middle installment of a three-part story arc, the story opens with Sage arriving at the Hub City Police Department after hearing a Seattle lawyer has arrived to defend the would-be assasin of Hub City's acting police chief.
In the conference room, the lawyer opens his briefcase and hands the assassin a pistol, a plastic gun, which slipped through the metal detector (and continued O'Neil's tradition in the title of writing about topical contemporary issues). The pair, a self-styled modern-day Butch Cassidy and the Sundance Kid, shoot their way to the roof, where a helicopter arrives to carry them off. Sage chases them and grabs onto a landing skid, but eventually loses his grip. He plummets earthward, but lands on top of an old man outside of a nursing home, killing the man but surviving unscathed.
Guilt-ridden and bent on vengeance, Sage pursues Butch and Sundance to Seattle, and here's where things get interesting for Watchmen fans. While waiting on his flight at the airport, Sage picks up a graphic novel titled Watchmen by Alan Moore and Dave Gibbons.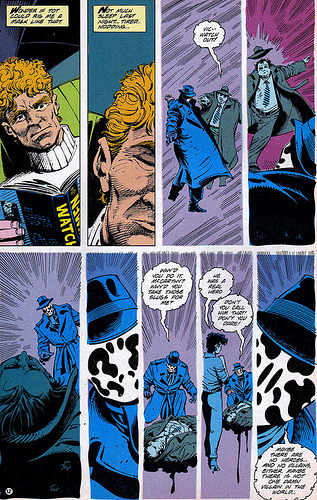 While reading it during his flight, Sage is increasingly captivated by one character, Rorschach. This intriguing Rorschach wears a faceless mask with ever-changing ink-blots which bears a striking similarity to the Question's own faceless mask.
Sage is so taken with the concept he even considers having his friend/scientific genius Aristotle Rodor duplicate a Rorschach mask for the Question. At this point, Sage falls asleep and dreams of the police chief's shooting from the previous issue, only this time the Question is Rorschach.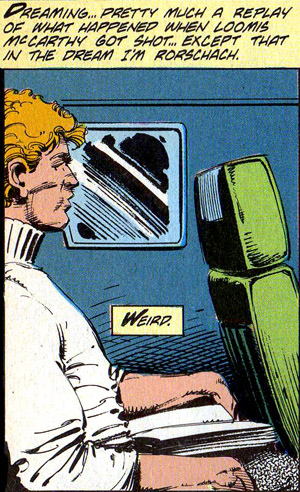 When Sage wakes, he finds the dream extremely disconcerting, and no wonder. The Rorschach character is, obviously, an analog of the Question as reimagined by Moore. Even Rorschach's name, Walter Kovacs, was given to him by Moore due to Steve Ditko's penchant for giving his characters names that start with the letter K.
In Watchmen, when Rorschach is captured and imprisoned, he screams "Give me back my face!" The Question echoes this sentiment throughout its run, with allies and enemies alike observing that Sage's visage-less mask is his "true face." Talk about meta!

Arriving in Seattle, Sage immediately gets taken down by a spiked drink and beaten up by a goon loyal to Butch & Sundance. Humiliated, from that point on Sage decides to emulate his newfound meta-hero, operating under the philosophy of "What Would Rorschach Do?"
Naturally, the Question tracks down and confronts the goon, trying to beat the desired information out of him. For all his brutal efforts, the Question is clocked from behind with a pistol butt by another goon. As the goons are taking their captive to Butch & Sundance, a chastened Sage manages to throw himself out of the moving pickup into a snowstorm. Sage, injured, exhausted and near-delirious, again asks himself "What Would Rorschach Do'" and abruptly remembers that Rorschach dies in the snow. Suddenly, emulating Rorschach becomes a lot less attractive for Sage.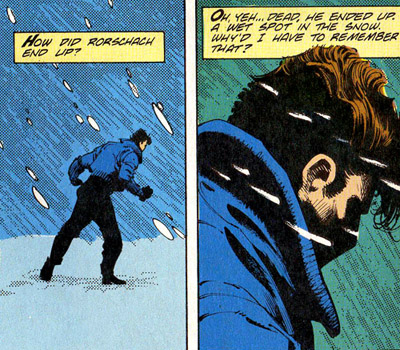 The goons follow their escaped quarry, catching up to Sage when he finally collapses from his injuries and exposure. One goon, holding a gun to Sage's head, cruelly asks if he's got any last words.
This gives Sage the opportunity to deliver one of the greatest meta-level one-liners in comics history: "Yeah. Rorschach sucks."

Fortunately, Rorschach
doesn't
suck, and neither does the Question. A clever, witty and ultimately fanboy-pleasing jaunt gives just enough to leave the reader wanting more, but blunts the sting of withdrawal with a timely and dramatic cameo by the Mike Grell-era Green Arrow. Even the letter column's recommended reading list gets in on the action, directing readers to Moore and Gibbons'
Watchmen
.
Obscure and fun, The Question no. 17 is well worth seeking out for Rorschach fans and Watchmen completists (It's in the third Question trade). It's likely the only "new" Watchmen fix anyone's likely to get, because no matter how much anyone hopes and prays, Moore's scorched earth relationship with DC Comics means it's probably not a good idea to hold one's breath in anticipation of that Minutemen series.