Halloween Top 6.66: Zombies, Aliens, Vampires, Psychos, Evil Computers
© RevolutionSF (@revolutionsf)
October 21, 2008

You will enjoy these lists, which contain our favorite 6.66 Halloween related things.
We did 6.66 in tribute to that which goes by many names: Ol' Scratch. The Great Deceiver. El Charrito Taco Dinner. More likely: we didn't feel like doing 13.
Top 6.66 Zombies: Pride and Prejudice and Zombies, Left 4 Dead
They have the soul for getting down.
Top 6.66 Psychos: Dr. Phibes, Hannibal Lecter, Donovan's Brain
Dr. Phibes was just looking for an excuse to go crazy. Let's just be honest.
Top 6.66 Evil Computers: HAL, Skynet, The Matrix
HAL went all jilted ex-girlfriend. One of the many reasons not to ever use a computer.
Top 6.66 Aliens: Blob, Close Encounters, The Thing
When rocks fall from space and crack open to reveal alien goo, it is never a good idea to poke it with a stick.
Top 6.66 Vampires: Count Duckula, Drak Pack, Love At First Bite
He counts the spiders on the wall.
Top 6.66 Maniacs: Myers, Voorhees, Zack
"His mind is lost in outer space."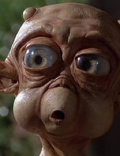 Respect Mac.