We have winners! Congratulations to David Baynham, Michelle DeCrow, and Thomas Lightfoot.
Michael Moorcock's Elric of Melniboné is a classic. His clashes with immortals and monsters began in 1961. Del Rey Books is publishing new editions of all the Elric stories, in collections like their Conan series. Elric: Stealer of Souls is the first.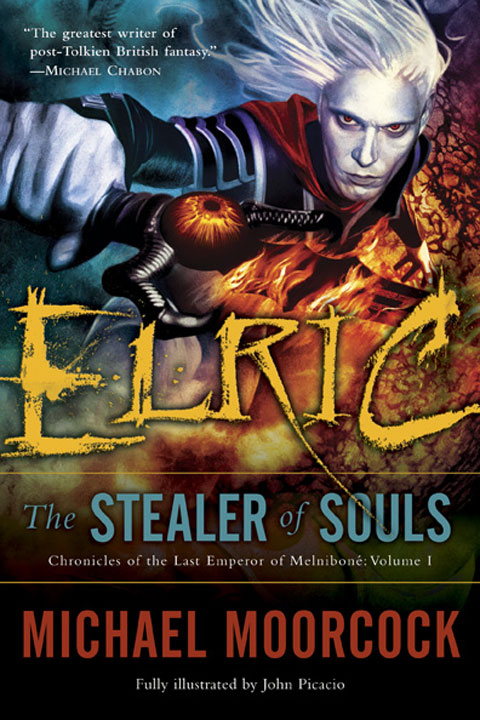 RevolutionSF is giving away three (3) autographed copies of Elric: Stealer of Souls. You can pry a copy of your very own from our steely grasp. Here's how you do so.
Send your name and your address to RevolutionSF's webmaster. And then you're done.
We will select three names from that batch, and then you will have the classic heroic fantasy delivered right to your house. You don't even have to talk to another human. (Elric would prefer it that way.)
The first volume features original Elric stories from Science Fantasy magazine, previously published as The Stealer of Souls (1963) and Stormbringer (1977), as well as a new introduction and material new to the collection.
The cover and interior illustrations are by John Picacio, who illustrated Moorcock's work on Tales from the Texas Woods (1997), Wizardry and Wild Romance (2004) and The Metatemporal Detective (2007).
About the new series, Michael Moorcock says, "The new Del Rey books are going to be stunning. If anything, John Picacio's interiors are better than his cover. The other artists are at the top of their form."
Inside 'Elric: Stealer of Souls'
And on that note, RevolutionSF is proud to present this preview of John Picacio's art for Elric: Stealer of Souls. Click any thumbnail to see the full version.
| | | |
| --- | --- | --- |
| Elric the Damned | Darnizhaan Rises | Elric Summons the Wind Giant |
| Elric and Cymoril | The Fire Giant | The Haunted |
| Melniboné | Elric and the Horn of Fate | The Clakars Attack! |
| | Now available from Bantam/Del Rey | |
All illustrations © 2008 John Picacio. Elric of Melniboné © 2008 Michael Moorcock. Now available from Bantam/Del Rey.