The Hall of Lame is like a museum, except creators really don't want their stuff to get in there. It is for the uninspired, the condescending, the boring, and the irritating. Do we love to hate these characters? Is it silly or cool to enjoy their slap-assed antics? No. The Hall of Lame is not for those whose lameness is in the spirit of good fun.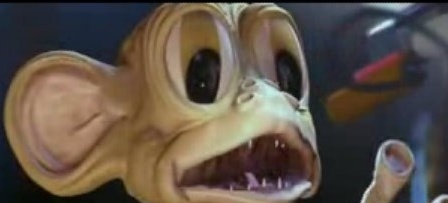 Blarp, The Lost In Space Monkey-Thing
In 1998, no one had ever heard of Jar Jar Binks.
To its credit, the movie adaptation of the 1960s TV series had Heather Graham in body-hugging space leather. And it had Mimi Rogers in body-hugging space leather.
It also had William Hurt in body-hugging space leather, and a 10-year-old boy in body-hugging space leather.
The Robinsons discovered a color-changing alien monkey thing. It was computer-animated, since alien monkeys are not real, as far as science can determine. It had no bearing to the movie's story. It was like one of those little yapping dogs that we go to movies to escape.
Every crisis the crew encountered was accompanied by the thing screeching YEEEEEEEEEEEEEEEEEEEEEEEEEEEEEEEEE in theater-rattling THX sound.
Poor Lacey Chabert, who played Penny. So young. So many years before she was on the cover of Maxim. She befriended the badly-done CGI abomination. She stroked its cartoon fur. Though it wasn't there, Chabert looked scared to death of it.
William Hurt could not conceal his disdain. Hurt would rather be in an emotional melodrama with a 1960s music soundtrack. Instead he co-starred with a space monkey-thing. Every line he delivered in the monkey's presence was through gritted teeth. You can see the beads of sweat, knotting his forehead, as he struggled not to break character and scream
YEEEEEEEEEEEEEEEEEEEEEEEEEEEEEEEEEE!
Dureena from Crusade
From the quickly canceled and still missed Crusade comes Dureena. Her official bio read, "Filch, pickpocket, lock-pick, tunnel rat."
They forgot "lame-ass."
The actress who played Dureena played two other roles on Babylon 5. But this is the one she'll be interrogated about at cons.
Babylon 5 ruled. But she was not on Babylon 5 Dureena was a thief. Was she also cat-like? Why, yes! She can probably Climb Walls at 94%, minimum! Does he have a devil-may-care attitude? You bet. Was she a smarty-pants? Of course! But when the going gets tough, did she come through for her friends? Like every other smarty-pantsed, agile, devil may care rogue there ever was.