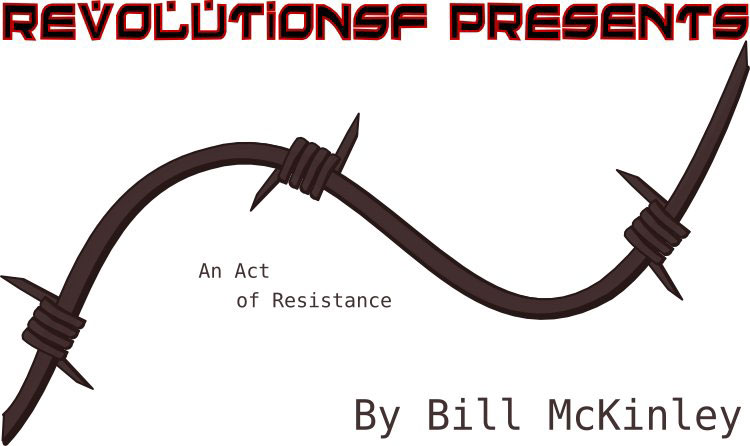 It was a grey day in December, and London was packed with shoppers. Elizabeth clutched her grandson's hand as a tubby man in party uniform tried to push between them. "Don't let go, Michael. You could be swept away and eaten by a troll," she said.

Michael looked up at her sceptically. He was growing so fast, Elizabeth thought. He was already old enough to know that green-skinned monsters didn't really lie in wait on Regent Street.

They were on their yearly trip to the glittering toy shop near Oxford Circus, a dragon's hoard of dolls and games and every other treasure that glistened in childhood dreams. As always, Elizabeth would watch Michael as they looked around, so she could decide what to give him on Christmas Eve.

They squeezed past a quartet of carollers, who were singing a medley of marching songs and Christmas tunes. Then they were outside the shop, gazing at the decorations that filled the windows. They stayed until they were jostled aside by a group of Japanese veterans on a friendship tour.

"I think we should go inside," Elizabeth muttered, "we'll have another look as we go out." Michael nodded.

They took the escalator to the fifth floor, where tiny trains snaked through alpine villages with overhanging eves. "Maybe in a few years," Elizabeth said.

Then they discovered the action figures on the third floor. Michael's eyes gleamed as he took in the boxes of knights and their foes: warriors in plastic plate mail, giants with seven-inch great clubs, the dragon Fafner with Realistic Flame Action. There were other figures beyond the knights as well.

Michael solemnly examined each knight and monster. He worked his way beyond their last outpost, picked up a large box, and trotted back to Elizabeth.

"Gran, look at this one," he said. "I've seen it on TV, and Brett's got some of the men."

The cover of the box showed a large building with a row of mushroom-shaped vents and a sign -- baths -- over the entrance. It was surrounded by a plastic fence with moulded spikes that suggested barbed wire. Two guards escorted a column of hooknosed creatures inside.

Elizabeth stared at the box as the taloned wings of despair beat inside her. She remembered standing beside a railway line just after the war, watching the trains roll out from the London ghettos. Her father had held her tightly and warned, "Don't tell anyone what you saw. There's nothing people like us can do about it now."

She remembered watching the Ministry of Information documentaries in the 1960s about Auschwitz, Treblinka, and Salisbury. There was a small demonstration in Trafalgar Square. Elizabeth stayed home and did the ironing, over and over again.

Now the Final Solution was advertised on Saturday morning television and available at leading toy shops everywhere.

Elizabeth took the box from Michael's hands and glanced around nervously. There was no-one behind her. "I'm not going to give you this for Christmas. It's disgusting."

She put the box back on its shelf but remembered the cries from the trains. She checked the ceiling -- there didn't seem to be any cameras -- and jammed it behind a giant Rhine castle instead.

She paused for an anxious heartbeat, but there were no alarms, no sirens. "Come on, you keep telling me about knights and quests. We'll do one now."

Elizabeth grabbed an armful of blister-packed paladins and arranged them in front of a shelf of camp commandants. The paladins hid them completely. Then she piled some guard towers with operating searchlights behind a display of catapults that fired soft foam projectiles.

Michael looked at her, confused, but started to help as she continued her way down the aisle. Soon the camps, their guards, and their victims were all hidden by the bright colours of plastic chivalry.

Elizabeth leaned close to Michael as they went back down the escalator. "Don't tell anyone what we did, but don't forget it, either. You can always do something."

She held his hand as they walked outside, past the decorated swastikas in the shop windows.
---
Discuss this story in the RevolutionSF Fiction Forum.