1602: Fantastick Four #1 (Marvel)
By Peter David and Pascal Alixe
I didn't pick up the last 1602 sequel 1602: New World as I didn't think anyone could improve much on Neil Gaiman's original concept of a Elizabethan age Marvel Universe, probably because at the time I was unfamiliar with writer Greg Pak's work. This time around I thought I'd give it a try and see what Peter David could do with the concept.
While not reaching the level of Gaiman's original this turned out to be a surprisingly entertaining sequel. David's mix of early Lee-Kirby Fantastic Four history with a pinch of historical period accuracy and an imaginative use of Shakespeare as a character will bring me back for a look at the next issue.
Athena Voltaire #1 (Ape Entertainment)
By Paul Daly and Steve Bryant
High action and adventure as larger-than-life characters battle the rising Nazi menace in the mid-1930s. If you love Indiana Jones or The Rocketeer then you'll enjoy this tale of the daring aviatrix Athena Voltaire and her race to prevent the Nazi bad guys from getting their hands on an ancient mystic relic. Sure, it's far from an original plot, but here it's carried off with the right mix of style and action that draws you in and takes you on a roller-coaster ride.
At least for the first half of the book. This iteration of the book publishes the first issue that originally saw light under the now-defunct Speakeasy imprint, along with the planned but never released second issue. Unfortunately that second issue, making up the second half of this edition, is little more than pages of talking heads and expository dialog that bring the story's pace to a grinding halt. Let's hope the following issues get it back on track, as the opening 24 pages showed a lot of promise

Battlestar Galactica #1 (Dynamite Entertainment)
By Greg Pak and Nigel Raynor
Having not yet watched the new incarnation of Battlestar Galactica (it's on my Netflix list) I may have missed a lot of the inferences and references in this first issue of the comics based on the series; but it says something for the level of storytelling that even without the TV show as a touch-point I still enjoyed this suspenseful and action-packed tale.
Again without reference I don't know how "on-model" the characters were either emotionally or visually, but the dialog was sharp and the interchanges believable, although I did on occasion find it difficult to differentiate faces. This is a good, solid opening and one of the better TV franchise spin-offs I've read recently.
Blade #1 (Marvel)
By Marc Guggenheim and Howard Chaykin
Yet another attempt by Marvel to launch the Daywalker in his own series, which once more seems doomed to failure. Why have it hit the shelves just as the first season of the Blade TV show finishes? The story is weak and confusing and just full of stupid plot devices that make no sense. Spider-Man is a vampire (and we never find out how he got to be in that position in the first place) but his blood will cure him so it's not a problem! The undead take over a SHIELD helicarrier (is there more than one?) without anyone noticing? Again just how they did it is conveniently not mentioned. I don't know much about Blade or his backstory, but the flashback "origin" scenes here seem to contradict what little I do know. Chaykin's art is typical, competent modern Chaykin but it needs a better story than this to make it shine.
Criminal #1 (Marvel/Icon)
By Ed Brubaker and Sean Philips
Brubaker is an acknowledged master of the crime-noir genre and in this creator-owned series he displays his talent admirably. Freed from the constraints of telling this type of story inside the confines of an established continuity, his story flows better than most of his mainstream comics writing. The characterization is strong and the characters intriguing enough to make you want to know more about them and their past relationships and motivations. Philips' art is solid and workmanlike, supporting the story without breaking any new boundaries. Overall a good solid read that will probably be best served in its inevitable trade-paperback collection.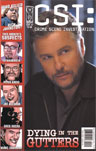 CSI: Dying In The Gutters #1 (IDW)
By Steven Grant and Stephen Mooney
The much hyped "CSI meets the world of comic books" story arc has reached the shelves and I found it a major disappointment. Storywise the first eight pages — the CSI team discussing the wrap-up of a case and the conversation drifting into what comics they read (or still read) — was well scripted and captured the banter familiar to viewers of the show, but once it got to the comic book convention pages it lost track, becoming way too self-referential.
Not just self-referential about the comics scene in general, but apparently limited to writer Steven Grant's friends and acquaintances, with an over-abundance of dialog about recent events, policies and individuals that mean little to those not "in the know" and even less to the casual reader.
Having met several of the comics industry people portrayed in the book I couldn't recognize them without the introductory captions, and the anatomy and looks of the CSI team were also way off-model at times (a fact commented on by several people who flicked through the book). If this was meant to get the super-hero comics crowd reading the CSI title it might just work, but I don't think it will do much to raise the perception of the comics industry in the eyes of any casual CSI fan who may pick it up.
Doctor Strange: The Oath (Marvel)
Brian K. Vaughan and Marcos Martin
Brian K. Vaughan's new mini-series takes a look at an often neglected side of the Marvel Universe's Sorcerer Supreme, the fact that Stephen Strange was a doctor before he was a mage. This issue starts off with the good doctor under the knife himself as, in astral form, he helps "The Night Nurse" ( a new and logical addition to the Marvel Universe; after all, whom do the heroes go to to get their bumps and cuts treated?). I'm not familiar with the work of artist Marcos Martin, but here he demonstrates a clear lined style that serves the story well and in many ways reminds me of Doctor Strange's original artist Steve Ditko.
Gen 13 #1 (Wildstorm)
Gail Simone and Talent Caldwell
This relaunch marks the fourth incarnation for the Wildstorm Universe's band of "different teenagers." This time around writer Simone manages to introduce an angle that has the potential to take Gen 13 away from being just another X-Men clone to establishing an identity and premise of its own. There are surprises galore for established fans of the series, but it's a solid enough opening issue to draw newcomers in from page one (although I thought the opening sequence was a little bit too brutal) without getting lost. I'll be interested to see where this goes and if it lives up to the potential shown in this latest "first" issue.
Pick of the Week
Irredeemable Ant-Man #1 (Marvel)
By Robert Kirkman and Phil Hester
What would you do if you came across a superhero's suit? Would you use it to do good for the common man, or would you use it to have fun and pick up chicks? Robert Kirkman and Phil Hester have great fun answering that question when a less than perfect wannabe SHIELD agent happens across a new Ant-Man suit. This is a totally unexpected book from Marvel as it takes the concept of one of their earliest heroes and injects a heavy dose of real human frailty, avarice and, yes, a little lust into the idea of how a costumed "hero" acts.
Kirkman's characterizations and dialog are spot-on and are perfectly complemented by Hester's storytelling and design skills. His ability to switch between full-page splash panels, open flowing panels and tight nine-panel grids to pace the story and the action is textbook perfect.

The Lone Ranger #1 (Dynamite Entertainment)
By Brett Matthews and Sergio Carilello
I've been waiting a long time for this one. A slow-paced introduction basically recaps the event that will eventually lead to John Reid donning his famous mask. There's no Silver, and Tonto is only a shadowy figure seen on the last page, but the setup is great. It's atmospheric and gives a solid background for the character and upbringing of the future masked man. Can't wait for the next issue.
Mystery In Space #1 (DC Comics)
By Jim Starlin & Shane Davis
The latest incarnation of the Mystery In Space title is full of great space-opera action from Jim Starlin that also lives up to the "mystery" aspect of the title. While it centers around the little-used DC character Captain Comet it doesn't matter if you know anything about him, the story, while full of twists, is highly accessible to the new reader; just as a first issue should be. And Tyrone, his talking bulldog, has to be the best new superhero sidekick in decades.
The second half of the book reintroduces Jim Starlin's creation The Weird and ties him into the Captain Comet story while at the same time laying the foundations of his own on-going mystery.
The Other Side #1 (Vertigo)
By Jason Aaron and Cameron Stewart
The Other Side promises to be a hard-hitting look at the Vietnam conflict through the eyes of two combatants, a reluctant conscripted U.S. Marine and an enthusiastic dogma-driven volunteer in the Viet Cong army, as they work towards what I can only assume will be an eventual face-to-face confrontation. Writer Aaron and artist Stewart skillfully use the technique of parallel storylines to emphasize both the similarities and the cultural and philosophical differences between the two men and their training and indoctrination. Stewart's art is visceral in every sense of the word and spares nothing when it comes to the horrors of the battlefield. As a result the book is not for the squeamish, but overall it promises to be one of the best graphic treatments of the Vietnam War yet produced.
Pirates of Coney Island #1 (Image)
Rick Spears and Vasili Lolos
I've seen rave reviews for this book, but I just didn't get it. I found it a quick and forgettable read that did nothing to establish character or motive. It seems unnecessarily violent and meaningless — or is that the metaphor for teenage life that the creators were going for? I guess I'm just getting old.

Sam Noir: Samurai Detective #1 (Image)
By Many Trembley and Eric Anderson
Take one part L.A. noir, mix it with feudal Japanese overtones and throw in a samurai who thinks and acts like Sam Spade and you get something that is both comfortingly familiar yet disturbingly different. The story centers around the samurai falling in love with a woman he has been hired to trail but never approach. Then one night she shows up in his office, calling him by name. The resulting mix of action and intrigue is an excellent and evocative blend of cultures and genres.
Tales of the Unexpected #1 (DC)
David Lapham and Eric Battle / Brian Azzarello and Chiff Chiang)
The new Tales of the Unexpected focuses on the latest incarnation of DC's avenging spirit, The Spectre, and his new host, former Gotham City cop Crispus Allen. If you have never read the excellent Gotham Central title then most of this will make no sense. Lapham's storytelling skills are conspicuously restrained by DC continuity. Also, I'm not sure how The Spectre's actions, or more specifically lack of action, could be viewed as heroic. However, the backup Doctor Thirteen story was a blast, with several twists, witty dialog and a self-deprecating sense of fun that while paying homage to DC's past wasn't shackled by it.
Ultimate Power #1 (Marvel)
Brian Michael Bendis and Greg Land
The first issue in the crossover between the Marvel Ultimate Universe and the Supreme Power universe is a fine introduction to the "Ultimate" version of The Fantastic Four and does a solid job on introducing the characters, their motivations and relationships. But as a crossover it doesn't work. There is no interaction between the two teams at all. That looks to be setup for the next issue. This would have perhaps worked better as an issue of the regular Ultimate Fantastic Four series that led into the cross-over miniseries. Or perhaps it's a sign that what we have here is a six-issue story being stretched to fill the planned nine issues.

Union Jack #1 (Marvel)
By Christos Gage and Mike Perkins
In the text pages at the back, writer Gage leads off with the fact that he isn't British. And boy, does it show. The dialog seems forced and stilted; while not the worst attempt at Brit-speak I've ever read it is far from natural. At least British artist Mike Perkins knows what the locations actually look like and does a good job with the settings. This miniseries spins off from a recent story arc in Captain America and you really need to have at least a passing knowledge of that to get some of the references. Some of the plot devices also seemed forced.
X-Men: First Class #1 (Marvel)
By Jeff Parker and Roger Cruz
We've had miniseries and specials that retell the story of the formation of the first team of X-Men (of which Children Of The Atom is by far the best) and now we get a series that tells of their "missing adventures." Not a bad idea, except that numerous anachronistic references to cell phones and e-mail jar, and the central narrative device seems, if my memory serves me correctly, to be totally against established continuity. The fact that the four original X-Men also make patently forced foreshadowing comments about events that will happen in their future make the script read like bad fanfiction.