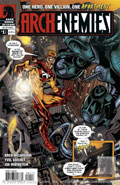 Arch Enemies #1 (Dark Horse)
By Brew Melbourne and Yvel Guichet
The book opens with a simple premise described right at the top of the cover: "One Hero. One Villain. One Apartment." So there we have it, two not so friendly roommates sharing an apartment without realizing that they are in fact the titular "arch enemies" when in costume. It could have been funny, it could have been dramatic — but it turns out to be neither. A cliched idea delivered with an unimaginative plot and messy artwork that hinders the storytelling.
Blue Beetle #1 (DC Comics)
By Keith Giffen, John Rogers and Cully Hamner
Spinning out of the events of the Infinite Crisis mega-crossover comes a new incarnation of The Blue Beetle. This one bears little or no resemblance to the predecessors that DC inherited from Charlton Comics. The relaunch is also another attempt to headline a comic with a "minority" hero — in this case a Hispanic boy from El Paso, Texas who finds himself bonded to the mystical beetle scarab and for some as yet unexplained reason develops what appears to be some sort of sentient exo-skeleton armor never exhibited by any previous holders of the artifact. As a launch issue this is messy with a clumsy attempt to open in the middle of an action sequence that has nothing to do with the plot, along with uneven flashbacks that expand on brief scenes shown in the main IC series. I would be surprised to see this title run any longer than 12 issues.
Book of Shadows #1 (Image)
By Mark Chadbourn and Bo Hampton
I must admit that I am totally unfamiliar with "The Age of Misrule" fantasy book trilogy for which this comics series serves as a prequel. I enjoyed the concept of a return of the ancient Celtic gods and their magic to a present-day England, and how that would affect modern society. The story as told from the central character's perspective unfolded at a pace that both built the right levels of mystery, danger and suspense. But the whole reading experience was marred by one of the most atrocious pieces of coloring I have ever seen in a comic book. The coloring was done by artist Hampton, whose fully painted work I have really enjoyed in the past; but here it looked like the book had been colored by a ten-year old using blunt marker pens.
Captain America 65th Anniversary Edition (Marvel)
By Ed Brubaker and Javier Pulido and Marcus Martin
Cap and Bucky, along with Nick Fury and his Howlers, are dropped behind enemy lines in WW2 to investigate why the Red Skull is so interested in excavating a ruined castle with no apparent strategic importance. What follows is a great WW2 tale showcasing Cap and Bucky in the venue where they are at their best. The story is told in a simple but highly effective style that stands in stark contrast to the modern-day realistic style of the two-page epilogue. In fact the epilogue is unnecessary and devalues the whole story by trying to establish a somewhat contrived connection with events in today's Marvel Universe. If you like a good traditional Captain America story, then buy the book and just rip out the last two pages before you read them.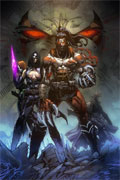 Cyberforce #1 (Image)
By Ron Marz and Pat Lee
Yet another relaunch for perhaps the least known of the original Image superhero titles. It relies a little too much on girl-girl sexual innuendo and not enough on actual characterization or action. Most of the story involves the three girl members of the team sitting around, getting drunk and waiting for the evil ex-teammate to come and kill them. With multiple references to past storylines it plays straight to the continuity crowd, but are there really that many people who care about this title's past history? A very disappointing tale from Marz, who has been producing much better work on other books recently. Pat Lee's art suffers under the unimaginative digital inking and inept coloring.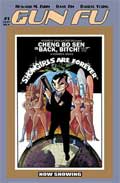 Gun Fu #1 (Image)
By Howard Shum, Dave Sim and Darryl Young
This book is wrong on so many levels. The art style is a poor clone of the WB animation technique, but without any real sense of style. The basics of the plot are about an American agent sent to help stop a plot by the Nazis to drop a bomb on the Hoover Dam, and of course he helps out all the other inept agents, seduces a girl and foils the plan. The dialog and characterization range from jarringly anachronistic to sexist and, in some places, borders on racist. If the story is meant as a parody, it falls way short and becomes little more than a laughable (an not in a good way) attempt at throwing a mix of genres, plots, and stereotypes into a blender, hitting the button and seeing what comes out.
Hawkgirl #50 (DC Comics)
By Walter Simonson and Howard Chaykin
With a new creative team of the caliber of Simonson and Chaykin, plus a switch in emphasis to the more interesting of the Hawk couple, I expected a lot from this particular One Year Later kick-off issue. While the result was a solid comic book with a reasonably intriguing plot and strong art, it wasn't anything special and left me feeling a little disappointed.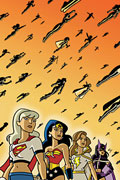 Justice League Unlimited #20 (DC)
By Paul Storrie and Rick Burchett
No one writes the ladies of the animated DCU better than Paul Storrie. This issue introduces Mary Marvel to the Animated DCU as, guided by Supergirl, she comes to realize that her greatest asset may not be her powers but the way she chooses to use them. The story makes several excellent points about the use and effectiveness of the League's female heroes without being patronizing. The dialog captures the feel and characterization of the TV show perfectly.
Lions, Tigers, and Bears #1 (Image)
By Mike Bullock and Jack Lawrence
The second volume of this series opens strongly, setting up the premise and back story without getting in the way of the plot. On one level it reworks old ideas — that a kid's stuffed animals are in fact secret protectors — while at the same time giving them a fresh spin. It has the potential to capture the imagination of young and older reader alike.
Red Prophet #1 (DBPro)
By Orson Scott Card, Roland Brown and Renato Arlem
This adaptation of Orson Scott Card's tale of an American frontier in which folk magic works is one of the best produced comic books I've seen in a long while. It looks like care has been taken with every detail, from storytelling to artwork, packaging and even the feel of the paper stock. There's a lot of text packed into the 22 pages but it never gets in the way of the clear and crisp art. But once you get to the end, you realize that in fact not a lot has happened and we still don't know the characters that well.
Revere #1 (Alias)
By Ed Lavallee and Grant Bond
Early Review: You think you know the story of Paul Revere's ride? Think again. What if his mission wasn't to warn of the approaching British troops, but an altogether more sinister goal — to track and stop a band of werewolves terrorizing the New England colonies? By combining historical reference with traditional horror motifs, first-time creators Lavallee and Bond have created a fresh new concept that is ripe for further storytelling. An impressive debut, well written, with an evocative art style. Look out for this one. It has lots of potential. (Revere #1 is in stores in June 2006.)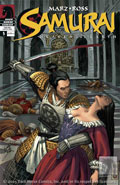 Samurai: Heaven and Earth #5 (Dark Horse)
By Ron Marz and Luke Ross
I came to this series late, my attention caught by the cover showing the aftermath of a confrontation between the titular warrior and a group of musketeers. How did a Japanese warrior come to be in the French court? It only took me a few pages to get hooked into the story and be pulled along with the samurai's adventures in search of his lost love and his encounters with the various factions of 18th century French political life. This turned out to be the last issue of this mini-series, but I will now be looking out for the various back issues as well as the promised follow-up.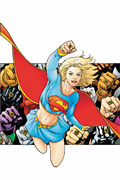 Supergirl and the Legion of Superheroes #16 (DC Comics)
By Mark Waid and Barry Kitson
Despite numerous tries I never "got" the Legion. It's just one of those concepts that never captured my interest or imagination. As this issue was the Legion's entry into the One Year Later stakes, I thought I'd give it another try. Once again, despite being ably produced by one of my favorite creative teams, it just didn't grab me until the last few pages when Supergirl arrived on the scene. I enjoyed the pay-off at the end, when both Supergirl and The Legion believe each other to be — ah well, that would spoil it.
Twin Blades #1 (Alias)
By Adrian Todd and Ryan Odagawa
Two girls are raised as warriors so they may bring the hope of peace to warring tribes. Hardly an original idea, even if setting the tale in ancient Norway makes for a change. This seems little more than an excuse to draw sword-wielding females wearing leather bikinis (in Norway!). And why do comic book warrior women go into battle in sexy skimpy outfits while the men around them wear armor?
Picks of the Week
Green Lantern #10 (DC Comics)
By Geoff Johns and Ivan Reis
DC's One Year Later relaunches round out with Green Lantern, and it does so on a high note. Ivan Reis's art is highly reminiscent of Neal Adams at his best. This is easily the most dynamic GL artwork I've seen since Adams was on the book. The story by Johns kicks off in high gear and never lets up. From strange aliens through international politics, buddy moments with Green Arrow and the return of a dead Green Lantern, it has a lot packed in to just 22 pages, but never feels forced or rushed. This is high-octane action at its best.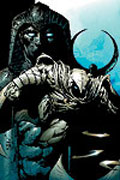 Moon Knight #1 (Marvel)
By Charlie Houston and David Finch
If you like your superheroes to be urban, gritty and violent then this is the book for you. Writer Houston and artist Finch set the tone for the book in the first few pages and the action looks like it will never let up, until suddenly, just six pages from the end, where it comes to a jarring twist that is expertly paced and delivered. This Moon Knight is no longer a simple Batman clone, or the multi-faced gadget-toting vigilante of the past. This is a Moon Knight who works the areas of the city where the other heroes fear to tread. It looks like it's going to be a heck of a ride.
Squadron Supreme #1 (Marvel)
By J. Michael Straczynski and Gary Frank
We've had the Marvel MAX series introducing the various characters of the Squadron and a few mini-series defining how they were recruited. Now the foundations have all been laid, we get to the main event — the public arrival of the Squadron Supreme. The good thing is that you don't need to have read all the earlier books to enjoy this one. Knowing the background adds depth, but it isn't necessary to understand the plot and the direction this book is taking. It's a solid introductory issue ideal for new readers and those who've been there since the beginning.