Thirteen Scariest Vol. 1
© RevolutionSF Staff
October 31, 2005

"Child's Play"
By Villy Sorensen
Mom and Dad carefully explain to two young boys that their uncle has to have his leg amputated because he got a hole in his leg and bad things (Mom says bacteria, Dad says bacilli — the older kid calls 'em bactilla, the youngest calls 'em batteries) got in and made it sick. While out playing with a friend, the friend falls down and cuts his leg. The two boys carry things out to their logical (and utterly chilling) conclusion. — Peggy Hailey
The League of Extraordinary Gentlemen, Vol. II, issues 3 and 5
By Alan Moore and Kevin O'Neill
Having betrayed his teammates and formed an alliance with the invading Martians, Hawley Griffin, the Invisible Man, savagely beats humiliates heroine Mina Murray. Unfortunately for Griffin, Murray is the one person in the world that Mr. Henry Hyde doesn't detest — and the horror of Griffin's attack on Murray pales compared to his comeuppance. When the vengeful Hyde catches Griffin in a mansion he cheerfully breaks Griffin's bones, rapes him ("I'm feeling downright chipper"), tortures him (apparently for hours), and leaves him dying. We're spared the gory details only by Griffin's invisibility. But when that fades with his death we see a hint in the blood splattered everywhere as Hyde is enjoying a dinner with his colleagues downstairs. It's a chilling reminder that vengeance, however well deserved, can be as awful as any crime.
Especially if you piss off Mr. Hyde. — Shane Ivey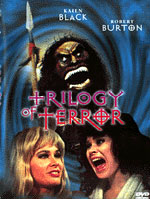 "Prey"
By Richard Matheson
A lady's husband sends her an African fetish doll which comes to life with evil intent. The story was filmed as part of a 1975 Karen Black showcase called Trilogy of Terror. That damned doll freaked my nine-year-old self right out. I have since re-watched the whole movie, which I really don't recommed — but that final segment still works and that doll still freaks me right out. — Peggy Hailey
"Haunted"
By James Herbert (and a movie starring Aidan Quinn)
A paranormal investigator with a ruthless reputation for debunking hauntings and exposing frauds is sent to investigate a haunted house in Scotland. He falls in love with the young woman of the house. In the end he discovers the entire house he has spent several weeks investigating to be a burned out ruin and all the people he has met, interacted with and sexually encountered to be long dead. — Todd Shearer
The Others
Starring Nicole Kidman
Atmospheric and creepy as a case of the DTs, The Others explores the concept of the dead not realizing that they've died and what happens when they are haunted by the living. The most amazing part of this movie are some of the special effects — not the obvious effects, but the ones you never realize are special effects until you watch the special features on the DVD. — Todd Shearer
"The Jaunt"
By Stephen King
Found in the collection Skeleton Crew, this rare foray into science fiction for the modern horror master is particularly creepy in a Lovecraftian way (albeit without the verbiage). The plot revolves around teleportation and the quick commercial applications thereof. King's Twilight Zone geek is noticeable here. Like the best short horror stories, the payoff is at the end, and it's quite shuddersome. — Mark Finn
"Grandma"
By Stephen King
I am partial to simple, straight-forward horror stories, and "Grandma" is pretty much as simple and straightforward as they come. A young boy is left at home with his creepy, cancer-ridden grandma, who has a dark secret the family never talks about. Grandma is not quite ready to die when the cancer takes her, and she has the knowledge (and twisted will) to make sure she can keep going. Aside from the Lovecraftian trappings and creepy supernatural twists, the story effectively works the fear most young kids have (and adults grudgingly remember) of old people: They smell funny, sound strange, look scary and always insist on giving hugs to their terrified grandchildren. It only gets worse when the arms giving the hug are cold and the power is out. — Todd Shearer
"The Cold Equation"
By Tom Godwin
A pilot flying medicine to a planetary colony to stop a plague discovers a colonist's little sister stowed away on his ship. If she remains on board, the ship will crash and plague will decimate the colony. The pilot has to decide whether to save the colony or the girl. — Peggy Hailey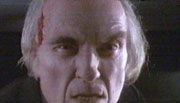 Phantasm
Cemeteries infested by alien graverobbers. Flying sliver spheres that impale you with blades and drain your body of all blood. Demonic dwarves created from the reanimated bodies of the deceased. The fear of losing your loved ones to the dark embrace of death. Angus Scrimm. It doesn't get much scarier than this, folks. Little known except among hardcore genre geeks, Phantasm combined sci-fi and horror in a way not seen since H.P. Lovecraft put pen to paper. While it was admittedly low budget, Phantasm more than made up for it with a sense of true eerie disturbingness, an aura of fear that big-budget Hollywood scare flicks like The Grudge and House on Haunted Hill don't have a ghost of a chance of matching. Plus, no CGI special effect can ever match Angus Scrimm as the unearthly Tall Man. But by far the most frightening thing about Phantasm is that the sequel was even scarier. — Kevin Pezzano
"On the Beach"
By Nevil Shute
The most sublimely horrifying book I've ever read. It's hard to even think of this as a horror book, because everything unfolds at such a deliberate pace. Everything is so calm and dignified. But I can't imagine a scarier take on the classic post-apocalyptic survivals (or not) story. — Jayme Blaschke
"Pigeons From Hell"
By Robert E. Howard
Howard wrote a goodly number of horror stories for Weird Tales; some were Lovecraftian, some were a mix of genres, and a few were straight-up Southern gothic. "Pigeons From Hell" falls into the latter category, and it makes nearly every Howard-head's Top 10 list. It's flat-out scary. No lie. It was adapted into an episode of Boris Karloff's Thriller (and a better than average episode, at that) and a graphic novel by Scott Hampton. But nothing beats the original story for sheer freakout value. — Mark Finn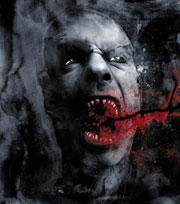 30 Days of Night
By Steve Niles & Ben Templeton
Cross John Carpenter's The Thing with Katherine Bigelow's Near Dark and you have the right feeling for 30 Days of Night, a bravura descent into cold, isolation, monsters, and all of the fears that this fosters. This comic book tells of the hell that comes to Barrow, Alaska, America's most northerly town, when night falls for a whole month. Sparsely written, but illustrated with dark, rich and bloody paints, this is a horror movie in a book. Grab this graphic novel — as it rarely seems to remain in print for long — and see if the inhabitants of Barrow can survive becoming a feeding ground on the hoof. — Matthew Pook
"I Am Legend"
By Richard Matheson
Whoo. The end-all, be-all of vampire novels. Try reading the passages where he's holed up in his house/bunker at night while his former neighbors go batty outside trying to reach him. Try reading those passages late at night.
On a windy, creepy night filled with uncomfortable noises. — Jayme Blaschke