I am so jealous of everyone that managed to get to go to Dragon*Con this year. (Dragon*Con: The only convention big enough to warrant a star in the middle of its name.). Due to financial variances, I haven't been able to get there since 2003, and I think I might be starting to enter withdrawal. However, Labor Day Weekend was still quite enjoyable and geek-related for me, thanks to some very good friends in Seattle — a great couple that I met, coincidentally enough, at Dragon*Con.
Seattle is a great city, and my annual trip is usually a highlight of the year. It rains a bit much, but the climate's nice, the bay is beautiful, it has serious coffee and is home of the Space Needle, something that everyone should see. But that's not what I'm writing about today. Nestled near the base of the Needle is another place that all genre fans should make their way to once in their lives. Inside the unique Frank Gehry building, sharing space with the Experience Music Project, is The Science Fiction Museum and Hall of Fame. For a mere thirteen bucks, you can get a look at some of the coolest stuff on earth.
When you walk in, you immediately know you're in for something special. There are replicas of the United Planets Cruiser C-57D from Forbidden Planet, the Martian craft from the 1953 War of the Worlds, and a life-size Gort from The Day the Earth Stood Still. There are mini-Gorts for sale in the gift shop — and one now sits on my computer desk — as well as movie posters and other cool swag. Sadly, their shirts don't really come in "big geek" sizes. There's also a display about Spaceship One, winner of the X Prize. This is all before you even get in the museum proper!
Once you do get inside, it's enough to send most geeks into an overdrive of ecstasy. I lost track of how many times I shouted out "Oh, cool!" and "Hey Lance, come check this out!"
The museum is divided into five sizable sections: Homeworld, Fantastic Voyages, Brave New Worlds, THEM! and the Hall of Fame itself.
Each section is stuffed full great exhibits. Beside each piece is a card explaining what the item is, its importance, and how the museum received it. Each section has a set of permanent items and a few bits that go with an ever-changing featured exhibit, which at the moment is The Changing Face of Mars.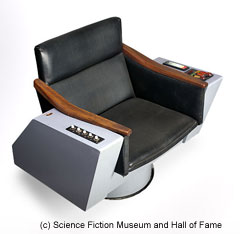 Homeworld and the Hall of Fame
Homeworld covers the basics of science fiction, with little essays about the roots of the genre and why it's important to our culture. They have bits on early fandom and the first conventions, including a looping video with interviews of George Takei, Ray Bradbury, and Uncle Forrey, AKA Forrest J. Ackerman, who is considered the grandfather of fandom.
In the exhibit section they have Kirk's chair, Uhura's uniform, and costumes from Blade Runner including Sean Young's sexy black dress and Zhora's rain slicker. The have the actual Beast From 20,000 Fathoms, one of the saucers from Earth vs. the Flying Saucers and the model Capitol building it crashed into. There are also tons of first edition books, magazines, letters by various authors and programs from some of the early conventions. It's a great look at the beginning of the genre.
The Hall of Fame proper is in this area, and is a large wall covered with etched glass blocks. On each block is a portrait of the member and a quote. There are also several touch screen panels that let you pull up a full biography of the members. They have a pretty good group in there; Asimov, Vance, Phillip K. Dick, Sturgeon, Wells, Heinlein, Verne, Bester and more. The Hall was started in 1966, every year they induct four more people, and this Museum is the Hall's permanent home. It's a great tribute to the legends of the genre.
Fantastic Voyages and Brave New Worlds
From here, you head downstairs past some classic movie posters and into the rest of the exhibits. The Fantastic Voyages section is all about the cool tech that gets us out there, and the various theres that we are headed to. In other words, it's full of all kind of cool props. There are helmets ranging from Vader's black hat to a 1930s Buck Rogers helmet to the one worn by Qarlo in the Terminator-inspiring Outer Limits episode "Soldier," written by man-god Harlan Ellison. There are also more classic books, magazines and a ton of weapons.
They have more Bat'leths than you can shake a phaser at, a ream of guns from Starship Troopers (perhaps because no one else wanted them), sections of a real space suit, the armor, helmet and pulse rifle used by Hicks in Aliens, patches, ray guns and a complete set of the original run of Hasbro Star Wars figures. I wonder how often they have to clean the drool off of the glass in this place, anyway?
There's also a huge screen that looks like you're gazing out of a spacedock view port, and a loop of a huge number of spaceships — the Planet Express ship to the Close Encounters mothership, a Star Destroyer, and the Red Dwarf fly by. On several panels in front of the display, you can pull up a datafile on each vessel that gives the specs of the ship and where it came from. This can easily suck you in for a long while.
Next up is Brave New World, which covers all the different futures that various science fiction creators have come up with, from the utopia of The Jetsons to the dystopia of Fahrenheit 451. They have a Big Brother poster whose eyes follow you no matter where you go. It's subtly creepy. They also have the Cornelius, Dr. Zaius and Taylor costumes from Planet of the Apes, a first edition of A Canticle for Liebowitz, and the costumes worn by G'Kar, Delenn, and Londo.
In the corner of the exhibit, a huge window runs a loop as if you were looking out onto some of these future worlds. On a side monitor they have running a little documentary about the world being shown,. It is cool looking out into the vista from Blade Runner and hearing Ridley Scott discuss its creation.
THEM!
THEM! is all about the nonhumans of the genre, from BEMs to robots. On the bot side they have a full size Robocop suit, a T-800 endoskeleton, Robbie the Robot, B9 (Lost in Space), an old-school Cylon, R2-D2, and scariest of all: Twiki. The coolest part is that both Robbie and B9 talk, and seem to be having some kind of bizarre conversation.
On the alien side, they have a Predator head, one of the cocoons from, well, Cocoon, a spot where you can listen to the Orson Welles War of the Worlds broadcast, and an egg and facehugger from Alien. This leads me to the biggest piece in the place: From Aliens, they have the full-size alien queen. Having your face about eight inches from her maw is an amazing feeling, even with the glass between you and her.
Sitting off to the left of her majesty is a little "baggage claim" area (because the aliens are arriving for a visit, don't you know) and in there is the power loader that Ripley drove to fight the alien queen. After seeing it, all I have to say is that Ms. Weaver is a tiny woman. Spread around in front of it are various other bits, including a box of Tribbles and one of the stop-motion Martians from Mars Attacks. I really wanted to take him home, but he was too well secured.
All in all, the Science Fiction Museum and Hall of Fame is someplace that any science fiction fan worth his or her salt should find a way to visit at least once. I've only listed the highlights, and you can easily spen a very long afternoon exploring everything. Afterwards, you can top off the visit by heading up in the Space Needle for a great view of the area. The only real downside of the place is they don't allow any cameras inside, so you just have to rely on your memory and the gift shop for souvenirs.
So while it might not have the teaming throngs of costumed geeks of Dragon*Con, or the panels, or a massive dealer's room, I think I managed to be just as geeky as anyone who was at the con. They only thing geekier I could have done would have been to go to the museum in costume. I might just do that on my next visit out.