Aeon Flux #1 (Dark Horse)
By Mike Kennedy & Timothy Green
In anticipation of the upcoming movie starring Charlize Theron, I thought I'd find out a bit more about the character. Having finished the first issue of this Dark Horse mini-series I know nothing beyond what I'd learnt from the trailer. That she dresses in black, is a good ninja type fighter and can kick ass. This particular issue is very reminiscent of various scenes from the trailer floating around the Web, so I'm not sure if this mini-series is an adaptation of the movie or not. It doesn't say it is on the cover, but it sure reads like one.
Amazing Spider-Man #524 (Marvel)
By J. Michael Straczynski & Mike Deodato Jr.
So after all the pyrotechnic action last issue with the Avengers taking on various enhanced Hydra minions, this month we get 22 pages of Peter Parker lying around and having conversations with Tony Stark and Mary-Jane. Boring? Not in the least. Once again JMS shows that he is far better at human interaction and dialog than he is at the big set-piece action scenes. He is back on form here as he sows a few clues as to what will happen in the upcoming "The Other" cross-over that will run through the next two months' Spidey titles.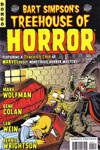 Bart Simpson's Treehouse of Terror #11 (Bongo)
By various
Eight fresh Halloween stories for $4.99. Presented in a flip-book format, the first six stories are standard Bongo comics fare — which means the best and most consistent humor on the stands. When you flip the book over to read the last two stories, the level of excellence jumps several notches and made this fan-boy's heart skip for joy. For here we have a new Dracula tale by Marv Wolfman and Gene Colan followed by a muck-encrusted monster tale from Len Wein and Berni Wrghtson. An exercise in pure nostalgia, fun and a rare chance to see these masters at work in the arenas where they produced some of their finest work. If you only ever pick up one Simpsons-related comic, make sure it's this one.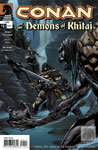 Conan and the Demons of Khitai #1 (Dark Horse)
By Akira Yoshida & Paul Lee
Let's see: Conan and his men enter a new land, they get attacked by a monster, they kill it. Local warriors arrive and through a misunderstanding Conan ends up fighting them. He gets knocked out, wakes up in a strange palace with a beautiful woman tending his wounds. He is introduced to the local ruler, another misunderstanding . . . and so it goes. Nothing particularly original here and none of the depths of Conan's character or the stunning artwork of the regular series. The best part for me was the small two-tier strip at the bottom of the letter's page depicting a scene from Conan creator Robert E. Howard's short life; and that strip is reprinted from another source. I'd say this is one for the Conan completists only.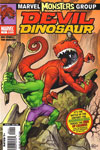 Devil Dinosaur #1 (Marvel)
By Eric Powell
The first in a series of four one-shots paying homage to Marvel's pre-superhero roots. The lead story by The Goon's Eric Powell is in the tradition of the great Lee / Kirby monster tales while still paying within the confines of the Marvel Universe we know today. In fact a couple of throwaway lines in the last panel of this story will resonate well with those knowledgeable about the MU, but you don't need to know anything about the continuity to enjoy the story. (It's a long time since I've been able to say that about a Marvel product). But easily the best part of this book is the back-up reprinting the story that introduced the name "The Hulk," drawn by The King himself, Jack Kirby.
Giant Size X-Man #4
By Chris Claremont & Rick Leonard et al
The latest in the Giant-Sized (i.e., 96 pages) X-Men books focuses on the short-lived X-Man Thunderbird using five different stories to trace his career, death and legacy. A worthwhile attempt that could have been a lot better. The main problem is that the only new contribution is a nine-page lead-in that does a poor job of establishing itself in continuity, a problem that could have been solved by the use of the now frowned-upon caption boxes. At the end of the day the only people who would buy this are probably die-hard X-fans who will surely have the four reprinted stories already.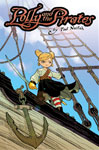 Polly and the Pirates #1 (Oni Press)
By Ted Naifeh
Polly and the Pirates is a delightful all ages book that has a broad appeal and a potential to be a strong favorite on the lines of Leave It to Chance, Courtney Crumrin or Akiko. The protagonist, Polly, is a prim young girl living in a boarding school trying to be a proper lady and to fit into society. Her friend on the other hand has a love of pranks, books about pirates and a thirst for adventure. But when adventure comes knocking, it's Polly who ends up captured by pirates, who soon reveal that she has a shocking secret in her heritage. The story is well told and the characters firmly established within the first few pages. The art gives the story a slight other-worldly touch that makes you wonder what level of reality we are experiencing, yet drives the narrative forward with a great sense of pace.
Star Wars: X-Wing Rogue Leader #1 (Dark Horse)
By Haden Blackman & Tomas Giorello
Picking up the Star Wars story just a week after the destruction of the second Death Star (as seen in Return of the Jedi), this first issue introduces the various members of the Rogue Squadron of pilots led by Luke Skywalker. Their "mission" turns out to be cover for a period of rest and reflection as Luke bonders his new destiny. However there revelry is interrupted by the appearance of a group of Imperial Troops determined to fight on. Blackman's script captures the group dynamics well while Giorello des a reasonable job with the likenesses and general feel of the Star Wars universe.
Sword of Dracula #1 (Digital Webbing)
By Jason Henderson & Terry Pallot
Once producers of a "new talent" anthology title, Digital Webbing has now expanded to publishing stand-alone creator-owned properties such as Sword of Dracula. The book has in intriguing premise. In an attempt to legitimize his power base, Vlad Dracula literally buys himself a small island nation and seeks diplomatic recognition. Opposing his plans are a group of specialist anti-vampire commandos lead by Ronnie Van Helsing. The story is well told and sets the stage for future confrontation. Art-wise it is passable, although in the occasional panel it is difficult to follow which character is which. Overall a better than average attempt for a high-concept small press title.
Picks of the Week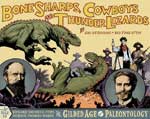 Bone Sharps, Cowboys and Thunder Lizards (GT Labs)
By Jim Ottaviani & Big Time Attic
A 150-page comic book about the feud between two nineteenth-century scientists and the emerging science of paleontology! Sounds like it should be the dullest read ever. Yet this is wonderfully engaging and entertaining book. Writer Ottaviani manages to take a complex issue and deliver it in a well-paced story that delves both into the characters of the main players involved and the social and cultural backdrop of the time that informed their actions. The artwork by the Big Time Attic studio is sometimes a little too cartoonish, making it occasionally difficult to recognize a character (a fault usually corrected with the space of a couple of panels), but on the other hand uses the comics form to its fullest effect, generating transition and visual effects impossible in any other medium. For anyone interested in the history of science this is a must-read. The fact that it's been achieved in a comics format makes it a remarkable achievement.
Vigilante #1 (DC)
By Bruce Jones & Ben Oliver
A powerful opening for DC's second go-around with the Urban Avenger. Focusing more on the concept and reactions of victims, criminals and the police rather than on the titular "hero," Bruce Jones and Ben Oliver do an excellent job of setting up the premise, location and the human drama. Jones' dialog is among his best work to date while Oliver's use of shadow adds the right degree of tension where needed. The last-page reveal of the Vigilante in person could be called a cliché, yet it's the perfect ending to this opening issue. Look out for this one; it has all the makings of a sleeper hit.