Ah, the circle of life: One TV show dies; another rises in its place; the seasons change and the cycle begins again. Yep, Battlestar Galactica is about to go away again — but don't be sad. At least we get a new season of Lost.
"Why wouldn't I light the fuse?" "Uh, maybe because I was running toward you, waving my arms and yelling, 'Don't light the fuse?'" — Locke and Hurley, Lost
The first episode of Season 2 of Lost is titled "Man of Science, Man of Faith," and that tells us everything we need to know. After all, if growing up listening to Rush's Hemispheres taught me anything, it's that we need to balance science and faith, rationality and creativity, reason and passion. (Well, it also taught me that Alex Lifeson was the most criminally underrated guitarist around, and that bringing an album with a naked man's ass on the front cover to your dad's house in Alabama is not necessarily smart. But let's stick to the balance thing.)
In this case, we have Doctor Jack — the man of science who doesn't believe in miracles — and John Locke, who sees portents everywhere after the island apparently healed his bum legs. Their journey toward common ground, if they can accept it, sets the tone for the show and may be its ultimate theme.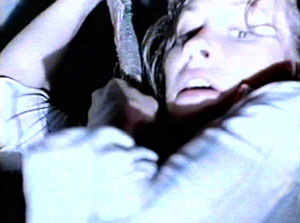 "Help! This deep, narrow hole is blinding me, and I — What do you mean, Freudian?"
(Word of warning: The rest of this is a bit spoilerish.)
Then there's the Paranoid 1970s Dude, who works on an ancient computer and plays ancient LPs in a big underground complex beneath the hatch that Locke and Doctor Jack blew up at the end of Season One. I get the idea he's neither a man of science nor a man of faith — he's a man of peppy Mamas and the Papas songs, and there's no kind of man more dangerous.
Unless, of course, the Paranoid 1970s Dude — and not the island — is the one that cures people! Doctor Jack met him in the outside world — and the next day, his incurable patient with the broken back could wiggle her toes. Locke landed on his island and could run around and hunt boar with a knife. He's a miracle worker, and all this time he's been quarantined by the medical-insurancical complex!
. . . Nah. That would be a little far-fetched.
Speaking of far-fetched: Jolene Blalock guest-stars next week. Probably without pointy ears.
Bonus Tune: Battlestar Galactica
"How much time do I have?" "Weeks. A month at the outside." — President Roslin and Doc Cottle, Battlestar Galactica
Weeks! We're not so lucky. One more episode to go and then no new Galactica for months and months. What's with these 12-episode seasons, anyway? The Sci-Fi Channel can't afford to make a whole season so they show half a season over and over?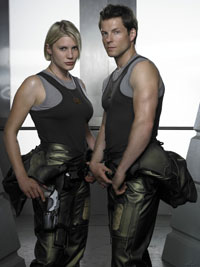 Starbuck wants Apollo's bod. Sorry, that still just sounds weird!

Well, if that keeps the show on the air, keep it up.

In Season 2, hard-drinking Colonel Tigh took over while Commander Adama was in a coma after being gutshot by a Cylon. Impatient with the clamoring press and goaded by his power-hungry wife, Tigh tried turning the remnants of human civilization into a military dictatorship, with him as the dick. (. . . tator. Dictator. Sorry.) Adama's son Apollo broke parole to help the president escape, Starbuck met up with another pilot on Cylon-occupied Caprica and discovered he was in love with the same model Cylon that shot Adama, Starbuck and Apollo took Adama and the president to an ancient cave that with clues as to the location of Earth. . . .

Well, lots of stuff happened. All of it good. Good for us, that is, mostly downright miserable for the heroes on the show. The folks that run the new Galactica have all kinds of experience in science fiction TV, and they did the smartest possible thing — they abandoned all of it and gave the show its own tone and feel. You occasionally hear from people who complain about how gritty the new show is and how it was better in the 1970s show where nothing all that bad really happened and the guys had such nice big hair. Well, tough. For my money, the new Galactica is one of the few science fiction shows worth watching, and it got that way by ditching all the glitz and technobabble to focus on human beings in trouble — with the occasional bad-ass space battle.

Next episode, and the last new one for a long time, Michelle Forbes (Ensign Ro from Star Trek: The Next Generation) fills the shoes of Lloyd Bridges as Admiral Cain in another episode inspired by one of the 1970s show's standouts, as Galactica finds another battlestar that survived the Cylon attack. This time Cain outranks Adama, and when her crew find out two of Adama's men are in love with a Cylon — um, bad things happen.

Bad for them. Good for us. Tune in and see.